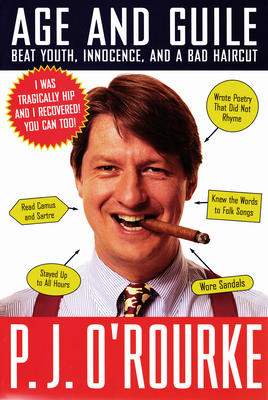 Age and Guile Beat Youth, Innocence, and a Bad Haircut (O'Rourke)
Paperback

* Individual store prices may vary.
Description
Readers may be shocked to discover that America's most provocative (and conservative) satirist, P. J. O'Rourke, was at one time a raving pinko, with scars on his formerly bleeding heart to prove it. In Age and Guile Beat Youth, Innocence, and a Bad Haircut, O'Rourke chronicles the remarkable trajectory that took him from the lighthearted fun of the revolutionary barricades to the serious business of the nineteenth hole. How did the O'Rourke of 1970, who summarized the world of grown-ups as materialism, sexual hang-ups, the Republican party, uncomfortable clothes, engagement rings, car accidents, Pat Boone, competition, patriotism, cheating, lying, ranch houses, and TV come to be in favor of all of those things? What causes a beatnik-hippie type, comfortable sleeping on dirty mattresses in pot-addled communes - as P. J. did when he was a writer for assorted underground papers-to metamorphosize into a right-wing middle-aged grouch? Here, P. J. shows how his Socialist idealism and avant-garde aesthetic tendencies were cured and how he acquired a healthy and commendable interest in national defense, the balanced budget, Porsches, and Cohiba cigars. P. J. O'Rourke's message is that there's hope for all those suffering from acute Bohemianism, or as he puts it, Pull your pants up, turn your hat around, and get a job. From the fictionalized accounts of his career as a hard-drinking hippie to the Benchley-in-the-age-of-macho lampoon of fly fishing, Mr. O'Rourke shows an incorrigible comic gift and an eye for detail that keeps the wild stuff grounded. - The New York Times Book Review.
Atlantic Monthly Press, 9780871136534, 368pp.
Publication Date: August 9, 1996