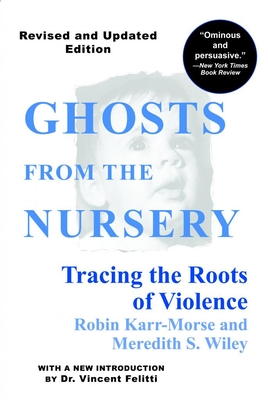 Ghosts from the Nursery (Paperback)
Tracing the Roots of Violence
Atlantic Monthly Press, 9780871137340, 364pp.
Publication Date: January 7, 2014
* Individual store prices may vary.
Description
This new, revised edition incorporates significant advances in neurobiological research over the past decade, and includes a new introduction by Dr. Vincent J. Felitti, a leading researcher in the field. When Ghosts from the Nursery: Tracing the Roots of Violence was published in 1997, it was lauded for providing scientific evidence that violence can originate in the womb and become entrenched in a child's brain by preschool. The authors' groundbreaking conclusions became even more relevant following the wave of school shootings across the nation including the tragedy at Columbine High School and the shocking subsequent shootings culminating most recently in the massacre at Sandy Hook Elementary School in Newtown, Connecticut. Following each of these media coverage and public debate turned yet again to the usual suspects concerning the causes of violence: widespread availability of guns and lack of mental health services for late-stage treatment. Discussion of the impact of trauma on human life--especially early in life during chemical and structural formation of the brain--is missing from the equation. Karr-Morse and Wiley continue to shift the conversation among parents and policy makers toward more fundamental preventative measures against violence.
About the Author
ROBIN KARR-MORSE is a family therapist in private practice. She is the former Director of Parent Training for the Oregon Child Welfare System, previously the founding Director of the Oregon Children's Trust Fund and is currently the founding Director of the Parenting Institute. She is a consultant to several policy groups working to reimagine and shift social policy from its sole focus on remediation toward prevention of trauma in children's development. She lives in Portland, Oregon. MEREDITH S. WILEY is the former State Director of Fight Crime: Invest in Kids New York. She lives in Mariposa, California. Karr-Morse and Wiley are coauthors of Scared Sick: The Role of Childhood Trauma in Adult Disease.
Praise For Ghosts from the Nursery: Tracing the Roots of Violence…
"Ghosts from the Nursery is ominous and persuasive. . . . [Karr-Morse and Wiley] join a growing chorus of childhood development experts in insisting that, to be effective, programs seeking to insure the welfare of children must intervene even before birth. . . .The unspoken message of Ghosts from the Nursery is more sobering still. It seems we have strayed so far from common sense and sensitivity in child rearing that we must rely on brain scans and F.B.I. statistics to remind us of what babies have always needed to thrive: attention, nourishment, stability and love." The New York Times Book Review

"A deeply disturbing wake-up call." Publishers Weekly

"Karr-Morse and Wiley boldly raise some tough issues. . . . [They] start with a grim questionwhy are children violent?and they forge a passionate and cogent argument for focusing our collective energies on infancy and parenthood to stop the cycle of ruined lives." The Seattle Times

"An expert, disturbing and vitally important book . . . . If the problem of violence in America concerns you, read this book. You will be given no quick fixes. You are given truth. And it's truth all of us need to know." Statesman Journal

"An alarming book with national scope. . . . [Its] methodical approach tying childhood development to recent research about the brain pushes us one step further down the road to dealing two intersecting and important issues: how to protect society from its growing pocket of violent citizens and how to protect children from the abuse and neglect that lead to membership in that terrible club." The Portland Oregonian

"This book will make you realize as never before the importance of the 0-3-year period in every child's life. Ghosts from the Nursery shows the heavy price society pays for child abuse and neglect. This book skillfully takes a very real and frightening issue and encourages us to work harder to end it." Sen. Edward M. Kennedy, United States Senate

"Right! Right! Right! This easy-to-read book is right on track for helping guide policy makers and parents about America's most precious resource . . . her children. I highly recommend it." Dr. Ken Magid, author of High Risk: Children Without a Conscience

"The first three years of life are crucial not only to children but also to the whole society in which they live and grow and eventually reproduce. It is in the context of the self-interest even of those who care least for small children that this book appeals for child-friendly practices and policiesand should be widely heard." Penelope Leach, Ph.D., author of Children First

"Essential reading for anyone interested in the roots of violence and in finding ways of reducing violence in our society." Geraldine Dawson, Professor of Psychology, University of Washington, and editor of Human Behavior and the Developing Brain

"Robin Karr-Morse and Meredith Wiley are to be applauded for so successfully tracing the roots of violence to the complex early relations between brain and behavioral development. The story they tell is one that should be heard, and the warning bells they sound should be our wake-up call to do better by our children." Charles A. Nelson, Professor of Child Psychology, Pediatrics, and Neuroscience, University of Minnesota

"In this remarkable and timely book, Robin Karr-Morse and Meredith Wiley interweave the compelling narrative of a child who has committed a violent crime with a comprehensive description of current relevant studies on attachment disturbances and brain development (many of which are being presented to the informed public for the first time) in order to convincingly argue that the roots of violence are cultivated in infancy. . . . The essential question is how we as a society can transform this pragmatic knowledge into very early prevention programs." Allan N. Schore, Department of Psychiatry and Biobehavioral Sciences, University of California at Los Angeles School of Medicine

"Ghosts from the Nursery is an impressive book. As I read it I found myself wishing that I had had all the information and wisdom in this book back when I started working with children. The authors have done a wonderful job of digesting and presenting various complex areas and issues in a clear, entertaining fashion. It is a rare combination of skill, insight and intelligence that produced this book." Bruce D. Perry, MD, Ph.D.

"[Karr-Morse and Wiley] clearly and powerfully elucidate why children are capable of the most heinous crimes possible and why violence has reached epidemic proportions. The future is bleak for all of us if we do not heed the warnings of children in need of nurturing, guidance and concerned parenting. This is a clear, well-researched book that deserves wide reading." Matilda Raffa Cuomo

"Violence is one of the most compelling problems of our time, not only in our nation , but around the world. Ghosts from the Nursery is a major contribution to a new understanding of this issue. The premises set forth are backed with hard data from many relevant sources and it is written in an elegant and interesting literary style. I highly recommend it." Dr. Stella Chess, MD

"Ghosts from the Nursery is a must read book for those who seek to repair shattered livesand those who seek to prevent the shattering. An important book for people who try to make the world a more civilized place." Craig Ramey, Director, Civitan International Research Center