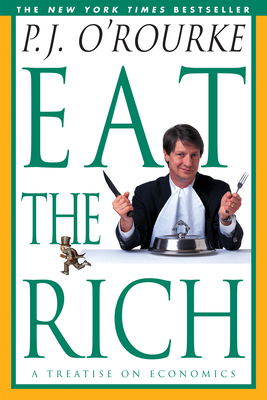 Eat the Rich
A Treatise on Economics (O'Rourke)
Paperback

* Individual store prices may vary.
Description
In the tradition of his contemporary classic Parliament of Whores, renowned political humorist P. J. O'Rourke is back with Eat the Rich, in which he takes on the global economy. P. J. O'Rourke leads us on a hysterical whirlwind world tour from the "good capitalism" of Wall Street to the "bad socialism" of Cuba in search of the answer to an age-old question: "Why do some places prosper and thrive, while others just suck?" With stops in Albania, Sweden, Hong Kong, Moscow, and Tanzania, O'Rourke takes a look at the complexities of economics with a big dose of the incomparable wit that has made him one of today's most refreshing commentators.
Now updated with new material from the O'Rourke, fifteen years after the original publication of his riotous first take.
"O'Rourke has done the unthinkable: he's made money funny."--Forbes FYI
" O'Rourke is] witty, smart and--though he hides it under a tough coat of cynicism--a fine reporter . . . Delightful."--New York Times Book Review
Atlantic Monthly Press, 9780871137609, 272pp.
Publication Date: July 23, 1999
About the Author
P. J. O'Rourke has written nineteen books on subjects as diverse as politics and cars and etiquette and economics. Parliament of Whores and Give War a Chance both reached #1 on the New York Times bestseller list. He is a regular panelist on NPR's Wait Wait...Don't Tell Me and editor-in- chief of the free web magazine American Consequences. He lives in rural New England, as far away from the things he writes about as he can get.