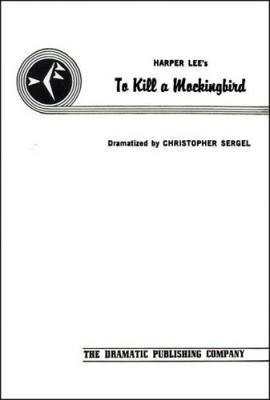 To Kill a Mockingbird (acting edition, original, 2-act version) (Paperback)
Dramatic Publishing, 9780871299208, 95pp.
Publication Date: January 1, 1971
Other Editions of This Title:
Digital Audiobook (7/7/2014)
Paperback (7/5/2005)
Paperback (5/23/2006)
Paperback (10/1/1984)
Hardcover (3/3/2015)
Hardcover (6/16/2015)
CD-Audio (12/30/2008)
Prebound (12/1/1970)
Prebound (10/11/1988)
Mass Market Paperbound (10/11/1988)
Paperback, Vietnamese (7/10/2014)
Compact Disc (9/1/2006)
Hardcover (10/17/2006)
Hardcover (10/15/2005)
Paperback, Large Print, Large Print (10/1/2007)
Mass Market Paperback (10/1/1989)
Hardcover (4/1/2010)
Paperback, Chinese (6/28/2016)
* Individual store prices may vary.
Description
Dramatized by Christopher Sergel. From the book by Harper Lee.


Cast: 12m., 8w. (extras).
Scout, a young girl in a quiet southern town, is about to experience dramatic events that will affect the rest of her life. She and brother, Jem, are being raised by their widower father, Atticus, and by their strong-minded housekeeper named Calpurnia. Wide-eyed Scout is fascinated with the sensitively revealed people of her small town but, from the start, there's a rumble of thunder just under the calm surface of the life here. Set in 1935, this play illustrates the social issues of this time period as the black people of the community have a special feeling about Scout's father. In her youthful innocence, she does not know why. A few of her white friends are inexplicably hostile and Scout doesn't understand this either. Unpleasant things are shouted and the bewildered girl turns to her father. Atticus, a lawyer, explains that he is defending a young negro wrongfully accused of a grave crime. Since this is causing such an upset, Scout wants to know why he is doing it. "Because if I didn't," her father replies, "I couldn't hold my head up." When she asks why Atticus would take on such a hopeless fight, he replies, "Simply because we were licked a hundred years before we started is no reason not to try." He goes on to prepare Scout for the trouble to come. "We're fighting our friends. But remember this—no matter how bitter things get, they're still our friends." Things do get bitter, leading up to drastic measures as Atticus props himself in a chair against the cell door of the man he's defending to confront an angry mob. Horrified, Scout projects herself into this confrontation and her inconvenient presence helps bring back a little sanity. Atticus fights his legal battle with a result that is part defeat, part triumph. As Atticus comes out of the courthouse, the deeply moved town minister tells Scout, "Stand up. Your father's passing!" This dramatization of the touching classic tale is a meaningful work of art.
Flexible staging. Two acts. Approximate running time: 2 hours.
or
Not Currently Available for Direct Purchase