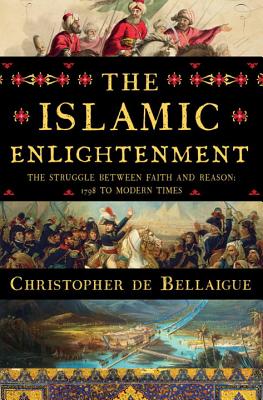 The Islamic Enlightenment
The Struggle Between Faith and Reason, 1798 to Modern Times
Hardcover

* Individual store prices may vary.
Other Editions of This Title:
MP3 CD (4/25/2017)
Compact Disc (4/25/2017)
Paperback (8/14/2018)
Description
Shortlisted for the Baillie Gifford Prize Longlist for Non-Fiction

Longlisted for the Cundill History Prize

A New York Times Book Review Editors' Choice Selection
A revelatory and game-changing narrative that rewrites everything we thought we knew about the modern history of the Islamic world.
With majestic prose, Christopher de Bellaigue presents an absorbing account of the political and social reformations that transformed the lands of Islam in the nineteenth and early twentieth centuries. Flying in the face of everything we thought we knew, The Islamic Enlightenment becomes an astonishing and revelatory history that offers a game-changing assessment of the Middle East since the Napoleonic Wars.
Beginning his account in 1798, de Bellaigue demonstrates how Middle Eastern heartlands have long welcomed modern ideals and practices, including the adoption of modern medicine, the emergence of women from seclusion, and the development of democracy. With trenchant political and historical insight, de Bellaigue further shows how the violence of an infinitesimally small minority is in fact the tragic blowback from these modernizing processes.
Structuring his groundbreaking history around Istanbul, Cairo, and Tehran, the three main loci of Islamic culture, de Bellaigue directly challenges ossified perceptions of a supposedly benighted Muslim world through the forgotten, and inspiring, stories of philosophers, anti-clerics, journalists, and feminists who opened up their societies to political and intellectual emancipation. His sweeping and vivid account includes remarkable men and women from across the Muslim world, including Ibrahim Sinasi, who brought newspapers to Istanbul; Mirza Saleh Shirzi, whose Persian memoirs describe how the Turkish harems were finally shuttered; and Qurrat al-Ayn, an Iranian noble woman, who defied her husband to become a charismatic prophet.
What makes The Islamic Enlightenment particularly germane is that non-Muslim pundits in the post-9/11 era have repeatedly called for Islam to subject itself to the transformations that the West has already achieved since the Enlightenment—the absurd implication being that if Muslims do not stop reading or following the tenets of the Qur'an and other holy books, they will never emerge from a benighted state of backwardness. The Islamic Enlightenment, with its revolutionary argument, completely refutes this view and, in the process, reveals the folly of Westerners demanding modernity from those whose lives are already drenched in it.
Praise For The Islamic Enlightenment: The Struggle Between Faith and Reason, 1798 to Modern Times…
Elegantly written…'The Islamic Enlightenment' introduces us to a fascinating gallery of individuals who would grapple with reform and modernization in theory and practice…In tracking the sinews of enlightenment through the last two centuries of Islamic thinking, this brilliant and lively history deserves nothing but praise.

Excellent…Mr. de Bellaigue, the finest Orientalist of his generation, does the world a great service by charting the attainments of the region's long 19th century….Focusing on Iran, Turkey and Egypt, 'the three intellectual and political centres of the Middle East,' Mr. de Bellaigue tells a story that is at once new, fascinating and extraordinarily important.
— Bartle Bull

A stylishly written, surprisingly moving chronicle of intellectual and political flourishing in Egypt, Turkey, and Iran — 'the brain of Islam' — in the nineteenth and twentieth centuries.

Deeply researched . . . . Beginning with Napoleon's invasion of Egypt in 1798 and ending with the late 20th century, De Bellaigue shows how the cultural struggles between modernity and tradition unfolded in Istanbul, Cairo, and Tehran. . . .De Bellaigue is a knowledgeable guide through huge sweeps of cultural history
— Nick Romeo

The book reads at times like a thriller—it is a tale of reform and reaction, innovation and betrayal, a struggle, as the author would put it, between faith and reason. . . . With such divisive views elevated to state policy, a book that examines the Islamic world's liberalization process—at least until the French and the English carved up the Middle East after 1918—is welcome.
— Francis Ghilès

A highly original and informative survey of the clashes between Islam and modernity in Istanbul, Cairo, and Tehran in the last two hundred years. Brilliant!
— Orhan Pamuk, author of My Name Is Red

An eye-opening, well-written and very timely book, which can help us understand better the complex relationship between the Muslim world and modernity. While both Islamic extremists and Western bigots find it convenient to stress the incompatibility of Islam and modernity, Christopher de Bellaigue shows that Islam is whatever Muslims make of it, and that at least some Muslims have made of it something very modern.
— Yuval Harari, author of Homo Deus

That there has been an Islamic Enlightenment at all will come as news to many. De Bellaigue's account of the 'very broad church' of Islam in the modern world is splendid and timely.
— Anthony Gottlieb, author of The Dream of Enlightenment

Christopher de Bellaigue has long been one of our most resourceful and stimulating interpreters of realities veiled by fear and prejudice. In The Islamic Enlightenment, he cuts through the complacent opposition of Islam-versus-modernity to reveal a fascinating world: one in which complex human beings constantly change, improvise, and adjust under the pressures of history. It is the best sort of book for our disordered days: timely, urgent, and illuminating.

— Pankaj Mishra, author of From the Ruins of Empire

A brilliantly learned and entertaining study of a topic that is of far more than merely antiquarian interest: the encounter between the Islamic world and the post-Enlightenment West.
— Tom Holland, author of In the Shadow of the Sword

In this expansive historical account and commentary, de Bellaigue recounts Islam's ''painful encounter with modernity'' through the history of Turkey, Egypt, and Iran. . . . This is a text that demands attention for its splendid prose, command of an entire treasury of history, and ability to undermine the misplaced patronization of Middle Eastern Muslim nations over the last 300 years.

Timely, thoughtful, and provocative.
— Peter Frankopan, author of The Silk Roads
Liveright, 9780871403735, 432pp.
Publication Date: April 4, 2017
About the Author
Christopher de Bellaigue has worked as a journalist in south Asia and the Middle East, writing for the Economist, the Guardian, and the New York Review of Books. He is the award-winning author of four books, has made several BBC television and radio documentaries, and has been a visiting fellow at the universities of Harvard and Oxford. He lives in London.
or
Not Currently Available for Direct Purchase