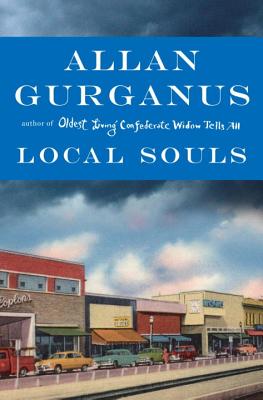 Local Souls
Hardcover

* Individual store prices may vary.
Other Editions of This Title:
Paperback (5/5/2014)
Description
With the meteoric success of Oldest Living Confederate Widow Tells All, Allan Gurganus placed himself among America's most original and emotionally engaged storytellers. If his first comic novel mapped the late nineteenth-century South, Local Souls brings the twisted hilarity of Flannery O'Connor kicking into our new century.
Through memorable language and bawdy humor, Gurganus returns to his mythological Falls, North Carolina, home of
Widow
. This first work in a decade offers three novellas mirroring today's face-lifted South, a zone revolutionized around freer sexuality, looser family ties, and superior telecommunications, yet it celebrates those locals who have chosen to stay local. In doing so,
Local Souls
uncovers certain old habits—adultery, incest, obsession—still very much alive in our New South, a "Winesburg, Ohio" with high-speed Internet.
Wells Tower says of Gurganus, "No living writer knows more about how humans matter to each other." Such ties of love produce hilarious, if wrenching, complications: "Fear Not" gives us a banker's daughter seeking the child she was forced to surrender when barely fifteen, only to find an adult rescuer she might have invented. In "Saints Have Mothers," a beloved high school valedictorian disappears during a trip to Africa, granting her ambitious mother a postponed fame that turns against her. And in a dramatic "Decoy," the doctor-patient friendship between two married men breaks toward desire just as a biblical flood shatters their neighborhood and rearranges their fates.
Gurganus finds fresh pathos in ancient tensions: between marriage and Eros, parenthood and personal fulfillment. He writes about erotic hunger and social embarrassment with Twain's knife-edged glee. By loving Falls, Gurganus dramatizes the passing of Hawthorne's small-town nation into those Twitter-nourished lives we now expect and relish.
Four decades ago, John Cheever pronounced Allan Gurganus "the most technically gifted and morally responsive writer of his generation." Local Souls confirms Cheever's prescient faith. It deepens the luster of Gurganus's reputation for compassion and laughter. His black comedy leaves us with lasting affection for his characters and the aching aftermath of human consequences. Here is a universal work about a village.
Praise For Local Souls…
It's been 12 years since Gurganus last published a full-length work—but if there remains any doubt of his literary greatness, his fifth book, Local Souls, should put it to rest forever…. A tour de force in the tradition of Hawthorne. It shows that Gurganus's vast creative and imaginative powers, still rooted in the local, are increasingly universal in scope and effect. The book is an expansive work of love…Gurganus moves beyond [Sherwood] Anderson and Faulkner in calling into question the very notion of 'inappropriate': the emotional misalignments in his fiction feel both understandable and familiar. Like Chekhov and Cheever before him, Gurganus registers an enormous amount of compassion for the characters he holds to the fire.

— Jamie Quatro - New York Times Book Review

Allan Gurganus breathes so much life into the town of Falls, North Carolina, his reader is able to walk down the streets and mingle with the local souls. This book underscores what we have long known—Gurganus stands among the best writers of our time.
— Ann Patchett

Allan Gurganus is our verbal magician. He turns factual rabbits into poetic doves. Every sentence contains a surprise, but the brilliant surface doesn't dazzle us from peering into the tender human depths.
— Edmund White

Allan Gurganus has the uncanny ability to make you laugh and shudder at the same time. That rare gift is on full and glorious display here.
— T. C. Boyle

Vivid language, provocative sentence structure, and metaphors that elevate the reader's consciousness. [Gurganus] shares with his southern cohorts a delight in discovering the quotidian within lives led under extraordinary, even bizarre circumstances.
— Booklist

Gurganus returns to Falls, N.C., the setting of his Oldest Living Confederate Widow Tells All, with this trio of linked novellas…. In these layered, often funny narratives, close reading is rewarded as Gurganus exposes humanity as a strange species.

— Publishers Weekly, "Pick of the Week"

In this first work in 12 years, Gurganus offers three luscious, perceptively written pieces, each as rich as any full-length novel and together exploring the depth of our connections…. In all three novellas, there's a pervasive sense of the power of community expectations and the question of whether we can challenge fate…. These pieces are so fresh and real that the reader has the sense of walking through a dissolving plate-glass window straight into the lives of the characters. Highly recommended.
— Library Journal, starred review

A serious and important American writer—his work has meant a lot to me over time… It's good to have him back after a long absence.
— Dwight Garner - New York Times

The first-person voice's capacity for lifelikeness and oral illusion has been Gurganus's great Southern storytelling inheritance… Local Souls stays true to its author's vocal aesthetic.

— Thomas Mallon - New Yorker

Gurganus [is] fearfully gifted…. The gem of Local Souls is the gorgeous Decoy, in which Gurganus removes the gloves and delivers the literary equivalent of a bare-knuckled knockout. Decoy is so good that you want to lob all sorts of adjectives its way: warm, humane, profound, sagacious, hilarious, nostalgic, and incisive…. The last pages of Local Souls prove once again that there is no writer alive quite like Allan Gurganus.

— Laura Albritton - Miami Herald

Allan Gurganus proves once again that small-town life in the New South can be as tragic and twisted as anything out of an ancient Greek playbook…. The chatty, roundabout storytelling, the wicked humor and sense of the absurd often disguise the gravity of these investigations into life's tendency to 'retract its promise overight,' to 'become a vale of tears breaking over you in sudden lashing.' Hidden above the safe confines of the Falls, Zeus readies his lightning bolts.
— Gina Webb - Atlanta Journal-Constitution
Liveright, 9780871403797, 352pp.
Publication Date: September 23, 2013
About the Author
Allan Gurganus is widely translated, a Guggenheim Fellow, and a member of the American Academy of Arts and Letters. Adaptations of his fiction have earned four Emmys, and his stories have been appearing in The New Yorker since 1974. He lives in a small town in North Carolina.
or
Not Currently Available for Direct Purchase