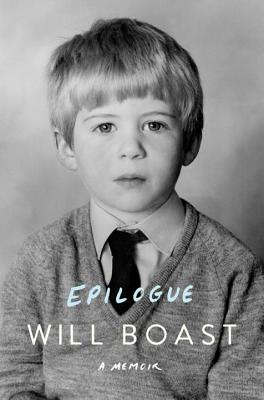 Epilogue (Hardcover)
A Memoir
Liveright, 9780871403810, 288pp.
Publication Date: September 15, 2014
Other Editions of This Title:
Paperback (5/18/2015)
MP3 CD (5/24/2016)
* Individual store prices may vary.
Description
Winner, The Rome Prize



Will Boast thought he'd lost his family, until a deeply held secret revealed a second chance he never thought he'd have.
Having already lost his mother and only brother, twenty-four-year-old Will Boast finds himself absolutely alone when his father dies of alcoholism. Numbly settling the matters of his father's estate, Boast is deep inside his grief when he stumbles upon documents revealing a secret his father had intended to keep: He'd had another family before Will's—a wife and two sons in England.
This revelation leads to a flood of new questions. Did his father abandon this first family, or was he pushed away? Still reeling from loss, Boast is forced to reconsider the fundamental truths of his childhood and to look for traces of the man his father might truly have been. Setting out in search of his half brothers, he attempts to reconcile their family history with his own, testing each childhood memory under the weight of his father's secret. Moving between the Midwest and England, from scenes of his youth to the tentative discovery of his new family, Boast writes with visceral beauty about grief, memory, and his slow and tender journey to a new kind of love.
With the piercing gaze of a novelist, Boast transforms the pain and confusion of his family history into an achingly poignant portrait of resilience, revising the stories he's inherited to refashion both his past and his present. Heartbreaking and luminous, Epilogue is the stunning account of a young man's struggle to understand all that he has lost and found, and to forge a new life for himself along the way.
About the Author
Will Boast was born in England and grew up in Ireland and Wisconsin. He won the Iowa Short Fiction Award for his story collection, Power Ballads, and the Rome Prize. A former Wallace Stegner Fellow, his writing has appeared in the New York Times, Virginia Quarterly Review, Best New American Voices, and elsewhere. He divides his time between Chicago and Brooklyn, New York.
Praise For Epilogue: A Memoir…
Wise, charming and deeply moving.
— Leslie Jamison

It is during these unspoken moments that the author deftly captures the fleeting intimacy between father and son….The power of Epilogue comes in Boast's brave and candid recounting of his losses — and how this accumulated grief reshapes the author and his beliefs of what can make up a family.

— S. Kirk Walsh

Boast, an accomplished fiction writer and essayist, has composed a moving, elegantly contrapuntal narrative about coming to terms with his families—the one he lost, and the one that welcomed him with open arms.
— Ben Dickinson

A beautiful and finely crafted memoir, one that recalls in its very construction the vortexes and whorls of grief, the ways that memory is a living thing and time marches forward…It is a truly rare feat for a book to both break your heart and make you wish it wouldn't end: Epilogue does both. Boast has shown us life as it really is: beautiful, strange, cruel, surprising, and rarely so honestly explored.
— Nellie Hermann

This remarkable memoir is written with extraordinary care, intelligence, and honesty. Though the material is powerful to begin with, what makes it work so well is its authorial voice: a rare combination of rawness and restraint, probing and delicacy, self-laceration and tenderness toward others. In short, it's fully alive.
— Phillip Lopate, author of Portrait Inside My Head

Don't let the title of Will Boast's magnificent memoir fool you—Epilogue is about beginnings as much as endings, discovering as much as losing family. It's honest, heartbreaking, gorgeously written, and hands down the most moving book I've read so far this year.

— Anthony Marra, author of A Constellation of Vital Phenomena

A brave, brilliant, masterfully crafted story about an ordinary family's extraordinary collision of tragedies and secrets. Will Boast's efforts to write his family's epilogue—to forge a space for his own life through understanding theirs—make for one of the most moving and transformative reading experiences I've had. I won't ever forget it.
— Eleanor Henderson, author of Ten Thousand Saints

Riveting, soulful, and courageously told... Never has a story of loss been so full of life.
— Maggie Shipstead, author of the national bestseller Seating Arrangements

The story of Epilogue would be compelling enough: a young man loses one family and discovers another. In Will Boast's expert hands, it becomes a plangent and penetrating meditation on grief, the weight of secrets, and the redemptive power of family. Clear-eyed, unsentimental, and heartbreaking, this book is a gift to its reader.

— Justin St Germain, author of Son of a Gun: A Memoir

Elegiac and unsentimental, Epilogue is a moving meditation on the enduring mysteries of family, the surprising possibilities of loss, and the deep resilience of an individual. With piercing clarity and wisdom, Will Boast reveals the unexpected within the unthinkable.

— Jennifer duBois, author of Cartwheel

Epilogue is a soulful and profoundly moving portrait of family and loss, of mystery and grief. The story unfolds and builds and doubles back on itself like the notes and riffs in a free jazz performance, and Will Boast is a virtuoso, a masterful writer and storyteller.

— Chad Simpson, author of Tell Everyone I Said Hi

What if you lost your family, only to discover you had another? Will Boast's unforgettable memoir explores this seemingly impossible question in a straightforward yet lyrical language that infuses these pages with both wistfulness and hope.
— Lysley Tenorio, author of Monstress

With a father-son relationship as complex and tortured as that in Knausgaard's My Struggle—and an obsession with music to boot—Boast takes his raw emotional content and faces it ruthlessly, translating his extraordinary experiences to the page with a poet's singular vision and restrained lyricism. Boast's story will break your heart; his prose will make it sing.

— Jamie Quatro, author of I Want to Show You More

[S]pellbinding… [Boast's] affecting journey, related without sentimentality or self-pity, is not so much about his need for family as it is a candid reflection on loneliness and personal identity.
— Jonathan Fullmer
Coverage from NPR
or
Not Currently Available for Direct Purchase