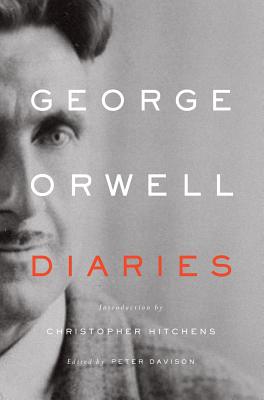 Diaries
Hardcover

* Individual store prices may vary.
Description
A New York Times Book Review Editors' Choice Selection
A major literary event—the long-awaited publication of George Orwell's diaries, chronicling the events that inspired his greatest works.
This groundbreaking volume, never before published in the United States, at last introduces the interior life of George Orwell, the writer who defined twentieth-century political thought. Written as individual books throughout his career, the eleven surviving diaries collected here record Orwell's youthful travels among miners and itinerant laborers, the fearsome rise of totalitarianism, the horrific drama of World War II, and the feverish composition of his great masterpieces
Animal Farm
and
1984
(which have now sold more copies than any two books by any other twentieth-century author). Personal entries cover the tragic death of his first wife and Orwell's own decline as he battled tuberculosis. Exhibiting great brilliance of prose and composition, these treasured dispatches, edited by the world's leading Orwell scholar, exhibit "the seeds of famous passages to come" (
New Statesman
) and amount to a volume as penetrating as the autobiography he would never write.
Praise For Diaries…
Starred review. [A] lushly annotated edition of Orwell's diaries from 1931 to 1949…. Born Eric Arthur Blair, Orwell, as these diaries reveal, lived a varied and even dichotomized life. …Editor Davison (English/De Montfort Univ.) supplies necessary contextual information and footnotes generously, but stays in the shadows and allows us to truly enjoy Orwell's impressive chronicles.
— Kirkus Reviews

Read with care, George Orwell's diaries, from the years 1931 to 1949, can greatly enrich our understanding of how Orwell transmuted the raw material of everyday experience into some of his best-known novels and polemics. They furnish us with a more intimate picture of a man who, committed to the struggles of the mechanized and "modern" world, was also drawn by the rhythms of the wild, the rural, and the remote.
— Christopher Hitchens - Vanity Fair

One cannot help but be struck by the degree to which [Orwell] became, in Henry James's words, one of those upon whom nothing was lost. By declining to lie, even as far as possible to himself, and by his determination to seek elusive but verifiable truth, he showed how much can be accomplished by an individual who unites the qualities of intellectual honesty and moral courage.
— Christopher Hitchens, from the Introduction of Diaries

Among the vivifying things about his Diaries, issued now in one volume for the first time, is how they restore some first-person flesh and blood to what can seem like his disembodied head. What's more, they show Orwell to be nearly Jeffersonian in his combined passion for politics and for the natural world, not merely for fishing but also for the enlightened and fervent cultivation of vegetables, fruit trees, animals and flowers… These diaries show him with his hands covered in fresh dirt, hard at work, in sync with the seasons, curious about everything under the sun, tending to what he needed and grateful for beauty as well as sustenance. They present a man in full.

— Dwight Garner - New York Times

Never before published in the United States, this wonderfully annotated collection of George Orwell's diaries from 1931 to 1949 is sure to fascinate any fan of his work. From his down and out years to his stint working at the BBC during WWII ("something halfway between a girls' school and a lunatic asylum…. Our radio strategy is even more hopeless than our military strategy."), the reader can catch a glimpse of this essential English writer's internal life, and watch the ideas that became Animal Farm and 1984 bloom, percolate, and grow.

— Emily Temple - Flavorpill

Reading the Diaries end-to-end in a single volume offers us a different take on Orwell: less as a thinker, or a figure of political conscience, than as a complex and dimensional human being.

— David Ulin - Los Angeles Times

Orwell's achievement grew out of seemingly modest virtues: decency; good, hard sense; and clean, clear prose. Yet they added up to something monumental… The diaries as a whole do exactly what you would expect: They confirm his greatness.
— Craig Seligman - Bloomberg.com

Orwell lived in London during most of World War II, including during the Battle of Britain. Entries during this period have the author's defining features on display, including unimpeachable intellectual honesty, concern about the degradation of truth, physical courage, and unpretentious writing… All the traits that made Orwell so great can be found in the Diaries.

— Jordan Michael Smith - Christian Science Monitor

A window into the way Orwell's mind worked.
— Barry Gewen - New York Times Book Review, Front page

Reading these diaries leaves one, as always when encountering the words of George Orwell, with a confirmed admiration for the sterling qualities that have made him a benchmark for integrity and a lodestar for writers and thinkers across the ideological spectrum. Embedded in the DNA of his writing is that austere, penetrating analytical ability, averse to cant or any form of hypocrisy and pretension, unsparing of everything and everyone—especially himself. He simply can't help being that way: Once pen is put to paper, or fingers to typewriter, those qualities appear, second nature to his writing, even the most casual.
— Martin Rubin - San Francisco Chronicle

...[T]he diaries as a whole do exactly what you would expect: They confirm his greatness.
— Craig Seligman - Newsday

We should celebrate the publication of Orwell's diaries. The publication of personal texts by other authors might smack of cheap opportunism, purely a money-making ploy. But I think publishers got it right with Orwell.
— Scott Beauchamp - Book Riot

How appropriate that the political moralist George Orwell (1903-50) should be published by a company called Liveright! Orwell, who despised every form of careerism, instinctively gravitated to the kind of quiet rural existence that we associate with ancient Greek philosophers or Anglican clergyman of the 18th century. Certainly, these diaries reveal that the author of Animal Farm was happiest cultivating his garden, observing the weather, enjoying the beauty of spring flowers and watching over the health of his hens.

— Michael Dirda - Washington Post

It is a blessing, then, to now have the opportunity to read his Diaries, edited meticulously by Peter Davison, who as the editor of the twenty volumes of Orwell's Complete Works has an unequaled knowledge of the material… They throw a revealing light on Orwell the thinker, and offer welcome stimulus to revisit the books and essays in which that mind left its lasting imprint.

— Brooke Allen - Barnes and Noble Review

Edited with exemplary skill and grace by Peter Davison.
— William H. Gass - Harper's
Liveright, 9780871404107, 624pp.
Publication Date: August 20, 2012
About the Author
George Orwell (Eric Arthur Blair, 1903–1950) wrote fiction, journalism, criticism, and poetry. His nine books include the classics Animal Farm and 1984.

Peter Davison edited the twenty volumes of Orwell's Complete Works (with Ian Angus and Sheila Davison).

Christopher Hitchens (1949–2011) is the author of God Is Not Great, Hitch-22, and Why Orwell Matters.
or
Not Currently Available for Direct Purchase