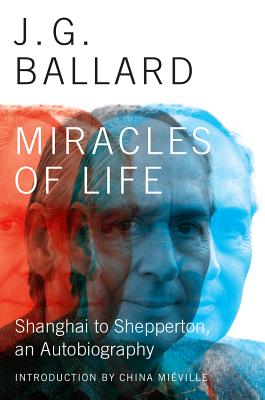 Miracles of Life
Shanghai to Shepperton, An Autobiography
Hardcover

* Individual store prices may vary.
Description
A final statement from the greatest clairvoyant of twentieth-century literature.
Never before published in America, this revelatory autobiography—hailed as "fascinating [and] amazingly lucid" (
Guardian
)—charts the remarkable story of James Graham Ballard, a man described by Martin Amis as "the most original English writer of the last century." Beginning with his Shanghai childhood,
Miracles of Life
guides us from the deprivations of Lunghua Camp during World War II, which provide the back story for his best-selling
Empire of the Sun
, to his arrival in war-torn England and his emergence as "the ideal chronicler of our disturbed modernity" (
Observer
). With prose of characteristic precision, Ballard movingly recalls his first attempts at science fiction, the 1970 American pulping of
The Atrocity Exhibition
—which sprang from his fascination with JFK conspiracy theories—and his life as a single father after the premature death of his wife. "This book should make yet more converts to a cause that Ballard's devotees have been pleading for years" (
Independent
).
Praise For Miracles of Life: Shanghai to Shepperton, An Autobiography…
The unpredictably serene memoir from one of the most daring voices in fiction.... An affectionate... recollection of life's rich pageant.
— Kirkus Reviews

Warmer, plainer and more elegiac than his admirers may have foreseen… What's largely new, and savage, in this memoir is the level of disillusionment Ballard came to feel during the war, about both England and his own distant parents… I'm not sure I've read a more comprehensive takedown of the postwar British psyche… Beneath Ballard's inherently critical mind, and in contrast to the alienation that permeates his fiction, Miracles of Life slowly unfolds into a rather big-hearted book about family and child rearing… I read it with deep interest as critic and father.

— Dwight Garner - New York Times

Warm,' 'poignant' and 'loving' aren't adjectives you'd readily apply to the work of British novelist J.G. Ballard (1930-2009). But in his memoir…those adjectives are what come to mind ... albeit with some subversive, complicating twists…That sense of sabotaged realities permeates all his fiction, from The Drowned World (1952) to his final novel, Kingdom Come (2006). Miracles of Life, along with telling his own powerful personal story, casts light on where his unique vision came from.

— Michael Upchurch - Seattle Times

Though the book has all the discursiveness one might expect from a memoir written by a man facing down death, there's still a sharpness to Ballard's sense of humor, particularly when it comes to his interactions with Hollywood (he calls Holly Hunter's press conference defense of the movie Crash the best performance at Cannes). He remained, to the end, a gimlet-eyed bard.

— Jonathan Messinger - Time Out Chicago

With the same restraint and lucidity that defined so much of his fiction, Miracles of Life makes the case for viewing the work through the prism of the life, and indeed for deciphering the writings as a kind of post-traumatic eternal return… In the book's most vivid passages, 1930s Shanghai comes to life as a playground for the budding surrealist.

— Dennis Lim - Bookforum
Liveright, 9780871404206, 272pp.
Publication Date: February 4, 2013
About the Author
J.G. Ballard was born in Shanghai in 1930 and lived in England from 1946 until his death in London in 2009. He is the author of nineteen novels, including Empire of the Sun, The Drought, and Crash, with many of them made into major films.
or
Not Currently Available for Direct Purchase