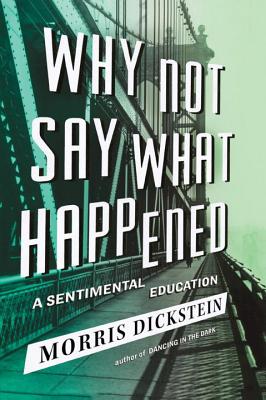 Why Not Say What Happened
A Sentimental Education
Hardcover

* Individual store prices may vary.
Description
A renowned cultural critic tells his own deeply engaging story of growing up in the turbulent American culture of the postwar decades.
At once a coming-of-age story, an intellectual autobiography, and vivid cultural history, Why Not Say What Happened is an eloquent, gripping account of an intellectual and emotional education from one of our leading critics. In this "acutely observed, slyly funny memoir" (Molly Haskell), Morris Dickstein evokes his boisterous and close-knit Jewish family, his years as a yeshiva student that eventually led to fierce rebellion, his teenage adventures in the Catskills and in a Zionist summer camp, and the later education that thrust him into a life-changing world of ideas and far-reaching literary traditions. Dickstein brilliantly depicts the tension between the parochial religious world of his youth and the siren call of a larger cosmopolitan culture, a rebellion that manifested itself in a yarmulka replaced by Yankees cap, a Shakespeare play concealed behind a heavy tractate of the Talmud, and classes cut on Wednesday afternoons to take in the Broadway theater.
Tracing a path from the Lower East Side to Columbia University, Yale, and Cambridge, Dickstein leaves home, travels widely, and falls in love, breaking through to new experiences of intimacy and sexual awakening, only to be brought low by emotional conflicts that beset him as a graduate student—homesickness, a sense of cultural dislocation—issues that come to a head during a troubled year abroad. In Why Not Say What Happened we see Dickstein come into his own as a teacher and writer deeply engaged with poetry: the "daringly modern" Blake, the bittersweet "negotiations of time and loss" in Wordsworth, and the "shifting turns of consciousness itself" in Keats. While eloquently evoking the tumult of the sixties and a culture in flux, Why Not Say What Happened is enlivened by Dickstein's "Zelig-like presence at nearly every significant aesthetic and political turning of the second half of the American twentieth century" (Cynthia Ozick). Dickstein crafts memorable portraits of his own mentors and legendary teachers like Lionel Trilling, Peter Gay, F. R. Leavis, and Harold Bloom, who become inimitable role models. They provide him with a world-class understanding of how to read and nourish his burgeoning feeling for literature and history. In the tradition of classic memoirs by Alfred Kazin and Irving Howe, this frank and revealing story, at once keenly personal and broadly cultural, sheds light on the many different forms education can take.
Praise For Why Not Say What Happened: A Sentimental Education…
Leading critic/historian Dickstein… here turns that spotlight mind on a subject close to home as he details his Lower East Side childhood, then breaking away from his close, observant Jewish family as he discovers Beat-imbued New York and the rich literary life at Columbia University. Then it's on to oh-so-proper Yale and Cambridge and the wild Sixties.
— Library Journal

Morris Dickstein's magnetically intimate memoir is as much a record of an ardent young man's besotted hunger for literature as it is of his Zelig-like presence at nearly every significant aesthetic and political turning of the second half of the American twentieth century. And more: first love and first fatherhood; first immersion in the heady air of Cambridge, London, and Paris; portraits of illustrious teachers and critics (Leavis, Trilling, Bloom); the tremors and vagaries of first entering the demanding life of the academy; and an exhilarating glimpse into Dickstein's ripened mastery as he joins the storied generations of influential teachers, mentors, and cultural virtuosos.
— Cynthia Ozick

In this acutely observed, slyly funny memoir, we see the evolution of one of our foremost critics during a watershed moment of cultural history. Dickstein, a precocious, parochial yeshiva boy from the Lower East Side, makes the great trip to Columbia University, losing his virginity and wising up along the way. His naturally expansive sympathies are nurtured under some of the legendary teachers of the day, even as he gets caught up in the turbulence and changing tastes of the sixties. For me, this was both a page-turner and an intellectual joy ride—Dickstein put me in a front row seat of classes I'd give anything to have attended, and discussions I'd love to have been in on.
— Molly Haskell

A humane and benevolent account of an ideal education, by an ideal mentor and guide. A wonderful book.
— Mark Edmundson

Morris Dickstein's new book is at the same time a personal, cultural, and intellectual autobiography and an indispensable study of the tumultuous sixties. Charting the progress of an archetypical Jewish intellectual, Dickstein describes his evolution from Catskills innocent to Ivy League sophisticate, from Jewish minor to English major, from Lower East Side yeshiva bokher to apostle of higher Western learning, all the while paying generous tribute to his teachers, his students, and his friends and family. Written with wit, power, and insight, Why Not Say What Happened is a fascinating exploration of a clearheaded scholar and a controversial age.

— Robert Brustein

An esteemed cultural and literary critic charts the intellectual and religious paths of his early years… [leaving] indelible portraits of his contemporaries and mentors. There's the brilliant Lionel Trilling, who tended to wing his way through lectures; F.R. Leavis, a "slash and burn" critic cowed by his imperious wife; and the redoubtable Harold Bloom, who even then was already the smartest guy in every room… Dickstein hasn't lost his zeal for art or ideas or his passion for writing about them.
— Kirkus Reviews

Dickstein's rapt, unabashed delight in literature and his willingness to let it inform his own experience make for an indelible account of the life of the mind.
— Publishers Weekly

[A] lively, impressionistic account of the intellectual and personal transformation of a 'brash Jewish kid from New York' that paralleled the U.S.'s emergence from the torpor of the 1950s into the political and cultural explosion of the following decade… In vivid and entertaining prose, Dickstein describes his educational journey as he moved from his undergraduate years at Columbia College and on to Yale… One can only hope he's well on his way to completing another volume.
— Harvey Freedenberg - Shelf Awareness

Insightful… [D]escriptions can glint with illumination, and Mr. Dickstein is charmingly self-effacing as he tries to comprehend his life's unfolding.
— Edward Rothstein - Wall Street Journal

Though an old-fashioned humanist like his mentors, Dickstein reveals himself to be in synch with his time. …Conjuring a lost age of intellect, Dickstein proves the most cheerful of elegists.
— New Yorker

[An] affecting memoir…. As you get deeper into Dickstein's Sentimental Education, you begin to see… how far he has traveled from the confines of his Lower East Side Jewish childhood to a deep understanding of Western culture…. What's impressive is how seamlessly everything in Dickstein's story connects—his daily life, his studies and his reactions to the books he reads.
— Christopher Lehmann-Haupt, Moment
Liveright, 9780871404312, 320pp.
Publication Date: February 9, 2015
About the Author
Morris Dickstein (1940—2021) was Distinguished Professor Emeritus of English and Theatre at the CUNY Graduate Center and the author of Gates of Eden, Dancing in the Dark, an award-winning cultural history of the Great Depression, and Why Not Say What Happened, a memoir.
or
Not Currently Available for Direct Purchase