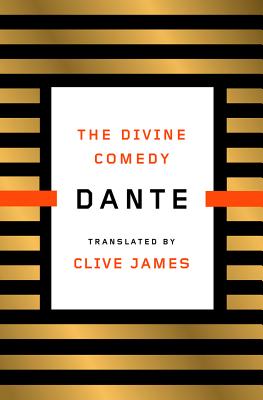 The Divine Comedy
Hardcover

* Individual store prices may vary.
Other Editions of This Title:
Paperback (5/21/2020)
Paperback (3/2/2021)
Paperback (3/13/2008)
Paperback, Spanish (9/17/2016)
Paperback (6/28/2020)
Paperback (8/2/2012)
Paperback, Spanish (1/24/2021)
Paperback (2/3/2014)
Paperback (11/26/2013)
Paperback (12/14/2020)
Paperback (9/9/2021)
Paperback (5/13/2012)
Paperback (5/16/2009)
Paperback (5/29/2008)
Paperback (1/24/2009)
Paperback (5/2/2020)
Paperback (1/27/2014)
Paperback, Spanish (9/30/2011)
Description
Renowned poet and critic Clive James presents the crowning achievement of his career: a monumental translation into English verse of Dante's The Divine Comedy.
The Divine Comedy
is the precursor of modern literature, and this translation—decades in the making—gives us the entire epic as a single, coherent and compulsively readable lyric poem. Written in the early fourteenth century and completed in 1321, the year of Dante's death,
The Divine Comedy
is perhaps the greatest work of epic poetry ever composed.
Divided into three books—Hell, Purgatory and Heaven—the poem's allegorical vision of the afterlife portrays the poet's spiritual crisis in terms of his own contemporary history, in a text of such vivid life and variety that modern readers will find themselves astounded in a hundred different ways. And indeed the structure of this massive single song is divided into a hundred songs, or cantos, each of which is a separate poetic miracle. But unifying them all is the impetus of the Italian verse: a verbal energy that Clive James has now brought into English.
In his introductory essay, James says that the twin secrets of Dante are texture and impetus. All the packed detail must be there, but the thing must move. It should go from start to finish with an unflagging rhythm. In the original, the basic form is the terza rima, a measure hard to write in English without showing the strain of reaching once too often for a rhyme. In this translation, the basic form is the quatrain. The result, uncannily, is the same easy-seeming flow, a wonderful momentum that propels the reader along the pilgrim's path from Hell to Heaven, from despair to revelation.
To help ensure that no scholastic puzzles get in the road of appreciation, James has also adopted the bold policy of incorporating key points from the scholarship into the text: uploading them from the footnotes, as it were, and making them part of the narrative, where they can help to make things clear.
For its range of emotion alone, Clive James's poetic rendering of The Divine Comedy would be without precedent. But it is also singled out by its sheer readability. The result is the epic as a page-turner, a work that will influence the way we read Dante in English for generations to come.
Praise For The Divine Comedy…
Clive James's translation of The Divine Comedy is a remarkable achievement: not a scowling marble Dante of sublime set pieces but a living, breathing poet shifting restlessly through a dizzying succession of moods, perceptions and passions.  Under James's uncanny touch, seven long centuries drop away, and the great poem is startlingly fresh and new.

— Stephen Greenblatt, Harvard University, author of The Swerve

This is the translation that many of us had abandoned all hope of finding. Clive James's version is the only one that conveys Dante's variety, depth, subtlety, vigor, wit, clarity, mystery and awe in rhymed English stanzas that convey the music of Dante's triple rhymes. This book lets Dante's genius shine through as it never did before in English verse, and is a reminder that James's poetry has always been his finest work.
— Edward Mendelson, Columbia University

A vigorous, poetic paraphrase of the Comedy.
— Library Journal

Daring… Deciding that Dante's terza rima is too strained in English, he uses robust, rollicking quatrains… James' revitalizing translation allows this endlessly analyzed, epic, archetypal 'journey to salvation' to once again stride, whirl, blaze, and sing. Anyone heretofore reluctant to pick up The Divine Comedy will discover that James' bold, earthy, rhythmic and rhyming, all-the-way live English translation fulsomely and brilliantly liberates the profound humanity of Dante's timeless masterpiece.

— Booklist

Do we really need yet another translation of Dante's world-famous journey through the three parts of the Catholic afterlife? We might, if the translator is both as eminent, and as skillful, as Clive James… It is a wonder to see the light cast by the whole.
— Publishers Weekly

Seeking to preserve Dante's 'infinitely variable rhythmic pulse,' James makes an inspired metrical choice… The greatest virtue of James's translation is his gift for infusing poetry in the least likely places… James's austere volume achieves something remarkable: It lets Dante's poetry shine in all its brilliance.
— Joseph Luzzi - New York Times Book Review

James gives us something sublime: a new way of reading a classic work. James' version is not merely a mirrored word, but a transfigured word. As such, it will no doubt enter the essential Dante canon, and remain there for years to come.
— Earl Pike - Cleveland Plain Dealer

A translation for readers who are culturally engaged, willing to follow lengthy narratives, and curious about free will and the soul. A Dante for fans of Mad Men?

— Camila Domonoske - NPR.org

Hugely enjoyable… James allows us a valuable new glimpse into a supremely imaginative mind at work when thought and faith remained indivisible—before God, too, was forced from Paradise.
— Tom Bissell - Harper's

Perfect for the Don Drapers in your life.
— Megan O'Grady - Vogue.com

An extraordinary verse-rendering—the fruit of many years' work—of Dante's The Divine Comedy…he [James] has not only tackled this Everest of translation, but has scrambled to the summit in triumph.

— Robert McCrum - The Guardian

As with [Seamus] Heaney, the telling choices in his diction are discreet in themselves, but overwhelming in their impact—.James has translated the meaning along with the words, so that his Divine Comedy is, for the twenty-first century English speaker, something very close to reading Dante in 1317.

— Deirdre Serjeantson - Dublin Review of Books

The poem flows magnificently…the speeches are magnificent …. As for the later books, I know of no English versions that come near James's…easily the best introduction to Dante for the general reader.
— Peter Goldsworthy - The Australian

James's Divine Comedy… is an impassioned, impressive, sometimes dazzling piece of work…. James has written a remarkable contemporary version of Dante—stately, colloquial, full of movement and fire and light…. [It] is a remarkable tour de force—brave, sparkling, encyclopedic and with a tremendous forward momentum as it traverses the vast space of life and death and eternity.

— Peter Craven - Sydney Morning Herald

An outstanding achievement…. He restores the sense of drama, the colours and the music of Dante's vision….. Clive James has now given us a translation worthy of this and any other time, and a great piece of literature in its own right.
— Robert Fox - London Evening Standard
Liveright, 9780871404480, 560pp.
Publication Date: April 15, 2013
About the Author
Dante Alighieri was born in 1265 in Florence to a family of minor nobility. He entered into Florentine politics in 1295, but he and his party were forced into exile in a hostile political climate in 1301. Taking asylum in Ravenna late in life, Dante completed his Divine Commedia, considered one of the most important works of Western literature, before his death in 1321.

Clive James (1939—2019), author of the best-selling Cultural Amnesia and Poetry Notebook, was an Officer of the Order of Australia and a Commander of the Order of the British Empire. His writing appeared in the New York Times Book Review, The New Yorker, and The Atlantic.
or
Not Currently Available for Direct Purchase