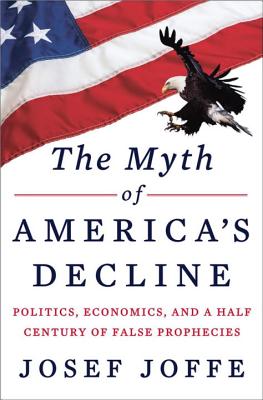 The Myth of America's Decline
Politics, Economics, and a Half Century of False Prophecies
Hardcover

* Individual store prices may vary.
Other Editions of This Title:
Paperback (11/10/2014)
Description
A provocative and contrarian work—filled with great lessons from history—that challenges the pervasive notion that America is on the decline.
Praise For The Myth of America's Decline: Politics, Economics, and a Half Century of False Prophecies…
The Myth of America's Decline effectively lays to rest the belief that America has lost its preeminence. Joffe's well-documented research confirms an entirely different story: that the United States stands near or at the top of every ranking used to measure a nation's strength and vigor. It is a book that should be of interest to all who may be worried about America's future.

— Henry A. Kissinger

In lucid and logical style, one of Europe's leading intellectuals skewers the anti-Americanisms of his compatriots while telling the United States how to survive as the only superpower.
— Joseph S. Nye Jr., author of Soft Power: The Means to Success in World Politics

Josef Joffe is a brilliant observer of international politics. He is also a keen student—and admirer—of the United States. He combines these two passions in this remarkable reflection on America's role in the world. It is the best book on the subject in years.
— Fareed Zakaria, author of The Future of Freedom

Joseph Joffe has written a bracing and intelligent reminder that, for all its woes, America remains extraordinarily dynamic, innovative and resilient. Pessimists on the left and right should read it carefully, as should all of us.
— Fareed Zakaria, author of The Post-American World

Joffe's counter-argument that indeed America is not in relative decline is persuasive…. Joffe's detailed catalogue of economic and civil weaknesses in the Chinese police state is the book's high point, however, with the author observing that repression has been the Chinese way since the Ming Dynasty…. For readers tired of blame-America-first critics or who want to find out what a smart, influential European thinks of the country's prospects, Joffe's book is a useful place to begin.

A solid…job of refuting the declinism so feared by the right and perhaps welcomed by some even farther to the right and left. Along the way, Joffe cites some little-discussed statistics, such as the fact that China's aging population and the need for a replenished labor pool to support it fall into 'ratios [that] are far worse than any in the West.' So much for China as the rising dominant world power. There is no triumphalism here, for Joffe notes that there are plenty of problems for the United States to overcome, such as 'the breakdown of bipartisanship…intractable deficits and rising debt…[and] social polarization.'

German intellectual Josef Joffe makes a stirring case against the Fareed Zakaria and Thomas Friedman's of the world that America is strong and getting stronger…. While acknowledging that anything is possible and America's best days may yet be behind us, Joffe is adept at explaining the intangible factors that will likely ensure America's preeminence for ages to come.
— James Kirchick

Brave and bracing…. Joffe makes a strong case that a mix of Chinese vulnerabilities and American strengths means it is unlikely that China will replace the United States anytime soon as the center of the global system. Yet, as Joffe notes, constant anxiety about the United States' prospects might be one of the cultural forces responsible for the country's persistent strength; rather than resting on their laurels, Americans continually and even neurotically poke at their social fabric, looking for tears that need mending.
— Walter Russell Mead
Liveright, 9780871404497, 352pp.
Publication Date: November 4, 2013
About the Author
Publisher-editor of Die Zeit and the author of Überpower, Josef Joffe was educated at Swarthmore College and Harvard University. A frequent contributor to Foreign Affairs and Foreign Policy, he is a founding board member of the American Interest. He is a Fellow at Stanford University's Hoover Institution and the Freeman-Spogli Institute for International Studies.
or
Not Currently Available for Direct Purchase