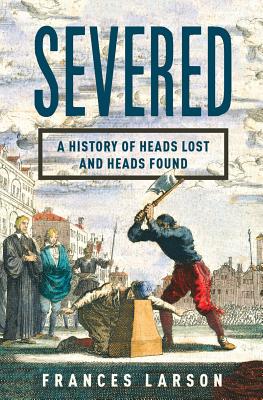 Severed (Hardcover)
A History of Heads Lost and Heads Found
Liveright, 9780871404541, 336pp.
Publication Date: November 17, 2014
Other Editions of This Title:
Paperback (11/2/2015)
Paperback (10/1/2015)
MP3 CD (7/28/2015)
* Individual store prices may vary.
Description
A serious and seriously entertaining exploration of the dark and varied obsessions that the "civilized West" has had with decapitated heads and skulls.
The human head is exceptional. It accommodates four of our five senses, encases the brain, and boasts the most expressive set of muscles in the body. It is our most distinctive attribute and connects our inner selves to the outer world. Yet there is a dark side to the head's preeminence, one that has, in the course of human history, manifested itself in everything from decapitation to headhunting. So explains anthropologist Frances Larson in this fascinating history of decapitated human heads. From the Western collectors whose demand for shrunken heads spurred massacres to Second World War soldiers who sent the remains of the Japanese home to their girlfriends, from Madame Tussaud modeling the guillotined head of Robespierre to Damien Hirst photographing decapitated heads in city morgues, from grave-robbing phrenologists to skull-obsessed scientists, Larson explores our macabre fixation with severed heads.
About the Author
Frances Larson is an Honorary Research Fellow at the University of Durham and the author of An Infinity of Things: How Sir Henry Wellcome Collected the World and Severed. She lives in Durham.
Praise For Severed: A History of Heads Lost and Heads Found…
Larson delves into the grotesque yet wildly fascinating topic of decapitation… [Her] lively, conversational tone turns these morbid objects into something more meaningful than a mere expression of the macabre.

[W]ide-ranging and thoughtful… In an age where so many taboos are fading, the severed head retains its dreadful and sacred power.
— Mike Jay

No need to explain why this nonfiction book made the top of my list… Despite the ghoulish subject, this is a closely researched, indeed, scholarly study of the bizarre customs of hunting, collecting, trading, displaying and otherwise bonding with other people's heads.
— Marilyn Stasio

This idiosyncratic history of decapitation… jumps between historical and recent examples, from the invention of the guillotine in the French Revolution to Damien Hirst's self-portrait in a morgue… This morbid obsession, [Larson] argues, is common to all cultures—a realization that dawned on her when she worked at a museum that exhibited shrunken heads. Her book shares in this fascination—'dangerous but irresistible'—and makes some distinctions between the forms it takes.
or
Not Currently Available for Direct Purchase