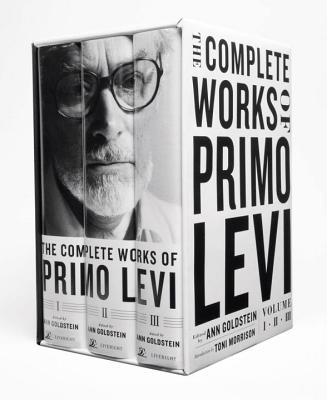 The Complete Works of Primo Levi
Hardcover

* Individual store prices may vary.
Description
A New York Times Notable Book of the Year

Named one of the Best Books of the Year by the Washington Post and Library Journal

A Holiday Gift Guide Selection in the San Francisco Chronicle and Newsday

A New York Times Book Review Editors' Choice Selection
The Complete Works of Primo Levi, which includes seminal works like If This Is a Man and The Periodic Table, finally gathers all fourteen of Levi's books—memoirs, essays, poetry, commentary, and fiction—into three slipcased volumes.
Primo Levi, the Italian-born chemist once described by Philip Roth as that "quicksilver little woodland creature enlivened by the forest's most astute intelligence," has largely been considered a heroic figure in the annals of twentieth-century literature for If This Is a Man, his haunting account of Auschwitz. Yet Levi's body of work extends considerably beyond his experience as a survivor. Now, the transformation of Levi from Holocaust memoirist to one of the twentieth century's greatest writers culminates in this publication of The Complete Works of Primo Levi. This magisterial collection finally gathers all of Levi's fourteen books—memoirs, essays, poetry, and fiction—into three slip-cased volumes. Thirteen of the books feature new translations, and the other is newly revised by the original translator. Nobel laureate Toni Morrison introduces Levi's writing as a "triumph of human identity and worth over the pathology of human destruction." The appearance of this historic publication will occasion a major reappraisal of "one of the most valuable writers of our time" (Alfred Kazin).
The Complete Works of Primo Levi features all new translations of: The Periodic Table, The Drowned and the Saved, The Truce, Natural Histories, Flaw of Form, The Wrench, Lilith, Other People's Trades, and If Not Now, When?—as well as all of Levi's poems, essays, and other nonfiction work, some of which have never appeared before in English.
Praise For The Complete Works of Primo Levi…
Levi's best writing was about his life, about questions of freedom and survival…. [A] remarkable achievement.
— Tim Parks - New York Review of Books

Expertly edited by Ann Goldstein…. These three handsome volumes bring into focus the breadth and coherence of his genius, and make unexpectedly clear how deeply his work as a chemist shaped his unsettling work as a moralist and his unique vision of psychology and history…. The 3,000 pages of his Complete Works seem tragically few.

— Edward Mendelson - New York Times Book Review

Represents a monumental and noble endeavor on the part of its publisher, its general editor, Ann Goldstein, and the many translators who have produced new versions of Levi's work. Although his best-known work has already benefited from fine English translation, it's a gift to have nearly all his writing gathered together, along with work that has not before been published in English.
— James Woods - The New Yorker

Old school publishing on a grand scale. Once more, Robert Weil of W.W. Norton, now director of its Liveright imprint, has produced a magnificent edition of an important, if slightly neglected, author…. For such a gift as The Complete Works of Primo Levi, one should probably do little more than express thanks…. Whether as witness or imaginative artist, Levi stands high among the truly essential European writers of the past century.

— Michael Dirda - Washington Post

Levi, a scientist and deep humanist, vividly comes alive in this boxed set. A laudable, monumental effort to gather the work of a crucial writer of the 20th century in one voluminous package.
— Kirkus Reviews, Starred Review

It is, by any measure, a monumental effort…. [Ann Goldstein] has succeeded. What he hear throughout is Primo Levi's voice: wry, honest, exact, compassionate in its recognition of human frailty, and imbued with (as he once wrote of Charles Darwin) 'the sober joy of a man who extracts order from chaos'…. Goldstein and her collaborators have performed an amazing service by allowing us to see him, as it were, complete.
— James Marcus - Harper's Magazine

Wonderful…. You cannot forget [Levi]. He writes clearly, cogently, concretely, compactly. His is a scientist's eye, and he often said (with his trademark dry humor) that the main model for his writing was the lab report. Yet in the best contemporary sense, he's also stylish, laboratory-scrupulous in sentence, description, and word choice, always with a sense of the lively mind behind the words…. Levi is among the prime writers to emerge after World War II. This treasure trove will cement his reputation.
— John Timpane - Philadelphia Inquirer

A major and most welcome cultural event. It will astonish most of Levi's English-speaking readers by revealing the richness and extent of his oeuvre…. Levi discharged this duty triumphantly in works of unequaled intellectual rigor, compassion, and modesty.
— Louis Begley - American Scholar

A binge reader of The Complete Works of Primo Levi will encounter science fiction, natural histories, and accounts of young love. Levi not only plunders chemical terminology for metaphors describing human affairs (his memoir The Periodic Table is a brilliant example) but also holds up precise, restrained scientific analysis as a model for prose…. As heir to the Italian Renaissance [Levi asks]: What is it to be human? …Amid the bluster and bilge of the violent moment, we need that kind of voice more than ever.

— Steven G. Kellman - Chronicle of Higher Education

A remarkable three-volume set of memoirs, novels, short stories, essays, commentary, book reviews, and poetry, the Complete Works now enables us to appreciate the tangle of forms and identities that defined Levi as a writer: memorialist and fantasist, scientist and sensationalist, puritan and jester, poet and political commentator...It gives us a far more eclectic and interesting writer, one who ranged across a vast intellectual terrain that included astronomy, history, linguistics, classical literature, art, current affairs, memory, and religion.

— Gavin Jacobson - The New Republic

There are many reasons to be grateful for the publication of The Complete Works of Primo Levi in a freshly translated, scrupulously edited and beautifully presented edition, starting with the fact that it brings English readers the correct titles of his books…. The complete works of this unfinished and unfinishable man will, for many generations, help to make us human.

— Sam Magavern - Buffalo News

With the moral stamina and intellectual pose of a twentieth-century titan, this slightly built, dutiful, unassuming chemist set out systematically to remember the German hell on earth, steadfastly to think it through, and then to render it comprehensible in lucid, unpretentious prose.
— Philip Roth

The Complete Works of Primo Levi is an act that transfigures publishing into conscience at its most sublime.

— Cynthia Ozick

The triumph of human identity and worth over the pathology of human destruction glows virtually everywhere in Levi's writing…Time and time again we are moved by his narratives of how men refuse erasure.
— Toni Morrison, from the introduction

His life was a testament to the virtues of getting the past into proportion.
— Clive James

Primo Levi's poise was one of the greatest achievements in the history of the human spirit. His writing restored the honor of humanism after Auschwitz. This was a man.

— Leon Wieseltier
Liveright, 9780871404565, 3008pp.
Publication Date: September 28, 2015
About the Author
Primo Levi (1919–1987) was an Italian chemist and writer, best known for his memoirs If This Is a Man and The Periodic Table.

Ann Goldstein, the editor of The Complete Works of Primo Levi and the award-winning translator of Elena Ferrante's novels, is a former editor at The New Yorker.

Toni Morrison is a winner of the Nobel Prize in Literature.