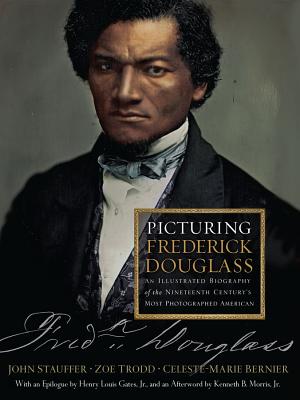 Picturing Frederick Douglass
An Illustrated Biography of the Nineteenth Century's Most Photographed American
Hardcover

* Individual store prices may vary.
Other Editions of This Title:
Paperback (2/27/2018)
Description
A landmark and collectible volume—beautifully produced in duotone—that canonizes Frederick Douglass through historic photography.
Picturing Frederick Douglass is a work that promises to revolutionize our knowledge of race and photography in nineteenth-century America. Teeming with historical detail, it is filled with surprises, chief among them the fact that neither George Custer nor Walt Whitman, and not even Abraham Lincoln, was the most photographed American of that century. In fact, it was Frederick Douglass (1818–1895), the ex-slave turned leading abolitionist, eloquent orator, and seminal writer whose fiery speeches transformed him into one of the most renowned and popular agitators of his age. Now, as a result of the groundbreaking research of John Stauffer, Zoe Trodd, and Celeste-Marie Bernier, Douglass emerges as a leading pioneer in photography, both as a stately subject and as a prescient theorist who believed in the explosive social power of what was then just a nascent art form.
Indeed, Frederick Douglass was in love with photography. During the four years of Civil War, he wrote more extensively on the subject than any other American, even while recognizing that his audiences were "riveted" by the war and wanted a speech only on "this mighty struggle." He frequented photographers' studios regularly and sat for his portrait whenever he could. To Douglass, photography was the great "democratic art" that would finally assert black humanity in place of the slave "thing" and at the same time counter the blackface minstrelsy caricatures that had come to define the public perception of what it meant to be black. As a result, his legacy is inseparable from his portrait gallery, which contains 160 separate photographs.
At last, all of these photographs have been collected into a single volume, giving us an incomparable visual biography of a man whose prophetic vision and creative genius knew no bounds. Chronologically arranged and generously captioned, from the first picture taken in around 1841 to the last in 1895, each of the images—many published here for the first time—emphasizes Douglass's evolution as a man, artist, and leader. Also included are other representations of Douglass during his lifetime and after—such as paintings, statues, and satirical cartoons—as well as Douglass's own writings on visual aesthetics, which have never before been transcribed from his own handwritten drafts.
The comprehensive introduction by the authors, along with headnotes for each section, an essay by Henry Louis Gates, Jr., and an afterword by Kenneth B. Morris, Jr.—a direct Douglass descendent—provide the definitive examination of Douglass's intellectual, philosophical, and political relationships to aesthetics. Taken together, this landmark work canonizes Frederick Douglass through a form he appreciated the most: photography.
Featuring:


Contributions from Henry Louis Gates, Jr., and Kenneth B. Morris, Jr. (a direct Douglass descendent)


160 separate photographs of Douglass—many of which have never been publicly seen and were long lost to history


A collection of contemporaneous artwork that shows how powerful Douglass's photographic legacy remains today, over a century after his death


All Douglass's previously unpublished writings and speeches on visual aesthetics


Praise For Picturing Frederick Douglass: An Illustrated Biography of the Nineteenth Century's Most Photographed American…
These images don't change your mind; they smash through some of the warped lenses through which we've been taught to see.
— David Brooks - New York Times

Beautifully crafted and contextualized.... the extant photographs illuminate American history and memory.
— The Washington Post

A terrific new book.
— The New Yorker

Striking…. The most exciting images in the book are those that show us how these 19th-century portraits became, over the decades that follow, a part of the symbolic surround of the modern American landscape…. The words in this highly visual book are perhaps even more powerful than the images…. Pictures conveyed a precision akin to religious truth, an affective prerequisite for social movements.
— Matthew Pratt Guterl - The New Republic

Nothing less than a masterpiece in the fields of biography, African-American history, and not least of all the neglected area of iconography…A riveting instant classic and a pure pleasure to behold.
— Harold Holzer, winner of the Lincoln Prize and author of Lincoln and the Power of the Press: The War for Public Opinion

Picturing Frederick Douglass marries all of my present interests: legacies of slavery; beautiful images of a beautiful man; and the first theory of photography as a democratic medium capable of social change. Stunningly original and elegantly written and designed, it will inspire anyone interested in the links between the visual and the verbal.

— Sally Mann, author of Hold Still: A Memoir with Photographs

Douglass emerges here out of photographic technology's earliest years, with majestic beauty, and through the power of his own self-creations. The book is the result of intrepid research and brilliant analysis; it charts Douglass's life visually, allowing him to look back at us wryly, wistfully, wrathfully.
— David W. Blight, Yale University, and author of Frederick Douglass: A Life

In Picturing Frederick Douglass, Stauffer, Trodd, and Bernier offer exhilarating scholarship and our idea of Douglass and our sense of photography in nineteenth-century America are deepened. This is brilliant and very moving work.

— Darryl Pinckney, author of High Cotton, Out There and Black Balled: The Black Vote and U.S. Democracy

Picturing Frederick Douglass marks a significant turn in the long history of Douglass's reception. Both as a subject for photography and as a critical theorist who reflected on the democratic, humane, and truth-telling powers of the medium, Douglass emerges in this beautiful volume in a completely new light.

— W. J. T. Mitchell, author of Seeing Through Race

Picturing Frederick Douglass is to be shared, studied, read and repeated every six months, not only in the classroom but in our living rooms…Beautifully researched and storied…A true treasure!

— Deborah Willis, author of Reflections in Black and the acclaimed documentary, Through a Lens Darkly

This stunning volume presents 160 photographs, some for the first time, and they not only follow Douglass throughout his life but also place him within the times he lived…. Stauffer, Zoe Trodd, and Celeste-Marie Bernier point out that Douglass saw the truth-telling aspects of photography and how it could be used as a tool in the fight against slavery, as photos both humanized African Americans and revealed the horrors of their enslavement. This tour de force is a must-have that will enhance history and reference collections.
— Patricia Ann Owens - Library Journal, Starred review

This illustrious book collects all 160 photographs of renowned abolitionist Frederick Douglass and astutely places Douglass's personal interest in photography into the context of his career and legacy…. This study provides a multifaceted, unique look at one of the most influential figures of American history.
— Publishers Weekly

An impressive collection…give[s] a wonderful picture of the man, his intellect, and his devotion to his main cause, abolition…. The authors have pieced together an illuminating life portrait without extraneous biographical material, focusing intensely on their subject's belief in the strength of photographs.
— Kirkus Reviews
Liveright, 9780871404688, 320pp.
Publication Date: November 2, 2015
About the Author
John Stauffer is professor of English, American studies, and African American studies at Harvard University.

Zoe Trodd is professor and chair of American literature in the Department of American and Canadian Studies at the University of Nottingham.

Celeste-Marie Bernier is professor of African American studies in the Department of American and Canadian Studies at the University of Nottingham.

Henry Louis Gates, Jr. (Ph.D.Cambridge), is Alphonse Fletcher University Professor and Director of the W. E. B. Du Bois Institute for African and American Research, Harvard University. He is the author of Life Upon These Shores: Looking at African American History, 1513–2008; Black in Latin America; Tradition and the Black Atlantic: Critical Theory in the African Diaspora; Faces of America; Figures in Black: Words, Signs, and the Racial Self; The Signifying Monkey: A Theory of Afro-American Criticism; Loose Canons: Notes on the Culture Wars; Colored People: A Memoir; The Future of Race with Cornel West; Wonders of the African World; Thirteen Ways of Looking at a Black Man; and The Trials of Phillis Wheatley. His is also the writer, producer, and narrator of PBS documentaries Finding Your Roots; Black in Latin America; Faces of America; African American Lives 1 and 2; Looking for Lincoln; America Beyond the Color Line; and Wonders of the African World. He is the editor of African American National Biography with Evelyn Brooks Higginbotham, and The Dictionary of African Biography with Anthony Appiah; Encyclopedia Africana with Anthony Appiah; and The Bondwoman's Narrative by Hannah Crafts, as well as editor-in-chief of TheRoot.com.

Kenneth B. Morris, Jr. is descended from two of the most important names in American history: he is the great-great-great grandson of Frederick Douglass and the great-great grandson of Booker T. Washington. He is also the Founder and President of the public charity, Frederick Douglass Family Initiatives, which uses education in schools across the U.S. to address and prevent contemporary forms of slavery or human trafficking in communities.
Coverage from NPR
or
Not Currently Available for Direct Purchase