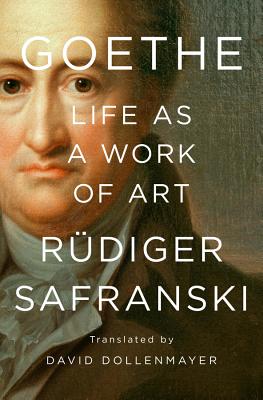 Goethe
Life as a Work of Art
Hardcover

* Individual store prices may vary.
Other Editions of This Title:
Paperback (12/4/2018)
Description
This sterling biography of Germany's greatest writer presents Johann Wolfgang von Goethe as if we are seeing him for the first time.
The work of Johann Wolfgang von Goethe has reverberated through two and a half centuries, altering the course of literature in ways both grand and intimate. No other writer so completely captivated the intellectual life of late eighteenth- and early nineteenth-century Europe, putting into language the anxieties and ambitions of a civilization on the cusp of modernity. A literary celebrity by the age of twenty-five, Goethe, who was born in Frankfurt in 1749, attracted the adulation and respect of the greatest scientists, politicians, composers, and philosophers of his day. Schoolboys dressed like his fictional characters. Napoleon read his first novel obsessively. He was an astoundingly prolific writer, a master of many genres, from poetry to scientific treatises, from novels like the tragic Sorrows of Young Werther to dramatic works like Faust. Indeed, Goethe's unparalleled literary output would come to define the Romantic age.
Rüdiger Safranski's Goethe: Life as a Work of Art is the first definitive biography in a generation to tell the larger-than-life story of the writer considered to be the Shakespeare of German literature. Drawing upon the trove of letters, diaries, and notebooks Goethe left behind, as well as correspondence and criticism from Goethe's contemporaries, Safranski weaves a rich tale of Europe in the throes of revolution and of the man whose ideas heralded a new era.
Safranski's monumental biography is a careful survey of Goethe's wide-ranging genius. Beyond his incredible literary gifts, Goethe was intensely interested in natural science and took seriously his official post as a statesman, working tirelessly to ensure that the working poor received wages and daily bread. With grace and nuance, Safranski crafts a portrait of Goethe's inner life that illuminates both his written work and the turmoil and triumphs of his era. Safranski shows that reading Goethe affords not simply an encounter with a literary virtuoso but an opportunity to develop a deeper appreciation of the human condition.
Goethe was writing in the midst of a dramatic and bloody time for Europe: the revolutions in France and America overturned the old regimes and introduced new ways of thinking about the world. Set against this backdrop, Goethe's life and work serve as an essential touchstone for the birth of the modern age. But as Safranski ultimately shows, Goethe's greatest creation was not only his literary masterpieces but his very life.
Praise For Goethe: Life as a Work of Art…
In this expansive biography, Safranski, a philosopher and historian, mixes narrative and commentary with the great poet's own words, from celebrated verse to obscure correspondence. Safranski's strength lies in his ability to blend artistic analysis with swift, sharp renderings of various artists, thinkers, pietists, lovers, and plundering solders who shaped Goethe. His portrait of the prolific genius leaves the reader with lasting awe, even envy.
— The New Yorker

Safranski sets out to show that Goethe was more than the sum of his works, outstanding though they were; in fact, he conceived his entire life as a work of art, with a beginning, a middle and an end. . . . A fresh and authentic-feeling read.
— Economist

A learned and arguably definitive account…Scholars will welcome this intellectual biography, richly embellished by primary sources and aided by the strong Dollenmayer translation.
— Publishers Weekly (starred review)

Masterful . . . . A penetrating, engrossing biography of a literary giant.
— Kirkus Reviews

Safranski's biography could change the British neglect—and sometimes fear —of Goethe. It is a handsome volume, beautifully translated by the American scholar, David Dollenmayer who has also elegantly translated the many Goethe quotations in the book...[It is] my hope that this book might restore Goethe to that high position he so richly deserves.
— Nicholas Jacobs - Angermion

Safranski allows Goethe to speak for himself, gloriously and without inhibition, in this compulsively readable new biography of a man almost too multifaceted to be knowable. Goethe's audacity, his intellect, his sense of his own genius—not to mention his embrace of all the experiences the world could offer him—cohere into this marvelous portrait of a life lived to the fullest.
— Celia Applegate, author of Bach in Berlin

Rüdiger Safranski's a German philosopher who's written biographies of Schiller, of E. T. A. Hoffmann, of Schopenhauer, and of Nietzsche. It's our good luck that this brilliant and patient genius has lately written Goethe: Life as a Work of Art…Mr. Safranski says Goethe used his freedom creatively. He's a great example of how far you can go when you accept the lifelong task of becoming who you are.

— Richard Howard

Enthralling…Rüdiger Safranski makes the reader fall madly in love with Goethe again.
— Ijoma Mangold - Die Zeit

The sheer pleasure and natural admiration with which Safranski tells the whole story is not just instructive. It's inspiring.
— Felicitas von Lovenberg - Frankfurter Allgemeine Zeitung
Liveright, 9780871404909, 688pp.
Publication Date: May 16, 2017
About the Author
Rüdiger Safranski is a German philosopher and writer, and the author of biographies of Friedrich Schiller, E. T. A. Hoffmann, Arthur Schopenhauer, Friedrich Nietzsche, and Martin Heidegger. He lives in Berlin.

David Dollenmayer lives in Hopkinton, Massachusetts, and translates German fiction and nonfiction.
or
Not Currently Available for Direct Purchase