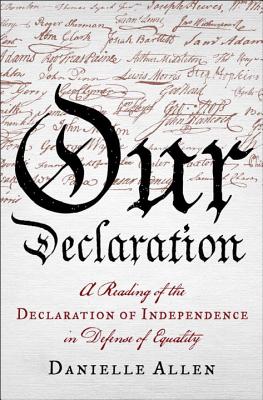 Our Declaration
A Reading of the Declaration of Independence in Defense of Equality
Hardcover

* Individual store prices may vary.
Other Editions of This Title:
Digital Audiobook (6/22/2014)
Paperback (5/4/2015)
Description
Winner of the Zócalo Book Prize

Shortlisted for the 2015 PEN/John Kenneth Galbraith Award

Winner of the Francis Parkman Prize, Society of American Historians



"Danielle Allen lays bare the Declaration's history and significance, returning it to its true and rightful owners—you and me."—Junot Díaz
In just 1,337 words, the Declaration of Independence altered the course of history. Written in 1776, it is the most profound document in the history of government since the Magna Carta, signed nearly 800 years ago in 1215. Yet despite its paramount importance, the Declaration, curiously, is rarely read from start to finish—much less understood.
Troubled by the fact that so few Americans actually know what it says, Danielle Allen, a political philosopher renowned for her work on justice and citizenship, set out to explore the arguments of the Declaration, reading it with both adult night students and University of Chicago undergraduates. Keenly aware that the Declaration is riddled with contradictions—liberating some while subjugating slaves and Native Americans—Allen and her students nonetheless came to see that the Declaration makes a coherent and riveting argument about equality. They found not a historical text that required memorization, but an animating force that could and did transform the course of their everyday lives.
In an "uncommonly elegant, incisive, and often poetic primer on America's cardinal text," Our Declaration now brings these insights to the general reader, illuminating the "three great themes of the Declaration: equality, liberty, and the abiding power of language" (David M. Kennedy). Vividly evoking the colonial world between 1774 and 1777, Allen describes the challenges faced by John Adams, Thomas Jefferson, Benjamin Franklin, Roger Sherman, and Robert Livingston—the "Committee of Five" who had to write a document that reflected the aspirations of a restive population and forge an unprecedented social contract. Although the focus is usually on Jefferson, Allen restores credit not only to John Adams and Richard Henry Lee but also to clerk Timothy Matlack and printer Mary Katherine Goddard.
Allen also restores the astonishing text of the Declaration itself. Its list of self-evident truths does not end, as so many think, with our individual right to the "pursuit of happiness" but with the collective right of the people to reform government so that it will "effect their Safety and Happiness." The sentence laying out the self-evident truths leads us from the individual to the community—from our individual rights to what we can achieve only together, as a community constituted by bonds of equality. Challenging so much of our conventional political wisdom, Our Declaration boldly makes the case that we cannot have freedom as individuals without equality among us as a people.
With its cogent analysis and passionate advocacy, Our Declaration thrillingly affirms the continuing relevance of America's founding text, ultimately revealing what democracy actually means and what it asks of us.
Praise For Our Declaration: A Reading of the Declaration of Independence in Defense of Equality…
The book is a tour de force of close textual analysis.
— Gordon S. Wood - New York Review of Books

Our Declaration is an artful, often elegiac meditation on the meaning of Jefferson's famous words for our time. Allen brings the analytical skills of a philosopher, the voice of a gifted memorialist, and the spirit of a soulful humanist to the task at hand, and manages to do something quite rare, find new meaning in Jefferson's understanding of equality.
— Joseph J. Ellis, author of Revolutionary Summer: The Birth of American Independence

Our Declaration sets forth a bold thesis… Allen's passion for each of the Declaration's 1,337 words is admirable.

— Steven B. Smith - New York Times Book Review

This wise and rich book is what we need in these troubled times—a robust and persuasive defense of equality and liberty grounded in our national scripture. Danielle Allen is a towering political philosopher of the democratic art of being and a force for good!
— Cornel West, author of Democracy Matters: Winning the War on Imperialism

Danielle Allen celebrates the Declaration of Independence by reading it closely—line by line, comma by comma—and invites her fellow citizens to do the same. The result is a richly rewarding book that demonstrates the pleasures of slow reading, the power of words to shape events, and the importance of equality to democratic life.
— Michael Sandel, author of What Money Can't Buy: The Moral Limits of Markets

Danielle Allen's poignant and personal reflection on the Declaration of Independence is a rare and singular work…[S]he has written a book that throws open a door to a large circle of readers: anyone with a stake in democracy. Her observations about the importance of language in building and sustaining a republic are especially resonant and worthy of the towering rhetoric of the Declaration. Our Declaration holds the promise of both discovery and rediscovery whether you've never read the Declaration or have memorized each of its 1,337 words.
— Ann Marie Lipinski, curator, Nieman Foundation for Journalism, Harvard University

Our Declaration is a primer on all that we have been missing… Not just an invaluable civics lesson but also a poignant personal memoir… Allen is an evangelist for this romantic moment in American history when men of uncommon vision and political deftness stated their case and listed their grievances against the most powerful nation on Earth.

— Thane Rosenbaum - The Washington Post

An astounding new book that should reinvigorate public understanding of the founding document of the United States… Reading Ms. Allen makes reading the Declaration meaningful and enjoyable—a powerful enough lesson it is't own right.
— Sarah J. Purcell - Pittsburgh Post-Gazette

At once simple, sharp and deftly executed.
— Kirkus Reviews
Liveright, 9780871406903, 320pp.
Publication Date: June 23, 2014
About the Author
Danielle Allen is the James Bryant Conant University Professor at Harvard University and author of Cuz and Our Declaration, winner of the Parkman Prize. She lives in Cambridge, Massachusetts.
or
Not Currently Available for Direct Purchase