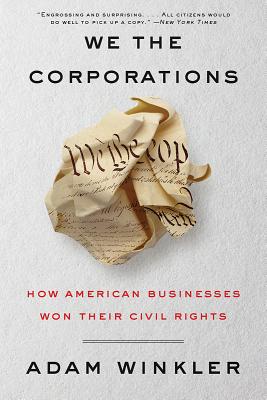 We the Corporations
How American Businesses Won Their Civil Rights
Hardcover

* Individual store prices may vary.
Other Editions of This Title:
Digital Audiobook (2/26/2018)
Paperback (3/19/2019)
MP3 CD (2/27/2018)
Compact Disc (2/27/2018)
Compact Disc (2/27/2018)
Description
A PBS NewsHour / New York Times "Now Read This" Book Club Selection

Finalist • National Book Award for Nonfiction

Finalist • National Book Critics Circle Award for Nonfiction

Finalist • California Book Award (Nonfiction)

Finalist • Silver Gavel Award (American Bar Association)

A New York Times Notable Book of the Year

A Washington Post Notable Book of the Year

Named one of the Best Books of the Year by The Economist and The Boston Globe

We the Corporations chronicles the revelatory story of one of the most successful, yet least known, "civil rights movements" in American history.
We the Corporations chronicles the astonishing story of one of the most successful yet least well-known "civil rights movements" in American history. Hardly oppressed like women and minorities, business corporations, too, have fought since the nation's earliest days to gain equal rights under the Constitution—and today have nearly all the same rights as ordinary people.
Exposing the historical origins of Citizens United and Hobby Lobby, Adam Winkler explains how those controversial Supreme Court decisions extending free speech and religious liberty to corporations were the capstone of a centuries-long struggle over corporate personhood and constitutional protections for business. Beginning his account in the colonial era, Winkler reveals the profound influence corporations had on the birth of democracy and on the shape of the Constitution itself. Once the Constitution was ratified, corporations quickly sought to gain the rights it guaranteed. The first Supreme Court case on the rights of corporations was decided in 1809, a half-century before the first comparable cases on the rights of African Americans or women. Ever since, corporations have waged a persistent and remarkably fruitful campaign to win an ever-greater share of individual rights.
Although corporations never marched on Washington, they employed many of the same strategies of more familiar civil rights struggles: civil disobedience, test cases, and novel legal claims made in a purposeful effort to reshape the law. Indeed, corporations have often been unheralded innovators in constitutional law, and several of the individual rights Americans hold most dear were first secured in lawsuits brought by businesses.
Winkler enlivens his narrative with a flair for storytelling and a colorful cast of characters: among others, Daniel Webster, America's greatest advocate, who argued some of the earliest corporate rights cases on behalf of his business clients; Roger Taney, the reviled Chief Justice, who surprisingly fought to limit protections for corporations—in part to protect slavery; and Roscoe Conkling, a renowned politician who deceived the Supreme Court in a brazen effort to win for corporations the rights added to the Constitution for the freed slaves. Alexander Hamilton, Teddy Roosevelt, Huey Long, Ralph Nader, Louis Brandeis, and even Thurgood Marshall all played starring roles in the story of the corporate rights movement.
In this heated political age, nothing can be timelier than Winkler's tour de force, which shows how America's most powerful corporations won our most fundamental rights and turned the Constitution into a weapon to impede the regulation of big business.
Praise For We the Corporations: How American Businesses Won Their Civil Rights…
A work that is both engrossing and surprising….As we await the Supreme Court's decision in the critical case of whether a business can decline to serve a customer based on its distaste for same-sex marriages, all citizens would do well to pick up a copy of We the Corporations to understand the full implications of what it decides.

— Jonathan A. Knee - New York Times

Much of the value of Winkler's book lies in his elegant stitching together of 400 years of diverse cases, allowing us to feel the sweep and flow of history and the constantly shifting legal approaches to understanding this unusual entity — Blackstone's 'artificial person.' Four hundred years is a lot of time, and Winkler does a wonderful job of finding illustrative details without drowning in them, and of giving each case enough attention to make it come alive…By nailing down the absurdities of the past, Winkler allows us to see how the future becomes more open.
— Zephyr Teachout - New York Times Book Review

Winkler's deeply engaging legal history, authoritative but accessible to non-lawyers, takes readers inside courtrooms, judges' chambers and corporate offices… The book offers new takes on familiar stories…as well as fascinating insights from largely forgotten moments… [A] meticulous, educational and thoroughly enjoyable retelling of our nation's past.
— Benjamin C. Waterhouse - Washington Post

'Are corporations people?' That's the provocative question Winkler poses at the outset of his impressive, engaging new book. . . . [Winkler] begins in Colonial America and provides a forceful and highly readable account of what he convincingly describes as a 'long, and long overlooked, corporate rights movement.'
— The National Book Review

An eye-opening account of how corporations became 'persons' entitled to constitutional rights and used those rights to impede efforts to regulate them in the interests of real people.
— David Cole, author of Engines of Liberty: The Power of Citizen Activists to Make Constitutional Law

An incisive account of the unlikely rise of an idea that has nearly turned American politics upside down.
— Jill Lepore, author of The Secret History of Wonder Woman

This is a brilliant, beautifully written book on a topic affecting almost every area of law: how did corporations come to have rights under the Constitution? Professor Winkler carefully details this history from English law to the present, and the book is filled with new insights and information. Any future discussion of rights for corporations will be shaped by this wonderful book.
— Erwin Chemerinsky, dean and Raymond Pryke Professor of First Amendment Law, University of California, Irvine School of Law

Impressively thorough and wide-ranging. . . . Winkler employs an evocative, fast-paced storytelling style, making for an entertaining and enlightening book that will likely complicate the views of partisans on both sides of the issue.
— Publishers Weekly, starred review

A chronicle of the steady, willful process by which corporations became people—until, that is, you try to sue them. . . . Maddening for those who care about matters constitutional and an important document in the ongoing struggle to undo Citizens United.

— Kirkus Reviews

[A] timely, exciting book . . . . Constitutional law professor and legal commentator Winkler examines the history of the relationship between corporations and the Constitution, providing a field guide to the legal issues and an overview of a long-term corporate civil rights movement that employs techniques familiar from social justice movements. . . . Along the way, he presents a wide range of vividly drawn historical figures, bringing their philosophies, tactics, debates, and shenanigans to life while allowing readers to assess the ethics and implications of their work.
— Sara Jorgensen - Booklist
Liveright, 9780871407122, 496pp.
Publication Date: February 27, 2018
About the Author
Adam Winkler is a professor at UCLA School of Law, where he specializes in American constitutional law. His scholarship has been cited by the Supreme Court of the United States and his writing has appeared in the New York Times, Wall Street Journal, Washington Post, Los Angeles Times, New Republic, Atlantic, Slate, and Scotusblog.
Coverage from NPR
or
Not Currently Available for Direct Purchase