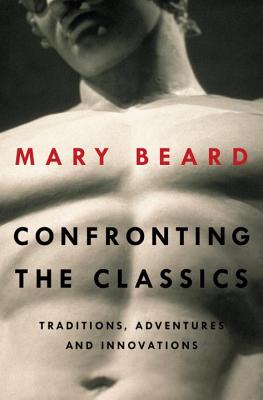 Confronting the Classics
Traditions, Adventures, and Innovations
Hardcover

* Individual store prices may vary.
Other Editions of This Title:
Paperback (10/6/2014)
Description
One of the world's leading historians provides a revolutionary tour of the Ancient World, dusting off the classics for the twenty-first century.
Mary Beard, drawing on thirty years of teaching and writing about Greek and Roman history, provides a panoramic portrait of the classical world, a book in which we encounter not only Cleopatra and Alexander the Great, Julius Caesar and Hannibal, but also the common people—the millions of inhabitants of the Roman Empire, the slaves, soldiers, and women. How did they live? Where did they go if their marriage was in trouble or if they were broke? Or, perhaps just as important, how did they clean their teeth? Effortlessly combining the epic with the quotidian, Beard forces us along the way to reexamine so many of the assumptions we held as gospel—not the least of them the perception that the Emperor Caligula was bonkers or Nero a monster. With capacious wit and verve, Beard demonstrates that, far from being carved in marble, the classical world is still very much alive.
Praise For Confronting the Classics: Traditions, Adventures, and Innovations…
Beard is the best…communicator of Classics we have.
— Independent Sunday (UK)

Starred review. Beard's clear way of explaining times and people we may or may not have heard of makes learning not only fun, but satisfying, and her prose style is easy without being annoyingly breezy…. A top-notch introduction to some fairly arcane material, accessible but not patronizing.
— Kirkus Reviews

Witty, erudite collection…To Beard, the classical past is alive and kicking—and she has the great gift of being able to show just why classics is still a subject worth arguing about.
— Sunday Times (UK)

These reviews are ideal for providing a basic understanding of classical studies, as they not only pinpoint the strengths and weaknesses of the books she reviews but also elucidate the sometimes tricky nuances of current approaches in the field…. Not to be missed by fans of Beard, this will also appeal to readers generally interested in classical studies.
— Library Journal

Highly engaging.
— Sunday Telegraph (UK)

With such a champion as Beard to debunk and popularise, the future of the study of classics is assured.
— Daily Telegraph (UK)

Engaging…impressive… Through her lively discussion of modern scholarship, Ms. Beard succeeds in her goal of proving that study of the Classics is "still a 'work in progress' not 'done and dusted'."
— The Economist

Essayists are like dinner guests: The best are amusing and erudite, the worst think they are. If Cambridge professor Mary Beard's conversation is anything like her wise and elegant book reviews for the Times Literary Supplement, London Review of Books and New York Review of Books, 31 of which are collected in Confronting the Classics, she must be very popular indeed…. Throughout, readers will learn something new or look at familiar topics afresh, alternately nodding and grinning.

— M. Carter - The Wall Street Journal

Offering up 30 years of pointed insights and inquisitions, Cambridge classics professor Beard (The Fires of Vesuvius) returns with a collection of primarily reprinted reviews of her classicist peers' work that somehow manages to touch on nearly every notable person, place, and event associated with the Ancient world.…. All in all, a smart, adventuresome read.

— Publishers Weekly

In this thought-provoking collection of essays and book reviews, Cambridge classicist Mary Beard explores the reasons that ancient Greece and Rome still matter…. Lively and engaging, Beard's scholarship brings Pericles, Antony, Nero—and other ancient titans—back to life.
— Booklist

Many of us studied classics not only to read what was written in Latin, but also because poets, writers, and thinkers had blazed a brilliant trail. Beard conveys in her survey of the subject and the people who study it the excitement and romance of that tradition. For someone who has argued vehemently against the need to be glamorous, she makes the study of classics irresistibly attractive.
— A.E. Stallings - American Scholar

Beard's essays in this volume range from humor in ancient Greece to the reputation of the emperor Caligula to the restoration of Roman sculpture. She writes with grace and wit on a vast array of subjects, and she has a novelist's gift for selecting odd and revealing details.
— Nick Romeo - The Daily Beast
Liveright, 9780871407160, 320pp.
Publication Date: September 9, 2013
About the Author
A professor of classics at Cambridge University, Mary Beard is the author of the best-selling SPQR and Women & Power and the National Book Critics Circle Award–nominated Confronting the Classics. A popular blogger and television personality, Beard is a regular contributor to the New York Review of Books.