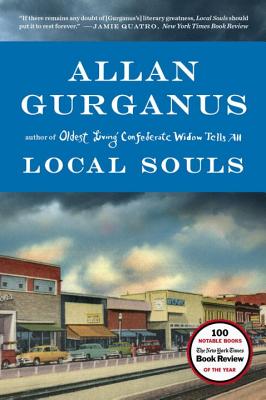 Local Souls
Paperback

* Individual store prices may vary.
Other Editions of This Title:
Hardcover (9/23/2013)
Description
A New York Times Notable Book of the Year

Finalist for the Lambda Literary Award (Fiction) and the Ferro-Grumley Award for LGBT Fiction

A New York Times Book Review Editors' Choice Selection
"This book underscores what we have long known—Gurganus stands among the best writers of our time." —Ann Patchett
Through memorable language and bawdy humor, Gurganus returns to his mythological Falls, North Carolina, home of
Widow
. This first work in a decade offers three novellas mirroring today's face-lifted South, a zone revolutionized around freer sexuality, looser family ties, and superior telecommunications, yet it celebrates those locals who have chosen to stay local. In doing so,
Local Souls
uncovers certain old habits—adultery, incest, obsession—still very much alive in our New South, a "Winesburg, Ohio" with high-speed Internet.
Wells Tower says of Gurganus, "No living writer knows more about how humans matter to each other." Such ties of love produce hilarious, if wrenching, complications: "Fear Not" gives us a banker's daughter seeking the child she was forced to surrender when barely fifteen, only to find an adult rescuer she might have invented. In "Saints Have Mothers," a beloved high school valedictorian disappears during a trip to Africa, granting her ambitious mother a postponed fame that turns against her. And in a dramatic "Decoy," the doctor-patient friendship between two married men breaks toward desire just as a biblical flood shatters their neighborhood and rearranges their fates.
Gurganus finds fresh pathos in ancient tensions: between marriage and Eros, parenthood and personal fulfillment. He writes about erotic hunger and social embarrassment with Twain's knife-edged glee. By loving Falls, Gurganus dramatizes the passing of Hawthorne's small-town nation into those Twitter-nourished lives we now expect and relish.
Four decades ago, John Cheever pronounced Allan Gurganus "the most technically gifted and morally responsive writer of his generation." Local Souls confirms Cheever's prescient faith. It deepens the luster of Gurganus's reputation for compassion and laughter. His black comedy leaves us with lasting affection for his characters and the aching aftermath of human consequences. Here is a universal work about a village.
Praise For Local Souls…
Refreshing. . . . an antidote to the marketplace's mass message and massage. . . . The house of a master-magician-builder-writer. . . . Go ahead, step in, light up your life.
— Clyde Edgerton - Garden & Gun

Allan Gurganus is our verbal magician. He turns factual rabbits into poetic doves. Every sentence contains a surprise, but the brilliant surface doesn't dazzle us from peering into the tender human depths.
— Edmund White

Allan Gurganus has the uncanny ability to make you laugh and shudder at the same time. That rare gift is on full and glorious display here.
— T. C. Boyle

Vivid language, provocative sentence structure, and metaphors that elevate the reader's consciousness. [Gurganus] shares with his southern cohorts a delight in discovering the quotidian within lives led under extraordinary, even bizarre circumstances.
— Booklist

Gurganus returns to Falls, N.C., the setting of his Oldest Living Confederate Widow Tells All, with this trio of linked novellas…. In these layered, often funny narratives, close reading is rewarded as Gurganus exposes humanity as a strange species.

— Publishers Weekly, "Pick of the Week"

Each novella in Local Souls…is guided by the centrifugal force of memory, heart and a playful, agile mind…Let these novellas bring attention to the overlooked art form. They will please readers who have been waiting for more from an admired writer who is funny, appropriately dark and can magically twirl a sentence.

— Elizabeth Taylor - Chicago Tribune, Editor's Choice

The pleasures of Allan Gurganus' Local Souls are pretty much the pleasures of fiction, period: the satisfactions of the tale and the surprise of the phrase, insights into the human condition and portraits from a particular place, a sharp sense of the physical world and a freshened awareness of the pulls and pains of social class. Pick a page and you'll find a sentence to love…. Dazzling.

— Kevin Fenton - Minneapolis Star Tribune

The beloved author whose literary bona fides rank him among the most revered writers of the last 50 years, Gurganus has an eye for gesture large and small, an ear for voice at once razor-sharp and tender, and a way with finding the absolutely precise moment of dramatic tension.
— Brett Lott - Boston Globe
Liveright, 9780871407788, 352pp.
Publication Date: May 5, 2014
About the Author
Allan Gurganus is widely translated, a Guggenheim Fellow, and a member of the American Academy of Arts and Letters. Adaptations of his fiction have earned four Emmys, and his stories have been appearing in The New Yorker since 1974. He lives in a small town in North Carolina.
"Fear Not" opens and closes at the scene of a high school play. How does this framing device—and the perspective of the first-person narrator—affect your reading of the story? Did you feel closer to, or further from, the action of the story than you would have if there had been no first-person narrator? In what way did the frame lend the story a sense of theater and drama?
The character Fearnot is given her nickname before the events of her story unfold. How does your understanding of that name change over the course of the story? How do her actions and experiences reflect and affect the meaning of her name?
Fearnot breaks two major sexual taboos over the course of her story. How does the second reflect, answer, or, possibly, redeem the first? What did you make of the revelation at the end, about who the couple at the theater turned out to be? Were you surprised?
In "Saints Have Mothers," Jean Mulray's relationship to her daughter, Caitlin, is characterized by jealousy, resentment, and possibly a hint of eroticism, in addition to pride and maternal love. How does this novella—like the previous one—explore what is forbidden and unspoken in family relationships? Did you empathize with Jean's complicated feelings towards her daughter as much or more than you empathized with Fearnot's feelings towards her son? How are they similar, and how are they different?
Describe the role that the larger community of Falls plays in "Saints Have Mothers." How are Jean and Caitlin perceived by their peers in town? How does that perception affect them and their relationship, and how does it change over the course of the novella?
Shortly after Caitlin returns, Jean says, "Like the rest of Falls, I had turned my child into someone ideal then immortal" (163). What do you make of this? How does the flesh-and-blood Caitlin who returns alter Jean's—and your—perception of the "ideal then immortal" Caitlin that they were imagining in her absence? Can you recall a time in your life when someone you know was idealized in death? What would it have felt like if that person had suddenly reappeared?
How do you characterize the narrator's relationship with Doc Roper in "Decoy"? Why does Bill Mabry feel so betrayed when Roper retires?
Describe the effect of the flood in "Decoy." How does it change Doc Roper? How does it change Bill? With regard to Bill's memories of his father, what is the significance of the fact that The River Road has been destroyed?
"My doctor, best on earth, is reading me alive again!" says Bill near the end, when the doctor appears by his side. Describe what happens in the final scene of the novel. Is Bill's death, with the doctor at his side, redemptive? Why or why not?
Jean Mulray describes her daughter Caitlin as a "Somebody" and says of herself, "Us others? At our luckiest we're with somebody" (89). Each of the novellas in Local Souls has at its center a "Somebody:" someone magnetic and fascinating, whom the town, and the narrator, can't look away from. What do Fearnot, Caitlin Mulray, and Doc Roper have in common? Where do they differ? How are the narrators of the three novellas—the unnamed first-person narrator of "Fear Not;" Jean Mulray of "Saints Have Mothers;" and Bill Mabry of "Decoy"—alike in their perception of and relationship to these Somebodies? How are they different? Do you have a Somebody in your life? Can you relate to these narrators, in the hold these Somebodies have on them?
Describe the community of Falls. How does it compare to your town?
or
Not Currently Available for Direct Purchase