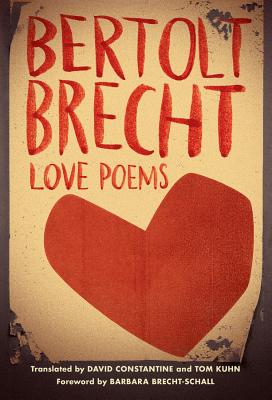 Love Poems (Hardcover)
Liveright Publishing Corporation, 9780871408563, 144pp.
Publication Date: November 10, 2014
Other Editions of This Title:
Paperback (11/2/2015)
* Individual store prices may vary.
Description
"A thieving magpie of much of world literature," the full scope and variety of his poetic output did not become apparent until after his death. Now, the English-speaking world can access part of his stunning body of work in Love Poems, the first volume in a monumental undertaking by award-winning translators David Constantine and Tom Kuhn to translate Brecht's poetic legacy into English. Love Poems collects his most intimate and romantic poems, many of which were banned in German in the 1950s for their explicit eroticism.
Written between 1918 and 1955, these poems reflect an artist driven not only by the bitter and violent politics of his age but, like Goethe, by the untrammeled forces of love, romance, and erotic desire. In a 1966 New Yorker article, Hannah Arendt wrote of Brecht that he had "staked his life and his art as few poets have ever done." In these 78 poems, we see Brecht's astonishing and deeply personal love poems--including 22 never before published in English--many addressed to particular women, which show Brecht as lover and love poet, engaged in a bitter struggle to keep faith, hope, and love alive during desperate times.
Featuring a personal foreword by Barbara Brecht-Schall, his last surviving child, Love Poems reveals Brecht as not merely one of the most famous playwrights of the twentieth century but also one of its most fiercely creative poets.
or
Not Currently Available for Direct Purchase