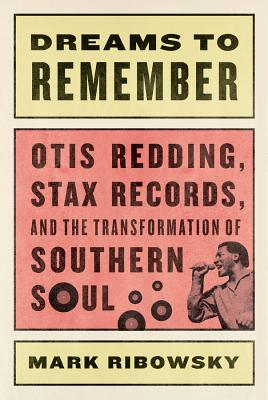 Dreams to Remember
Otis Redding, Stax Records, and the Transformation of Southern Soul
Hardcover

* Individual store prices may vary.
Other Editions of This Title:
Digital Audiobook (5/31/2015)
CD-Audio (6/1/2015)
Paperback (5/17/2016)
Description
A soul icon and the southern music he helped popularize come to life in this moving requiem.
When he died in one of rock's string of tragic plane crashes, Otis Redding was only twenty-six, yet already the avatar of a new kind of soul music. The beating heart of Memphis-based Stax Records, he had risen to fame belting out gospel-flecked blues in stage performances that seemed to ignite not only a room but an entire generation. If Berry Gordy's black-owned kingdom in Motown showed the way in soul music, Redding made his own way, going where not even his two role models who had preceded him out of Macon, Georgia—Little Richard and James Brown—had gone.
Now, in this transformative work, New York Times Notable Book author Mark Ribowsky contextualizes his subject's short career within the larger cultural and social movements of the era, tracing the crooner's rise from preacher's son to a preacher of three-minute soul sermons. And what a quick rise it was. At the tender age of twenty-one, Redding needed only a single unscheduled performance to earn a record deal, his voice so "utterly unique" (Atlantic) that it catapulted him on a path to stardom and turned a Memphis theater-turned-studio into a music mecca. Soon he was playing at sold-out venues across the world, from Finsbury Park in London to his ultimate conquest, the 1967 Monterrey Pop Festival in California, where he finally won over the flower-power crowd.
Still, Redding was not always the affable, big-hearted man's man the PR material painted him to be. Based on numerous new interviews and prodigious research, Dreams to Remember reintroduces an incredibly talented yet impulsive man, one who once even risked his career by shooting a man in the leg. But that temperament masked a deep vulnerability that was only exacerbated by an industry that refused him a Grammy until he was in his grave—even as he shaped the other Stax soul men around him, like Wilson Pickett, Sam and Dave, and Booker T. and The MG's.
As a result, this requiem is one of great conquest but also grand tragedy: a soul king of truth, a mortal man with an immortal voice and a pain in his heart. Now he, and the forces that shaped his incomparable sound, are reclaimed, giving us a panoramic of an American original who would come to define an entire era, yet only wanted what all men deserve—a modicum of respect and a place to watch the ships roll in and away again.
Praise For Dreams to Remember: Otis Redding, Stax Records, and the Transformation of Southern Soul…
Evokes the fire of Redding…. Ribowsky tells the story with nonstop energy, while always probing for the larger social and musical pictures…. [H]is insightfulness and storytelling gift trump all. Helped by revealing quotations from musicians, he recalls a time of interactive music-making that seems worlds removed from today's computer-assembled, Auto-Tuned pop.
— James Gavin

Subtly passionate…. What Mark Ribowsky has done here is to describe someone who was, not divine, but as godlike as a human can be.
— David Kirby

A fascinating tale of the artist and his musical era.
— Dave Shiflett

Ribowsky's focus on Redding adds a new slant regarding how the singer also wanted to remain independent of [Stax]…. Ribowsky—a veteran chronicler of musical and athletic heroes—also combines thorough descriptions of Redding's songs, and global audiences' growing appreciation for soul, with the social changes of the 1960s.
— Aaron Cohen

Ribowsky has labored hard to get at [Redding's] emotional center. Unlike other performers who died far too young, Redding's death did not come out of abuse, and though he suffered, it was a universal human suffering—a pain in the heart that, partnered with unerring musical instinct, personal strength, and a little tenderness, he transformed into art. Ribowsky goes into the seamy side of the record business but also the sheer beauty and magic of the sixties soul music that Redding epitomized.
— Mark Levine

[A]n engaging account of Redding's rise to stardom and the parallel story of Stax/Volt…. Insightful and informative.
— Michelle Jones

This book looks at the bigger picture beyond the details of the soul legend's life, giving a sense of how he fit into the civil rights movement and music as a whole. Ribowsky spins some compelling what-ifs about Redding had he lived, speculating about his musical evolution and how he might have gotten along with later stars like Jimi Hendrix.
— Andy Lewis

Ribowsky's meticulous biography makes it clear that Arthur Conley's 1967 hit 'Sweet Soul Music' (co-written by Redding) got it wrong. James Brown wasn't 'the king of them all, y'all.' Otis was.
— Bruce Jacobs

A rousing storyteller, Ribowsky energetically chronicles Redding's rise from local singer to the King of Soul…. Ribowsky's book is a fast-paced and entertaining tale of a man, a time and a place where black and white musicians, in spite of the racial tensions swirling around them, came together simply by playing the sweet soul music that transcends any divisions.
— Henry L. Carrigan Jr.

Ribowsky here has penned the definitive look at the life and career of Otis Redding thus far. More importantly, he offers a sort of parallel book about the political and social implications of 'Southern Soul' music in the '60s, as well as the story of Stax Records, Redding's label where he was also the undisputed marquee artist…. In Dreams to Remember, listeners can find a new appreciation for this "King of Soul" whose reign was all too brief.

— Bob Ruggiero

The best…Otis Redding biography to date…. The soul and R&B singers and rappers who have come along in the nearly half-century since [Redding's] death owe him a huge debt of gratitude.
— George de Stefano

In Dreams to Remember, Mark Ribowsky covers the Otis Redding saga beginning with Redding's age-fifteen experience singing in the Macon, Georgia clubs with songstress Gladys Williams; moving on to work with showy guitarist Johnny Jenkins; and all-the-while observing the successes of fellow Maconites Little Richard and James Brown…. This life story is well-researched and documented.

— Peter Furlong
Liveright, 9780871408730, 400pp.
Publication Date: June 1, 2015
About the Author
Mark Ribowsky is a New York Times acclaimed, best-selling author of fifteen books, including biographies of Tom Landry, Al Davis, Hank Williams, and most recently, In the Name of the Father: Family, Football, and the Manning Dynasty. He lives in Florida.lorida.
Coverage from NPR