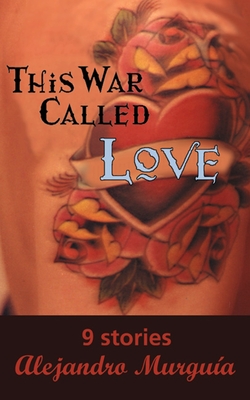 This War Called Love (Paperback)
Nine Stories
City Lights Books, 9780872863941, 155pp.
Publication Date: May 1, 2002
* Individual store prices may vary.
Description
From Mexico City to San Francisco's Mission District, nothing comes easy--in life or in love. Here is an unstereotypical view of a world as treacherous as it is tender, as hilarious as it is heartbreaking. Authentic and honest, these nine stories focus on today's Latino men, their strength and vulnerability, their fears and deepest desires.
"Danger, cruelty, lust, loss, blood, death and dance . . . . Couldn't put the book down. So hot I had to smother it in half and half. Murgu a's a master of hearts on fire, working his storytelling anvil late at night, in a wrecked cubicle of SF called La Mission. No doubt the hungriest fiction and the most ferocious collection in the last three decades." --Juan Felipe Herrera, author of Border Crosser with a Lamborghini Dream
"Alejandro Murgu a has returned the short story to the people. Though some of his characters are down on their luck, the author has hit the literary jackpot with this one. He's been revered as an artist for decades among the multicultural cognoscenti, and the publication of this fabulous volume will confirm for many readers what we knew all along." --Ishmael Reed, author of The Reed Reader
"This is a book of rare intensity and transcultural joy " --Jos David Sald var, author of Border Matters: Remapping American Cultural Studies
"The nine tales of life in Mexico City and the Mission District depicted ... crackle with energy without losing sight of their narratives... Murguia's] Mission district is not a hipster haven but a melting pot for Latinos from all over the Americas, and his Mexico City is a thriving cultural whirlwind." --San Francisco Chronicle Book Review
"Alejandro Murgu a begins
This War Called Love: Nine Stories
, his second collection, with an unforgettable portrait of Mexico City in the summer of 1956. Murgu a's prose has the captivating quality that can only flow from a narrator who is himself captivated by his passions. A born storyteller, Murgu a sustains flawlessly believable first-person narratives, which gives his prose much of its warmth and nuance." --
The San Francisco Bay Guardian
"Equal parts funny and sad, Murgu a's short stories depict, with tender and sometimes unflinching detail, love, life, and growing up Hispanic. . . . Although the best of the collection are on the darker side, Murgu a also shines in the more lighthearted stories . . . Free of stereotypes and always honest, this collection presents Latino Chicano life at full throttle." --Booklist
"Authentic and honest, these stories focus on today's Latin men, their strength and vulnerability, their fears and deepest desires." --Latin Style
Alejandro Murgu a was born in California, but raised in Mexico City. His experiences as an international volunteer in the Nicaraguan Insurrection of 1979 are recounted in his second collection of short stories Southern Front (American Book Award,1991). He lives in San Francisco, where he teaches Latin American literature at San Francisco State University.
or
Not Currently Available for Direct Purchase