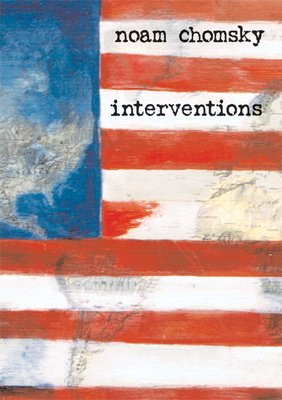 Interventions (City Lights Open Media)
Paperback

* Individual store prices may vary.
Other Editions of This Title:
Paperback, Spanish (12/1/2008)
Compact Disc (6/6/2019)
MP3 CD (5/17/2016)
Paperback (8/1/2008)
Description
Noam Chomsky says that the freedom to challenge power is not just an opportunity, it's a responsibility. For the past several years Chomsky has been writing essays for The New York Times Syndicate to do just that: challenge power and expose the global consequences of U.S. policy and military actions worldwide. Interventions is a collection of these essays, revised and updated with notes by the author.
While Chomsky's New York Times Syndicate writings are widely published around the world, they have rarely been printed in major U.S. media; none have been published in the New York Times.
Concise and fiercely argued, Interventions covers the invasion and occupation of Iraq, the Bush presidency, Israel and Palestine, national security, the escalating threat of nuclear warfare and more. A powerful and accessible new book from one of America's foremost political intellectuals and dissidents.
Interventions offers over forty of Chomsky's columns; insightful, crisp and well-researched pieces on news events of the day. From 9/11 to the Iraq War, from the 'non-crisis' of social security to the leveling of Lebanon, Chomsky provides informed opinion and critical analysis.--Mumia Abu-Jamal
Chomsky is a global phenomenon . . . perhaps the most widely read voice on foreign policy on the planet.--New York Times Book Review
With relentless logic, Chomsky bids us to listen closely to what our leaders tell us--and to discern what they are leaving out . . . Agree with him or not, we lose out by not listening."--Business Weekly
Noam Chomsky has taught linguistics and philosophy at MIT for more than fifty years. He is a critically-acclaimed author of numerous books, including Hegemony or Survival, Imperial Ambitions, Failed States, Manufacturing Consent, and Media Control and Failed States.
City Lights Books, 9780872864832, 176pp.
Publication Date: July 1, 2007
About the Author
Noam Chomsky is the critically acclaimed author of several bestselling books. Some of his recent titles include Hegemony or Survival, Imperial Ambitions, 9-11, Media Control and Interventions. Chomsky is credited with the creation of the theory of generative grammar, considered to be one of the most significant contributions to the field of theoretical linguistics made in the 20th century.