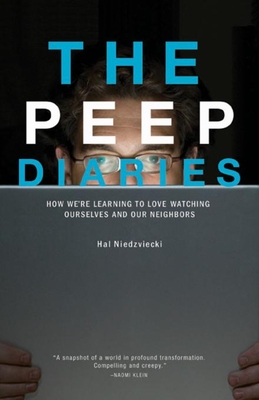 The Peep Diaries (Paperback)
How We're Learning to Love Watching Ourselves and Our Neighbors
City Lights Publishers - City Lights Publishe, 9780872864993, 296pp.
Publication Date: June 1, 2009
* Individual store prices may vary.
Description
We have entered the age of "peep culture": a tell-all, show-all, know-all digital phenomenon that is dramatically altering notions of privacy, individuality, security and even humanity. Peep culture is reality TV, YouTube, MySpace, Facebook, Twitter, over-the-counter spy gear, blogs, chat rooms, amateur porn, surveillance technology, Dr. Phil, Borat, cell phone photos of your drunk friend making out with her ex-boyfriend, and more. In the age of peep, core values and rights we once took for granted are rapidly being renegotiated, often without our even noticing.
With hilarious, exasperated acuity, social critic Hal Niedzviecki dives into peep, starting his own video blog, joining every social network that will have him, monitoring the movements of his toddler, selling his secrets on Craigslist, hiring a private detective to investigate him, spying on his neighbors, trying out for reality TV shows and stripping for the pleasure of a web audience he isn't even sure exists. Part travelogue, part diary, part meditation and social history, The Peep Diaries explores a rapidly emerging digital phenomenon that is radically changing not just the entertainment landscape, but also the firmaments of our culture and society.
The Peep Diaries introduces the arrival of the age of peep culture and explores its implications for entertainment, society, sex, politics and everyday life. Mixing first-rate reporting with sociological observations culled from the latest research, this book captures the shift from pop to peep and the way technology is turning gossip into documentary and Peeping Toms into entertainment journalists. Packed with stranger-than-fiction true-life characters and scenarios, The Peep Diaries reflects the aspirations and confusions of the growing number of people willing to trade the details of their private lives for catharsis, attention and notoriety.
Hal Niedzviecki is the founder of Broken Pencil magazine and has published numerous works of social commentary and fiction, including Hello I'm Special: How Individuality Became the New Conformity and Look Down, This Is Where It Must Have Happened, which is also published by City Lights Publishers.
About the Author
Hal Niedzviecki's writings on culture have appeared in newspapers and magazines across North America. He is the founder of Broken Pencil, a magazine covering zine culture and the indie arts. In addition to three novels and a story collection, Niedzviecki is the author of Hello, I'm Special and We Want Some Too: Underground Desire and the Reinvention of Mass Culture.