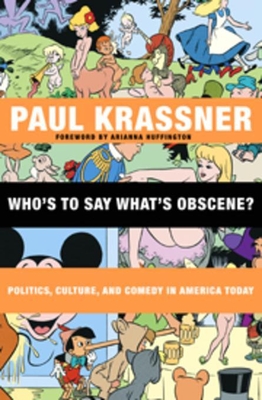 Who's to Say What's Obscene? (Paperback)
Politics, Culture, and Comedy in America Today
City Lights Books, 9780872865013, 240pp.
Publication Date: July 1, 2009
* Individual store prices may vary.
Description
Fans of The Daily Show and will appreciate this timely collection of satirical essays by counterculture icon Paul Krassner.
With irreverence and an often X-rated wit, Krassner writes with a unique perspective on comedy and obscenity in politics and culture, from "Bong Hits 4 Jesus" banners to scenes cut out of recent movies, including Borat and Milk.
In his essay "Don Imus Meets Michael Richards," Krassner examines racism in comdey, from Lenny Bruce to Dave Chapelle, on The Sarah Silverman Snow and Curb Your Enthusiasm, and in controversial comic strips like The Bookdocks. In his piece "The Great Muhammad Cartoon Controversy," he looks at free speech and self-censorship in the face of threats-real and perceived-from religious fundamentalists. Throughout, Krassner riffs about busted public figures, counterculture, free speech, late-night talk shows, censorship, sex, and the current state of satire.
"These are times of repression," says Krassner," and the more repression there is, the more there is for irreverence toward those in authority."
Paul Krassner is an author, journalist, stand-up comedian, and founder of the freethought magazine the Realist, which eh published from 1958 to 2001. He was a co-founder of the Yippies and a member of Ken Kesey's Merry Pranksters. He received an Upton Sinclair Award for dedication to freedom of expression. Krassner was a close friend of Lenny Bruce and the editor of Bruce's autobiography, How to Talk Dirty and Influence People. A prolific writer, his articles have appeared in Rolling Stone, Spin, Playboy, and many other venues. He has been a guest on Late Night with Conan O'Brien and Politically Incorrect with Bill Maher and writes regularly for High Times, Adult Video News and Huffington Post.
"He is an expert at ferrting out hypocrisy and absurdism from the more solemn crannies of American culture." --New York Times
"Krassner has the uncanny ability to alter your perceptions permanently." --Los Angeles Times
"Krassner is so compelling. He has lived on the edge so long he gets his mail delivered there." --San Francisco Chronicle
"Thanks to Paul Krassner for continuing to be the lobster claw in the tuna casserole of modern America." --Tom Robbins
"The FBI was right; this man is dangerous-and funny, and necessary." --George Carlin
"I have been a fan of his since I was a snot-nosed kid, and his words have been a driving force and influence on my life . . . . If you have read his work before, you know the joys that you are in for. If you haven't, start reading, and consider this your lucky day. For Paul Krassner is an activist, a philosopher, a lunatic and a saint, but most of all, he's funny." --Lewis Black
"Krassner writes on anything that catches his eye: the war on drugs, stand-up comedy, Don Imus, to mention just three topics. . . . The collection also includes a number of touching memorials to cultural icons Krassner has known, including Allen Ginsberg, George Carlin, Kurt Vonnegut, and Robert Anton Wilson." --Jack Helbig, Booklist
About the Author
Krassner published The Realist from 1958-2001, but when People magazine called him "Father of the underground press," he immediately demanded a paternity test. His style of personal journalism constantly blurs the line between observer and participant. Krassner currently writes for High Times, the porn industry's Adult Video News, and blogs for Huffington Post. Arianna Huffington is the co-founder and editor-in-chief of The Huffington Post, a nationally syndicated columnist, and author of twelve books. The Huffington Post is one of the most widely-read, linked to, and frequently-cited media brands on the Internet. In 2006, she was named to the Time 100, Time Magazine's list of the world's 100 most influential people.
or
Not Currently Available for Direct Purchase