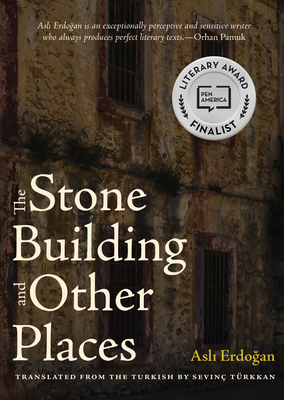 The Stone Building and Other Places (Paperback)
City Lights Books, 9780872867505, 128pp.
Publication Date: February 27, 2018
* Individual store prices may vary.
Description
Finalist for the 2019 PEN Translation Prize
The New York Times calls Turkish writer Asli Erdogan one of the "11 Powerful Women We Met Around the World in 2017"
"Aslı Erdoğan is an exceptionally perceptive and sensitive writer who always produces perfect literary texts."--Orhan Pamuk
"One volume of short stories, The Stone Building and Other Places has become a bestseller in Turkey."--The New York Times
"Beautifully written and honestly told, as tender as the tulip gardens of Istanbul and as brave as the human heart."--Elif Safak, author of The Forty Rules of Love
Three interconnected stories feature women whose lives have been interrupted by forces beyond their control. Exile, serious illness, or the imprisonment of one's beloved are each met with versions of strength and daring, while there is no undoing what fate has wrought. These atmospheric, introspective tales culminate in an experimental, multi-voiced novella, whose "stone building" is a metaphor for the various oppressive institutions--prisons, police headquarters, hospitals, and psychiatric asylums--that dominate the lives of all of these characters. Here is a literary distillation of the alienation, helplessness, and controlled fury of exile and incarceration--both physical and mental--presented in a series of moving, allegorical portraits of lives ensnared by the structures of power.
Aslı Erdoğan (Istanbul, 1967) was arrested and imprisoned by the Turkish government in a sweeping roundup of dissident voices after the failed coup attempt of July 2016. The subject of both PEN International and PEN America advocacy campaigns, she has published novels, collections of short stories and poetic prose, and selections from her political essays. As a journalist, she has covered controversial topics such as state violence, discrimination, and human rights, for which she has been persecuted in a variety of ways.
More praise for The Stone Building and Other Places
"The Stone Building by Asli Erdogan appears at first glance to be a collection of three short stories and a novella. In fact it is a literary text with a single unifying and sad theme: confinement. Erdogan is a most original and courageous literary voice, and The Stone Building bears on what is going on in present day Turkey."--Daniel Beaumont, author of Preachin' the Blues: The Life and Music of Son House
"It is very difficult, and often impossible, to bring the music of Turkish into English. It is all the more difficult when the author-under-translation writes subtle and sinuous prose that stretches the conventions of literary Turkish to its limits. So, what a pleasure it is to see Sevinc Turkkan achieving the almost impossible. Not only does she do justice to Asli Erdogan's prose. She makes it sing."--Maureen Freely, translator
"Erdogan's real strength as a writer in The Stone Building and Other Places is her reconciliatory relationship with psychological struggle. . . . she] shows particular sensitivity to women in her stories and weaves their stories with what she reveals to be her most identifiable literary subject, the wounded human being."--Iclal Vanwesenbeeck, World Literature Today
"Erdogan, a journalist and human-rights activist, was arrested and detained in Turkey for four months after the failed coup attempt of July 2016. The stories in this collection, which won Turkey's Sait Faik Short Story Award, revolve around women facing isolation, exile and imprisonment. In The Morning Visitor, a man visits a woman in a boardinghouse for migrants in a northern city; his presence reminds her, 'That dark cell, it follows me wherever I go.' Wooden Birds centres on Filiz, an asthmatic political refugee who is 'extremely gloomy, withdrawn, and wounded.' She is one of six patients in a hospital lung ward--three foreigners, three Germans--allowed a surreal outside visit. The title novella engages multiple voices in a haunting lament for freedoms lost in 'stone buildings'--jails, mental hospitals, interrogation sites."--Jane Ciabattari, BBC.com
"She was imprisoned for months by the Turkish government following the 2016 coup and was the subject of both PEN International and PEN America advocacy campaigns. Assuming, like me, you tend to think muse follows experience, let us all in turn follow Erdogan. This book should be high up in your holiday to-read pile."--M. Bartley Seigel, Words Without Borders
The book strings together a sequence of seven short stories, thematically and atmospherically linked, full of shadows, chill winds, suffering and isolation. . . . The tales in The Stone Building are cerebral, austere and intensely personal . . ."--William Armstrong, Hurriyet Daily News
About the Author
Asli Erdogan (who is no relation to Turkish President Recep Tayyip Erdogan) is a renowned novelist, columnist, and human rights activist. She was born in Istanbul in 1967. She studied computer engineering and physics, and wrote her dissertation at the European High Energy Physics Laboratory. She quit her graduate work in physics in Rio de Janeiro and devoted herself entirely to writing. She lived for two years in South America. Her first novel Kabuk Adam ("The Scab Man") was published in 1994; her short story collection Mucizevi Mandarin ("The Miraculous Mandarin" was published in 1996. Her short story "The Wooden Birds" received the Deutsche Welle literary prize and was translated into nine other languages. Her second novel The City of Crimson Cloak (1998) appeared in English, French, and Norwegian; and was published by Actes Sud and Gyldendal's "Marg" series. Her non-fiction writings were collected in Bir Yolculuk Ne Zaman Biter ("When Does a Journey End?"). She was included in the list of "The Writers of the Next 50 Years" by Lire magazine and her book of poetic prose Hayatin Sessizliginde ("In the Silence of Life") was selected the book of the year by Dunya Publishing. Her two essay collections Bir Kez Daha ("Once Again") and Bir Delinin Guncesi ("A Diary of a Madman") were published in 2006. She has received numerous accolades in the international press and her works continue to appear in other world languages.