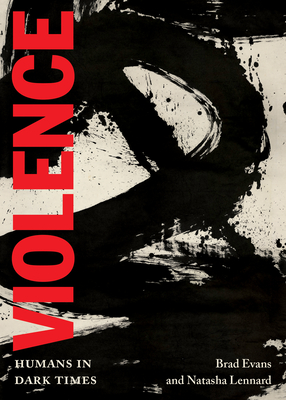 Violence (Paperback)
Humans in Dark Times (City Lights Open Media)
City Lights Books, 9780872867543, 352pp.
Publication Date: December 4, 2018
* Individual store prices may vary.
Description
Through a series of penetrating conversations originally published in the New York Times and the Los Angeles Review of Books, Brad Evans and Natasha Lennard talk with a wide range of cutting edge thinkers--including Oliver Stone, Simon Critchley, and Elaine Scarry--to explore the problem of violence in everyday life, politics, culture, media, language, memory, and the environment. "To bring out the best of us," writes Evans, "we have to confront the worst of what humans are capable of doing to one another. In short, there is a need to confront the intolerable realities of violence in this world."
These lively, in-depth exchanges among historians, theorists, and artists offer a timely and bracing look at how the increasing expression and acceptance of violence--in all strata of society--has become a defining feature of our times.
"Many of us live today with a pervasive sense of unease, worried that our own safety is at risk, or that of our loved ones, or that of people whose bad circumstances appear to us through networked media. Violence feels ever-present. Natasha Lennard and Brad Evans help us to analyze those feelings, talking with a wide range of thinkers in order to gain insight into the worst of what humans do, and challenging us to imagine a world in which violence is no longer a given. Their book is full of surprising insights and intelligent compassion."--Sarah Leonard, co-editor of The Future We Want: Radical Ideas for the New Century
"In Violence, Brad Evans and Natasha Lennard have created, alongside their interview subjects, a kaleidoscopic exploration of the concept of violence, in terrains expected and not, in prose taut and unexpectedly gorgeous. Their philosophical rigor provides the reader with an intellectual arsenal against the violence of the current moment."--Molly Crabapple, author of Drawing Blood
"We would be wise to read this collection with a similar eye toward service, and in so doing, open ourselves up to the rare mercy of no longer having to stand on our own."--Alana Massey, author of All The Lives I Want
"The range of interviews with leading academics, to filmmakers and artists, is impressive, at once immediate and relevant, but also profoundly philosophical. More essentially, though, the conversations underline the need and suggest ways to resist and organize in a visionary way, in the extraordinary times we live in."--Razia Iqbal, BBC News
"Notable contemporary thinkers and creators give their individual perspectives in this compelling look at violence. . . . A provocative volume that challenges humanity to correct its runaway course toward an increasingly violent future by learning from its violent past."--Kirkus Reviews
"The purpose of the work is to challenge humanity to create more meaningful solutions when it comes to these kinds of violence--or at least to name violence without inadvertently inciting even more anger. . . . passion roars through every chapter . . . This book delivers on what it promises, which is an achievement. "--Alison Gately, The Los Angeles Review of Books
"If you wish to read the intellectualization of violence, Violence is a phenomenal anthology. . . . Brad Evans and Natasha Lennard, the interviewers and the 'authors' of the anthology, have done a remarkable job in bringing together perceptive and intelligent contributors from various fields to scout the reaches of violence. Their piercing questions brought out brilliant responses from the interviewees."--L. Ali Khan, New York Journal of Books
About the Author
Natasha Lennard is a journalist, essayist, and columnist. She is a contributing writer for The Intercept and her work has appeared regularly in The Nation, Esquire, The New York Times, and The New Inquiry, among others. She teaches critical journalism at the New School For Social Research in New York. Her second book, Being Numerous: Essays on Non-Fascist Life, will be published by Verso, May 2019.Brad Evans is a political philosopher, critical theorist and writer, whose work specializes on the problem of violence. The author of some ten books and edited volumes, along with over fifty academic and media articles, he serves as Professor of Political Violence & Aesthetics at the University of Bath, UK. He is currently the lead editor for a dedicated section on violence and the arts/critical theory with The Los Angeles Review of Books. He also continues to direct the online resources centre www.historiesofviolence.com Brad's books have been the recipient of prestigious international awards and translated in many languages, including Spanish, Turkish, Korean and German. Among his latest books include Violence: Humans in Dark Times (with Natasha Lennard, City Lights, 2018); Histories of Violence: Post-War Critical Thought (with Terrell Carver, Zed Books, 2017); Portraits of Violence: An Illustrated History of Radical Thinking"(with Sean Michael Wilson, New Internationalist, 2016); Disposable Futures: The Seduction of Violence in the Age of the Spectacle (with Henry Giroux, City Lights, 2015), Resilient Life: The Art of Living Dangerously (with Julian Reid, Polity Press, 2014), Liberal Terror (Polity Press, 2013), and Deleuze & Fascism: Security - War - Aesthetics (with Julian Reid, Routledge, 2013). Brad is currently working on a number of book projects, including The Atrocity Exhibition: Life in an Age of Total Violence (The Los Angeles Review of Books Press, 2019) and Ecce Humanitas: Beholding the Pain of Humanity (Columbia University Press, 2020). He is also working on a project that explores the aesthetics of human disappearance, while writing in his spare time a work of fiction. Website: www.brad-evans.co.uk