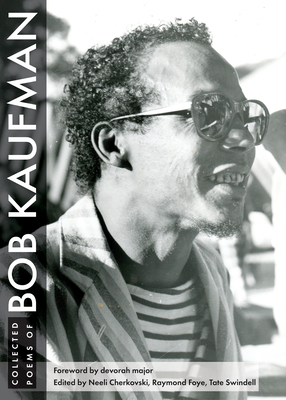 Collected Poems of Bob Kaufman (Paperback)
City Lights Books, 9780872867697, 325pp.
Publication Date: October 1, 2019
Other Editions of This Title:
Hardcover (10/1/2019)
* Individual store prices may vary.
Description
"Bob Kaufman's life is written on mirrors in smoke."--Jack Kerouac
"So much did he embody a French tradition of the poet as outsider, madman, and outcast, that in France, Kaufman was called the Black Rimbaud."--David Henderson
"He was an original voice. No one else talked like him. No one else wrote poetry like him."--Lawrence Ferlinghetti
The Collected Poems of Bob Kaufman brings together every known surviving poem by this major African-Americansurrealist, including the three books published in his lifetime, Solitudes Crowded with Loneliness, Golden Sardine, and The Ancient Rain. With over 30 previously uncollected works, Collected Poems is the first comprehensive presentation of this truly original, streetwise autodidact and member of the Beat Generation. Included here are a foreword by devorah major, reminiscences by editors Raymond Foye and Neeli Cherkovski, and a biographical timeline by editor Tate Swindell, which chronicles this elusive poet's movements across the country and around the world. Collected Poems is a landmark poetic achievement and marks Kaufman's welcome return to City Lights Publishers.
Praise for Collected Poems of Bob Kaufman
"Bob Kaufman volcanically en-veined the Beats as a mirage enveloped Surrealist; not as a formal poet, but one, like Rimbaud, who embodied butane. Following the scent of his butane on one anonymous North Beach afternoon led Philip Lamantia to audibly utter to me that Bob Kaufman as per incandescent singularity is 'our poet.'"--Will Alexander, author of Compression & Purity
"Bob Kaufman is one our most vulnerable, mysterious and beautiful of poets, a nomadic maudit, surrealist saint of the streets, votary of silence, the consummate Outrider with trickster imagination and visionary power. ... The writing is complex and lays its soul baring down on jazz inflected syllables and riffs for all to read and tremble within. No serious canon is complete without this insistent rhythm, poetic acuity, and a body's last resort to sing."--Anne Waldman, author of Trickster Feminism
"Uplifting the voice of this under-sung literary master to future's light is the mission of the Collected Poems of Bob Kaufman. This poet's poet on the cliff edge of no ledge is still continuing to foster new surrealizations. Read this bebopian wordsmith, his pen turned saxophone and ink notes that are black tears."--Kamau Da ood, author of The Language of Saxophones
"These pages vibrate, a pulse not from way out, but from way in this strange, strange country. Wearing the poet's trembling, subterranean eyes, I see the dirt of imperial graves, grocery store corpses, swank gas chambers, and bomb shelters cut an inverted skyline against a too orange American sun. Blinking, I look up and the real sun seems just as radioactive, which is perhaps what leaves me the most shaken. To call these poems 'surreal' seems, now, to muffle Kaufman's prophetic genius. He saw us, our images in pools of blood, milk, and saxophone spittle. Maybe it was ever our shivering made the ripples that distorted the reflections."--Douglas Kearney, author of Buck Studies
"Collected Poems of Bob Kaufman should finally liberate the kaleidoscopic surrealism of this San Franciscan, and in many respects, secular Franciscan, poet from the shadows of Allen Ginsberg and the other Beats. ... Collected Poems is a memoriam of unmitigated joy and abysmal despair."--Tyrone Williams, author of As iZ
About the Author
Bob Kaufman was born in New Orleans in 1925 and spent the 1940s in the Merchant Marine. After a brief period as a labor organizer, he lived a peripatetic existence before settling in San Francisco in the late '50s, when he published three broadsides with City Lights Books. In 1959, he co-founded Beatitude magazine and maintained a decade-long vow of silence after the assassination of President Kennedy. He published two books during the 1960s, Solitudes Crowded with Loneliness and Golden Sardine, and a third book, The Ancient Rain, in 1981. He died in San Francisco in 1986. He is considered by many to be the finest jazz poet of his generation. Neeli Cherkovski was born in Los Angeles. He is the author of many books of poetry, including Animal (1996), From the Canyon Outward (2009), The Crow and I (2015), and Elegy for My Beat Generation (2018). He is the coeditor of Anthology of L.A. Poets (with Charles Bukowski) and Cross-Strokes: Poetry Between Los Angeles and San Francisco (with Bill Mohr). He has also published editions of his poems in Austria, Mexico, Italy, Germany, and Turkey. Raymond Foye is a writer, curator, and editor based in New York City. He is the executor for the poets John Wieners, James Schuyler, and Rene Ricard, and has edited numerous editions of their works. Currently he is preparing an edition of the final unpublished poems of Gregory Corso from the years 1980-2000. He is also the publisher of Raymond Foye Books. Tate Swindell is the founder of Unrequited Records, which specializes in poetry records released on the vinyl format. His collections of writing include Palpitations, Tearing Down Walls of Cellars and Basements, and The Creation of Deadlines. Tate, and his brother Todd, worked extensively on the Harold Norse archives, which were donated to the Bancroft Library at UC Berkeley. He is currently working on an album of rare Gregory Corso readings from the late 1970s and early 80s that includes previously unpublished poems. devorah major served as San Francisco's Third Poet Laureate (2002-2006). She has published two novels, four poetry books, and four poetry chapbooks, along with two young adult titles, and a host of short stories, essays, and individual poems published in anthologies and periodicals. Among her awards is a First Novelist award from the Black Caucus of the ALA and a PEN Oakland Josephine Miles Literary Award. She is a Senior Adjunct Professor at California College of the Arts.