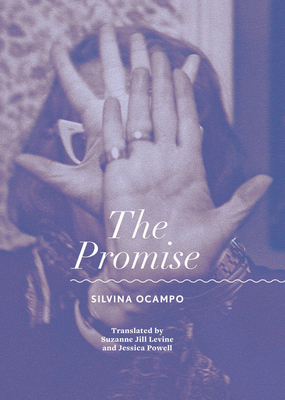 The Promise (Paperback)
City Lights Books, 9780872867710, 120pp.
Publication Date: November 5, 2019
* Individual store prices may vary.
Description
Kirkus Reviews calls The Promise one of the Best Books of Fiction, and of Literature in Translation, of the year
* Voted one of the Big Fall Books from Indies by Publishers Weekly & LitHub's Most Anticipated Books of 2019
"The world is ready for her blend of insane Angela Carter with the originality of Clarice Lispector."--Mariana Enriquez, LitHub
"Both her debut story collection, Forgotten Journey, and her only novel, The Promise, are strikingly 20th-century texts, written in a high-modernist mode rarely found in contemporary fiction."--Lily Meyer, NPR
A dying woman's attempt to recount the story of her life reveals the fragility of memory and the illusion of identity.
"Of all the words that could define her, the most accurate is, I think, ingenious."--Jorge Luis Borges
"I don't know of another writer who better captures the magic inside everyday rituals, the forbidden or hidden face that our mirrors don't show us."--Italo Calvino
"Few writers have an eye for the small horrors of everyday life; fewer still see the everyday marvelous. Other than Silvina Ocampo, I cannot think of a single writer who, at any time in any language, has chronicled both with such wise and elegant humor."--Alberto Manguel
"Art is the cure for death. A seminal work by an underread master. Required for all students of the human condition."--Starred Review, Kirkus Reviews

"This haunting and vital final work from Ocampo, her only novel, is about a woman's life flashing before her eyes when she's stranded in the ocean. . . . the book's true power is its depiction of the strength of the mind and the necessity of storytelling, which for the narrator is literally staving off death. Ocampo's portrait of one woman's interior life is forceful and full of hope."--Gabe Habash, Starred Review, Publishers Weekly
"Ocampo is beyond great--she is necessary."--Hernan Diaz, author of In the Distance
"I don't know of another writer who better captures the magic inside everyday rituals, the forbidden or hidden face that our mirrors don't show us."--Italo Calvino
"These two newly translated books could make her a rediscovery on par with Clarice Lispector. . . . there has never been another voice like hers."--John Freeman, Executive Editor, LitHub
"Like William Blake, Ocampo's first voice was that of a visual artist; in her writing she retains the will to unveil immaterial so that we might at least look at it if not touch it."--Helen Oyeyemi, author of Gingerbread
A woman traveling on a transatlantic ship has fallen overboard. Adrift at sea, she makes a promise to Saint Rita, "arbiter of the impossible," that if she survives, she will write her life story. As she drifts, she wonders what she might include in the story of her life--a repertoire of miracles, threats, and people parade tumultuously through her mind. Little by little, her imagination begins to commandeer her memories, escaping the strictures of realism.
Translated into English for the very first time, The Promise showcases Silvina Ocampo at her most feminist, idiosyncratic and subversive. Ocampo worked quietly to perfect this novella over the course of twenty-five years, nearly up until the time of her death in 1993.