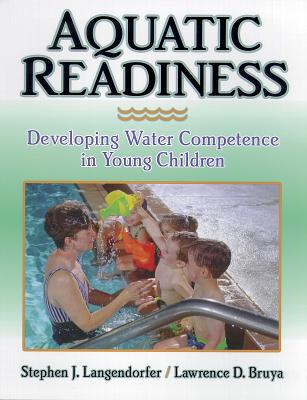 Aquatic Readiness Developing Water Competence in Young Children (Paperback)
Human Kinetics Publishers, 9780873226639, 224pp.
Publication Date: November 1, 1994
* Individual store prices may vary.
Description
Aquatic Readiness: Developing Water Competence in Young Children is an essential resource for those who teach young children to swim as well as those who administer aquatic programs. The book challenges traditional aquatic instruction practices by integrating the newest and best information from motor development and motor learning research, elementary physical education methods, and risk management.
Stephen Langendorfer and Lawrence Bruya, leading authorities in aquatics and motor development, show aquatic instructors how to develop, assess, and operate developmentally appropriate, safe, and highly motivating aquatic programs for young children.
Using a "water competence" model, the authors illustrate how fundamental aquatic readiness skills provide the foundation for all advanced aquatic skills, such as swimming strokes and diving. They debunk misconceptions and fallacies about learning to swim and explain the best way to test and teach such aquatic readiness skills as

-water entry,
-breath control,
-buoyancy and body position,
-arm and leg actions, and
-combined movement.
In Aquatic Readiness, aquatic instructors will learn how to become skilled in movement education, play, and developmental games--indirect methods of presenting and reinforcing skill learning that are crucial to effective communication with young children. They'll also learn how to use a new test called the Aquatic Readiness Assessment (ARA) to select developmentally appropriate teaching methods, equipment, games, and activities for their students.
In addition, Aquatic Readiness details how large equipment and games in aquatic environments increase children's motivation and learning through active play. Plus, the book's appendix contains more than 100 developmentally appropriate water games that are cross-referenced by skill and developmental level.
About the Author
Stephen J. Langendorfer, an associate professor and chair of kinesiology at Bowling Green State University, has been involved in aquatics both as an instructor and a participant for most of his life. He has more than 25 years' experience as an infant/preschool swimming instructor and water safety instructor and has been a competitive swimmer for more than 30 years. Langendorfer's introduction to infant/preschool aquatics came in 1971 when he studied at the Deutsche Sporthochschule in Germany under Liselot Diem, who was then conducting an innovative baby swim program and longitudinal study. In 1972 Langendorfer followed suit and established his own toddler swim program in Ithaca, NY. Langendorfer received a PhD in motor development from the University of Wisconsin--Madison in 1982. He is a member of the Council for National Cooperation in Aquatics (CNCA), the American Alliance for Health, Physical Education, Recreation and Dance (AAHPERD), and the North American Society for Psychology of Sport and Physical Activity (NASPSPA). In addition, Dr. Langendorfer was chair of the American Red Cross Swimming Advisory Committee from 1990 to 1994.Lawrence D. Bruya is a professor and assistant dean in Washington State University's (WSU) Department of Physical Education, Sport, and Leisure Studies, for which he was department chair from 1988 to 1994. He has taught at the college level since 1976. Before coming to WSU, Dr. Bruya taught at the elementary level as a physical education specialist, worked as an elementary school principal, and held the position of associate professor in the department of physical education at North Texas State University (NTSU). While at NTSU he developed and directed a preschool and elementary children's gymnasium and aquatics program, which helped him understand what effects the design of environments and use of equipment has on children's play patterns. In addition to teaching, Dr. Bruya is a playground design consultant. He also has written extensively about child development and playground design and is the author of the book, Playspaces For Children--A New Beginning: Improving Our Elementary School Playground. Bruya received his PhD in motor development from Purdue University in 1976. He received the Outstanding Teaching Award presented by the Bureau of Indian Affairs in 1971, and in 1985 he was given the Meadows Teaching Award by North Texas State University. Dr Bruya is a member of AAHPERD, CNCA, and the American Association for Leisure and Recreation.
or
Not Currently Available for Direct Purchase