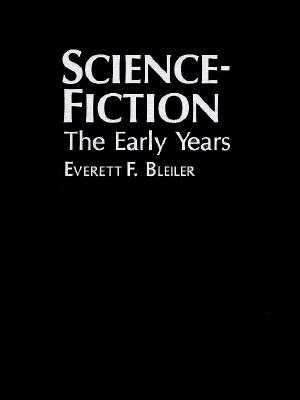 Science-Fiction
The Early Years
Hardcover

* Individual store prices may vary.
Other Editions of This Title:
Hardcover (9/14/1998)
Description
Complementing Science-Fiction: The Early Years, which surveys science-fiction published in book form from its beginnings through 1930, the present volume covers all the science-fiction printed in the genre magazines--With Bleiler's Science Fiction: The Early Years, the field of pre-modern science fiction is opened for the first time to readers, librarians, and scholars. Bleiler describes more than 3,000 short stories, novels, and plays with science fiction elements, from earliest times to 1930. He includes imaginary voyages, utopias, Victorian boys books, dime novels, pulp magazine stories, British scientific romances, mainstream work with science fiction elements, and more. Many of these publications are extremely rare, surviving in only a handful of copies, and most of them have never been described before. Each of the entries is exhaustive, with bibliography, including previous periodical publications, and a full summary of the story, with historical and critical comments. Author biographical data, where available, accompany each item. An appendix surveys ideas and systems that have proved important in early science fiction: Atlantis, Fourierism, the single tax, Theosophy, the hollow earth, the open polar seas, and similar concepts. The text also includes title, author, date, and magazine indexes, as well as a 65-page motif and thematic index. The author's introduction provides a new understanding of the nature of science fiction and its origins, and contains an exhaustive analytical table of science fiction motifs as they fit into conceptual scheme of the sciences. In addition to its obvious value to the field of science fiction, the book covers many powerful issues in American cultural history feminism, racial and ethnic prejudices, crank scientific theories, extreme social and economic systems, occult ideas, as well as varying attitudes toward science and advanced technology.
Kent State University Press, 9780873384162, 1024pp.
Publication Date: March 1, 1991
About the Author
Everett F. Bleiler, an authority on early science-fiction, is the author of Science-Fiction: The Early Years (Kent State University Press, 1990) and The Guide to SupernaturalFiction (Kent State University Press, 1983) and editor of Science Fiction Writers and Supernatural fiction Writers. He has been awarded the World Fantasy Award and the World Science Fiction President's Award.
or
Not Currently Available for Direct Purchase