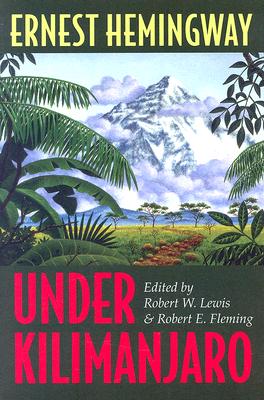 Under Kilimanjaro (Hardcover)
Kent State University Press, 9780873388450, 456pp.
Publication Date: October 5, 2005
Other Editions of This Title:
Leather (1/1/2005)
* Individual store prices may vary.
Description
An American literary treasure
"The sun was not up but that was because of the flank of the mountain it had to rise over and the light was gray but good and Ngui and I were walking through the grass that was wet from the dew. He walked ahead because he knew where the bait had been hung and I watched the trees and his back and the trail his black legs made through the wetness of the grass. We walked silently and the cold wet of the new knee-high grass against my legs was cold and pleasant. Ngui carried the old Winchester pump gun and I carried the Springfield and the only noise that I heard from myself was the light slopping of the tea in my stomach."
--Under Kilimanjaro by Ernest Hemingway
Accompanied by his fourth wife Mary, famed American novelist Ernest Hemingway spent several months in late 1953 and early 1954 on his final safari in Kenya. Their time there came to an abrupt end in early January 1954 when they sustained serious injuries from two near-fatal plane crashes in east Africa. While recovering, and back home in Havana, Hemingway wrote his "African book," which is, by turns, an adventuresome, comedic, and thoughtful recounting of his final safari. In Under Kilimanjaro "Papa" colors real people and events with his lively imagination as he demonstrates his inimitable style, his deft wit, and his intelligent curiosity in this autobiographical novel about the land and people he came to love.
Completed in 1956, Under Kilimanjaro is part handwritten and part typed, with many of the pages heavily edited in Hemingway's hand. He then left this manuscript, along with those for A Moveable Feast, Islands in the Stream, and The Garden of Eden, in a safe-deposit box in Cuba, often referring to them as his "life insurance" for his heirs.
Under Kilimanjaro is the last of Hemingway's manuscripts to be published in its entirety. Editors Robert W. Lewis and Robert E. Fleming believe that "this book deserves as complete and faithful a publication as possible without editorial distortion, speculation, or textually unsupported attempts at improvement. Our intent has been to produce a complete reading text of Ernest Hemingway's manuscript. . . .Working on it was both a privilege and a responsibility. . . .Readers of this remarkable work will experience the mingled pleasure of revisiting the familiar and discovering the new."
To its readers, Under Kilimanjaro reveals a mature, tender, happy, and reflective Hemingway and offers a compelling, deliberately paced, subtle story of a place and time as only Ernest Hemingway could write it.
About the Author
Ernest Hemingway was one of America s foremost journalists and authors. A winner of both the Pulitzer Prize (1953) and the Nobel Prize for Literature (1954), Hemingway is widely credited with driving a fundamental shift in prose writing in the early twentieth century. As an American expatriate in Paris in the 1920s, Ernest Hemingway achieved international fame with such literary works as The Sun Also Rises, The Old Man and the Sea, and For Whom the Bell Tolls, which depicts his experience as a correspondent during the Spanish Civil War. Hemingway died in 1961, leaving behind a rich literary legacy. Robert W. Lewis is an engineering safety consultant for Atkins and was formerly a UK expert on two IEC working groups defining new standards for industrial control software, covering distributed control systems (IEC 61499) and PLC software (IEC 61131). Fleming is Professor Emeritus in the Department of English Language and Literature at the University of New Mexico.