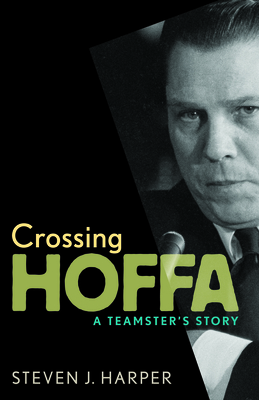 Crossing Hoffa (Hardcover)
A Teamster's Story
Borealis Books, 9780873515801, 248pp.
Publication Date: June 15, 2007
Other Editions of This Title:
Paperback (9/1/2017)
* Individual store prices may vary.
Description
On a spring day in 1961, over-the-road trucker Jim Harper was en route from Mauston, Wisconsin, to his home in Minneapolis. At 70 miles per hour, with a combined 60,000 pounds of man, machine, and material, he approached a curve along the Great River Road and hit the brakes. The tractor-trailer didn't slow. Harper's brake lines had been cut.
 In preceding months, Harper had led an insurgency in his Teamsters' Local 544 to clean up corruption among its leaders. His efforts drew the attention of none other than Jimmy Hoffa, at the time focused on securing his right to lead the national Teamsters organization without government intervention.
Jim Harper had his reasons for confronting his local's leadership—a hardscrabble childhood and a stint in Angola prison had left him seeking redemption, and Jimmy Hoffa had publicly called for union reform. But Hoffa, under federal investigation for questionable financial dealings, had deep, dark secrets; the last thing he needed was a spotlight on Minneapolis. Despite the increasing threats to his life and those of his young family, Harper continued to press his case.
In this fascinating account, Harper's son traces the interwoven paths of these two men—a criminal icon and a determined vigilante—from their formative years through their unbelievable face-off.
Steven J. Harper has been a litigation partner in the international law firm of Kirkland & Ellis LLP for more than twenty years and has tried civil cases to judges and juries throughout the country. This is his first book.
Praise For Crossing Hoffa: A Teamster's Story…
"Crossing Hoffa: A Teamster's Story delves into the early lives of both Jim Harper and Jimmy Hoffa to probe why Harper might have continued the fight despite the consequences…. It's a thoroughly researched book."
Chicago Sun Times
"The book is at its best when it relates stories passed from father to son; an ominous dinner with a nameless 'friend' of Hoffa's—a mob character, we're led to assume—at Charlie's Café Exceptionale; a meeting with Hoffa at the Park-Nicollett Hotel; a harrowing truck ride down Hwy. 61 near Winona."
Minneapolis Star Tribune