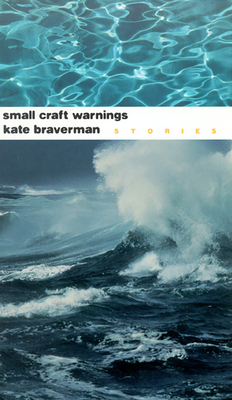 Small Craft Warnings
Stories (Western Literature and Fiction Series)
Paperback

* Individual store prices may vary.
Description
The indigo skies and lush vegetation of the contemporary West Coast belie the damaged souls and desperate alienation that lurk behind fading stucco walls and off the endless highways. The lives of women on the edge and beyond the margins have seldom been explored with as much power or insight as in these brilliant stories by award-winning novelist and poet Kate Braverman. In a world without succor, Braverman's characters grope for meaning and solutions to their dilemmas. Our Lady of the 43 Sorrows must meet the bizarre needs of her severely brain-damaged mother as her own career as a soap-opera actress declines. The protagonist of "Pagan Night" waits with her unnamed and unwanted infant in a shabby zoo in Idaho while her partner buys dope and makes plans to reconstitute their failed rock band. And the precocious, awkward adolescent narrator of the title story watches as her elegant grandmother confronts the illness that will soon end the colorful life she has so enjoyed. Abandonment, in these wrenching stories, comes in many forms, and freedom is elusive and sometimes fraught with pain and terror. Braverman's language is ripe, intense, as vivid as the sun-drenched California landscape, and her characters are contrary, unpredictable, and unforgettable. These haunting stories evoke the glittering expectations and shattering disappointments of the postmodern West.
Praise For Small Craft Warnings: Stories (Western Literature and Fiction Series)…
"Ms. Braverman possesses a magical, incantatory voice and the ability to loft ordinary lives into the heightened world of myth, and in using these gifts . . . she has succeeded in creating a work of hallucinatory, poetic power."—The New York Times

"That Braverman is gifted, even prodigiously so, there is no doubt . . . her fiction is distinguished by the purity of language and boldness of imagery that seem to be the private stock of poets." —The Los Angeles Times 

"Kate Braverman has long been among the great American systematizers of obsession and revelation in prose. Small Craft Warnings nods at the tremendous accomplishment of Braverman's early work but advances forcefully in new directions, too, particularly in its sympathy for young people. If you haven't tapped this rich vein of language already give yourself a gift." —Rick Moody
University of Nevada Press, 9780874173215, 192pp.
Publication Date: September 1, 1998
About the Author
Award-winning author Kate Braverman is a cult writer who has been publishing poetry and experimental fiction since 1972. Born in Philadelphia, raised in Los Angeles, and educated at Berkeley, Braverman expertly weaves her California experiences throughout her work. She spent the 60's in Berkeley, an anti-war activist and feminist. She graduated from UC Berkeley in 1971 and returned to Los Angeles where she was a founding member of the Venice Poetry Workshop. Braverman's awards include two Best American short story awards, O. Henry, Carver, Mississippi Review Prize, California Arts Grant, Isherwood Fellowship, Pushcart Prize and Economist Prize. Her short fiction is widely anthologized in numerous university textbooks including the Norton, Scribner, Vintage, Picador, Columbia Companion to the Short Story and the Houghton Mifflin Art of the Short Story. Ms. Braverman was Professor of Creative Writing at Cal State LA and taught for the UCLA Writing Program; she reviewed books and wrote op-ed and essays for the LA Times for much of the 1980s and 1990s. In 1995, Ms. Braverman left Los Angeles and lived for six years in the Allegheny Mountains of remote western New York State. She now lives in San Francisco with her husband, Dr. Goldstein. Ms. Braverman writes poetry, essays, short fiction and novels, but identifies as a poet. The short story is her most beloved of genres. She works in a multitude of genres because she believes traditional distinctions between works is a vestige of patrician privilege that says nothing about the world we inhabit in this post-historical epoch. Her work is the chronicle of her life as a marginalized girl-child in the stucco slums of Los Angeles, an adolescent unprepared in the 60's, a bohemian artist in the Los Angeles of the 70's, a drug addict and single mother on the run in Hawaii and Northern California, a wife, a woman in and out of rehab, and the unique complexities of the mother-daughter relationship. She believes in writing as an act of insurrection and alchemy, and the necessity of permitting women full access to the roles they inhabit on the page. Please visit her website for news and information about her appearances.
or
Not Currently Available for Direct Purchase