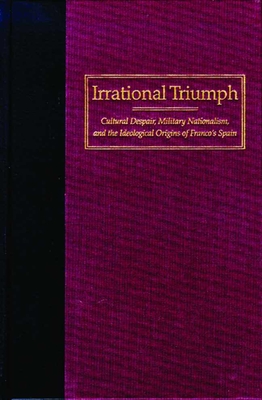 Irrational Triumph (Hardcover)
Cultural Despair, Military Nationalism, And Ideological Origins Of Franco'S Spain (Shepperson Series in History Humanities)
University of Nevada Press, 9780874174816, 248pp.
Publication Date: November 1, 2001
* Individual store prices may vary.
Description
In this meticulously researched and brilliantly argued study, historian Geoffrey Jensen examines the complex origins of Francoist nationalism.
A nationalist vision strongly rooted in Spanish Catholicism and military culture was one of the most powerful ideological tools of the Franco regime until its demise in 1975. Although nationalist movements in Spain's Basque and Catalan provinces have been closely studied, hitherto little attention has been given to the origins and evolution of nationalism in Spain itself.
In the years following defeat in the Spanish-American War, Spain's leading intellectual figures struggled to explain the reasons for their country's decline and to argue over possible means to regenerate the nation. Among these figures were members of Spain's Restoration officer corps. The diversity of this military culture gradually narrowed as events in early twentieth-century Spain seemed to encourage ever more radical solutions to the social, political, and economic unrest of the period.
Focusing on the intellectual world of Spain's military elite—its education, values, and the writings of some of its leading intellectual figures— Irrational Triumph reveals the evolution of a military culture that ultimately became a principal bulwark for Franco's fascist regime.
About the Author
Geoffrey Jensenhas written extensively on the Spanish military and its cultural and political influence in Spain and North Africa. In addition to numerous articles, he is the author ofFranco: Soldier, Commander, Dictator(2005) and co-editor ofWar in the Age of Technology: Myriad Faced of Modern Armed Conflict(2001). He holds the John C. Biggs '30 Cincinnati Chair in Military History at the Virginia Military Institute."
Praise For Irrational Triumph: Cultural Despair, Military Nationalism, And Ideological Origins Of Franco'S Spain (Shepperson Series in History Humanities)…
"Jensen's analysis demonstrates a grasp of the ideologies of the time and deepens our understanding of the complex mind of the Spanish military in the first quarter of the twentieth century." -Sebastian Balfour, American Historical Review
This is an excellent and well-researched book, delivered in a style which makes the sometimes heady intellectual writings of these officers comprehensible." —Wayne Bowen
"Irrational Triumph is a superb study of the intellectual conflicts and ideological syntheses that helped shape both Spanish military culture and subsequent Spanish history in general." —Julian Ammirante,Nationalism and Ethnic Politics
or
Not Currently Available for Direct Purchase