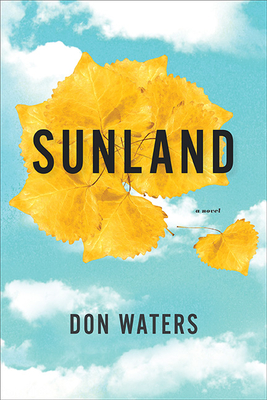 Sunland (Hardcover)
A Novel (West Word Fiction)
University of Nevada Press, 9780874179217, 208pp.
Publication Date: October 14, 2013
* Individual store prices may vary.
Description
Sid Dulaney, in his mid-thirties, between jobs and short on funds, has moved back to Tucson to take care of his beloved grandmother. To hold down the cost of her prescriptions, he reluctantly starts smuggling medications over the border. His picaresque misadventures involve the lovable eccentrics at her retirement village, Mexican gang threats, a voluptuous former babysitter, midnight voicemails from his exasperated ex-girlfriend, and, perplexingly, a giraffe. This first novel by the winner of the Iowa Short Fiction Award proves Waters is an important new voice in American fiction. A big, rollicking, character-filled novel, Sunland is an entertaining and humane view at life on the margins in America today. 
About the Author
Don Waters won the Iowa Short Fiction Award for his story collection, Desert Gothic. His fiction has been anthologized in the Pushcart Prize, Best of the West, and New Stories from the Southwest. His journalism has appeared in The New York Times, the San Francisco Chronicle, and Outside. Born and raised in Reno, Nevada, he currently lives in Portland, Oregon. Sunland is his first novel. 
Praise For Sunland: A Novel (West Word Fiction)…
"I deeply envy readers about to embark on their first trip to Sunland. Don Waters's novel is a zany adventure, a borderland thrill ride through the super-saturated Sonoran desert led by a rakish tour guide. A witty riot from first page to last!" —Claire Vaye Watkins, author of Battleborn  
"An unlikely drug dealer comes of age in a fast-paced, dynamic new novel of ethics and identity. In richly descriptive and propulsive prose, Don Waters's dynamic debut Sunland dissects the meanings of aging, manhood, family and the borders erected between people and nations, all against the backdrop of the unforgiving Arizona sun. His mid-thirties protagonist Sid Dulaney experiences a delayed, yet highly potent, coming of age in a novel that explores many questions, including how to separate what is against the law from what is ethically right or wrong. Waters, whose previous book, the short-fiction collection Desert Gothic, won an Iowa Short Fiction Award, offers finely tuned and fast-moving prose punctuated with unique descriptive language . . . While short, readable and fast-paced, Sunland leaves the reader with plenty of weighty matters for consideration long after the final page has been turned." —ForeWord
"This offbeat, droll debut novel from Reno, Nev., native Waters, author of the collection Desert Gothic¸ concerns a disillusioned 30-something man's struggles to put his life back together after a relationship goes awry . . . Though occasionally too quirky for its own good, this is a diverting narrative a of a young man's roundabout path to finding his way again." —Publishers Weekly
"Waters, author of the story collection Desert Gothic (2007), sneaks some serious issues into what is most often a lighthearted, sometimes zany, account of a compassionate man . . . An entertainingly offbeat first novel." —Booklist
"His debut novel is a Tucson-centered gallop that traces a failed high school English teacher who, like so many we know, moves here to care for Grandma. Soon he's running cheap prescription drugs over the border for retirement-community old-timers. Tim Sandlin-style hilarity ensues, against a heartbreaking backdrop of the Sonoran Desert and deceptively profound and kooky characters we develop little crushes on."
—Tucson Weekly
"In taut, inventive prose, Waters, winner of the Iowa Short Fiction Award, captures the rhythms of life along the border. . . Sunland is one part farce and one part soulful examination of love, friendship, morality, and American living."—High Country News
— High Country News
"Sunland is a charming story, told with great humor and skill. There's an old show-business adage: "Dying is easy, comedy is hard." Don Waters Seems to have both figured out."—Vegas Seven
— Vegas Seven
"Waters has an eye for physical detail and a charitable heart. These combine to make the borderlands outside Tucson feel real, his multigenerational cast members worth rooting for, and his first novel an easy pill to swallow."—The Rumpus
— The Rumpus
or
Not Currently Available for Direct Purchase