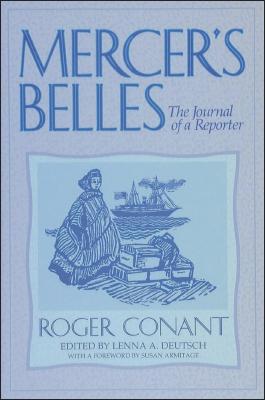 Mercer's Belles (Hardcover)
The Journal of a Reporter (Washington State University Press Reprint)
Washington State University Press, 9780874220896, 147pp.
Publication Date: December 1, 1992
* Individual store prices may vary.
Description
Originally published in 1960 and long out of print, Mercer's Belles is a classic of Northwest history and even inspired a television series, Here Come the Brides. Roger Conant's 1866 report of his shipboard travels with the Mercer Girls on their three-month voyage from New York to San Francisco and Seattle is here republished in its entirety, including Lenna Deutsch's invaluable reference material and the original photographs. A new foreword by Northwest historian Susan Armitage places the journal in historical perspective. Civil War losses had created a surplus of unattached women on the eastern seaboard. In the new western territories, women were sought as wives and teachers. Asa Mercer, president of the territorial university in Seattle, organized a project for female emigration. To a group of men in the West he promised, for a fee, to bring a suitable wife of good moral character and reputation. To the women of the East he offered free passage to Washington Territory. People greeted Mercer's plans with mixed feelings, and he never recruited the number of women he originally anticipated would make the long journey west. The story of Mercer's Belles came to occupy an important and interesting niche in regional history. Never has the story been told as thoroughly, as entertainingly, or as well as in Roger Conant's journal, accompanied by Lenna Deutsch's insightful reference material. It is fitting that Mercer's Belles now be made available for a new generation of readers.
or
Not Currently Available for Direct Purchase