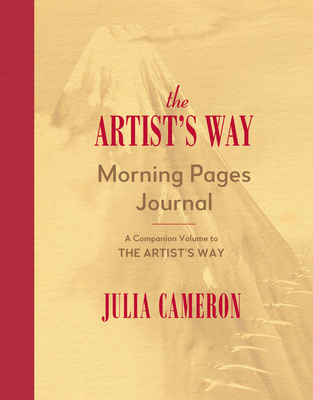 The Artist's Way Morning Pages Journal (Paperback)
A Companion Volume to the Artist's Way
TarcherPerigee, 9780874778861, 288pp.
Publication Date: December 29, 1997
Other Editions of This Title:
Hardcover (11/8/2016)
* Individual store prices may vary.
Description
Julia Cameron keeps row after row of journals on the wooden bookcase in her writing room, all containing Morning Pages from more than twelve years of her life. The journals, she says, listen to her. They have been company on travels, and she is indebted to them for consolation, advice, humor, sanity. Now the bestselling author of The Artist's Way offers readers the same companion, in which we may discover ourselves, our fears and aspirations, and our life's daily flow. Readers will find privacy, a portable writing room, where our opinions are for our own eyes. Morning Pages prioritize the day, providing clarity and comfort.With an introduction and instructions on how to use this journal, by Julia Cameron, readers will uncover the history of their spirits as they move their hands across the universe of their lives.
About the Author
Julia Cameron has been an active artist for four decades. She is the author of more than forty books, fiction and nonfiction, including such bestselling works on the creative process as The Artist's Way, Walking in this World, and Finding Water. A novelist, playwright, songwriter, and poet, she has multiple credits in theater, film, and television. She divides her time between Manhattan and the high desert of New Mexico.
Praise For The Artist's Way Morning Pages Journal: A Companion Volume to the Artist's Way…
Praise for The Artist's Way

"This book has been around for a long time, and I hope it sticks around forever. It guides the reader through a fascinating (and fun) 12-week-long program of exercises and explorations that help loosen up one's artistic self. It takes you on a journey that will cost you nothing (aside from the guidebook) and it brings much insight, gently helping you see what is holding you back, and showing you how to move forward. Three times in the last decade I've committed to doing The Artist's Way's program, and each time I've learned something important and surprising about myself and my work. Just to show how influential it's been to me—the first time I did the program, I had decided by end of it that I wanted to 1) travel to Italy and learn Italian, 2) Go to an ashram in India, and 3) Return to Indonesia to study with the old medicine man I'd once met there. We all know what that decision led to. . . Without The Artist's Way, there would have been no Eat, Pray, Love."
—Elizabeth Gilbert

"The Artist's Way by Julia Cameron is not exclusively about writing—it is about discovering and developing the artist within, whether a painter, poet, screenwriter, or musician—but it is a lot about writing. If you have always wanted to pursue a creative dream, have always wanted to play and create with words or paints, this book will gently get you started and help you learn all kinds of paying-attention techniques; and that, after all, is what being an artist is all about. It's about learning to pay attention."
—Anne Lamott

"This is a book that addresses a delicate and complex subject. For those who will use it, it is a valuable tool to get in touch with their own creativity."
—Martin Scorsese