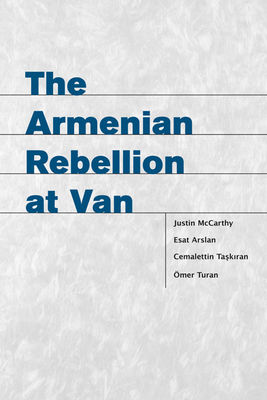 The Armenian Rebellion at Van (Utah Series in Turkish and Islamic Stud) (Paperback)
University of Utah Press, 9780874808704, 304pp.
Publication Date: September 29, 2006
* Individual store prices may vary.
Description
Utah Series in Middle East Studies
Before World War I, the ancient city of Van in southeastern Anatolia had a population of approximately 100,000 people, while the population of Van Province was about 500,000. Armenians formed a large minority, with Kurdish tribes and Turks in the majority.
The Armenian Rebellion at Van presents a long-overdue examination of Van from the 1870s to 1919. As the authors state, "The Armenian Revolt was an integral part of the great disaster that overcame the people of the Ottoman East. The slaughter of Muslims that accompanied the Armenian revolt in Van Province inexorably led first to Kurdish reprisals on the Armenians, then to a general and mutual massacre of the people of the East."
The actions at Van offer a window into the far-reaching events that soon followed in other parts of Anatolia.
About the Author
Justin McCarthy is professor of history and distinguished university scholar at the University of Louisville.
Praise For The Armenian Rebellion at Van (Utah Series in Turkish and Islamic Stud)…
"A substantial contribution to Turkish-Ottoman and Armenian studies."—Andrew Mango, London Middle East Institute, University of London
 
"The authors are well-qualified specialists on the Ottoman Empire who conducted painstaking archival research and who are armed with essential linguistic and paleographic tools. [They] have finely crafted a book that will stand for years to come as the standard in the field and as a monument to their skills and indefatigability both as researchers and as organizers of research projects. It therefore deserves a wide readership and should find one outside as well as within the scholarly community."—Mediterranean Quarterly
 
"Represents a massive revision of what is known in the West about the Van uprising. A gold mine of new and detailed information.... Unusual in its fair treatment of the Armenians by Turkish scholars."—The Middle East Journal
"The authors should be especially commended for attempting to clear this scholarly discourse from many of the emotional and political overtones that have characterized it in the past. The authors present an account that displays both historical accuracy and compassion regarding the tragic history of both the Christian and Muslim population of Van. ...this work is also a further contribution towards a richer understanding of the complex nature of revolutions, especially lost ones."—Insight Turkey
or
Not Currently Available for Direct Purchase