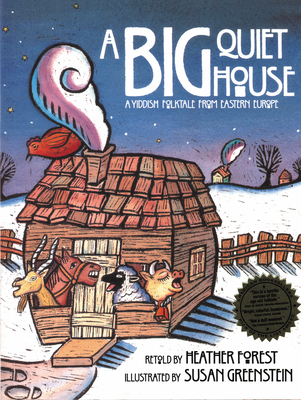 A Big Quiet House (Hardcover)
August House Publishers, 9780874834628, 32pp.
Publication Date: December 19, 2005
Other Editions of This Title:
Paperback (12/19/2005)
* Individual store prices may vary.
Description
It is the man who changes, and the world he perceives is transformed. With a tiny, cluttered house, giggling children, and a snoring wife, one man can't get a good night's sleep. "If only," he thinks, "I had a big quiet house " He throws off his covers and decides to visit the wise old woman at the edge of the village. Surely she can help him solve his problem and she does, but not without giving him some very unusual advice. The woman convinces the man to fill his house with rambling animals, none of which cure his sleeping problem. Until one day, the man takes the animals back to where they belong, and he welcomes the rhythmic sound of his wife's snoring. This ancient Yiddish folktale proves that quite often, nonsense makes the best sense of all. Susan Greenstein's bold illustrations--white pencil on black surface with watercolor - carry the reader through the warm interiors and peaceful nights of the shtetls of Eastern Europe. This story highlights the importance of perspective. Everyone has problems, however attitude can dramatically affect perception. It is the man who changes, and the world he perceives is transformed.
About the Author
Heather Forest Bio: Heather Forest's unique minstrel style of telling stories blends her original music, folk guitar, poetry, and prose along with song and the spoken word to give her stories an uncommon warmth and charm. She has toured widely performing her repertoire of world folktales for the past thirty years to theatres, major storytelling festivals, schools and conferences throughout the world. Heather's books have received many prestigious awards including the Children's Choice Award, Parent's Choice Award, CCBC Choices, ABC Best Books for Children, Best Children's Books of the Year, Book Sense Winter Children's Picks, and the National Parenting Publication Awards (NAPPA) among others. Heather is currently working on her tenth book with August House, a collection of ancient and epic tales. Ms. Forest holds a Master's Degree in Storytelling and she is a recipient of the Circle of Excellence Award presented by the National Storytelling Network. Her many performance credits include The Smithsonian Institute, Washington, D.C., The National Storytelling Festival, The Edinburgh Festival in Scotland, Tales of Graz Festival in Austria, the Sidmouth International Festival in England and the Glistening Waters Storytelling Festival in New Zealand. Susan Greenstein Bio: Susan Greenstein grew up in Astoria, Queens and has lived and worked in Brooklyn since she was a college student at Pratt Institute where she received her BFA in Fine Arts in Drawing and Painting, and went on to receive her MSE from Queens College. Susan spent the following 12 years illustrating children's' books and articles for newspapers and magazines. Following the birth of her daughter, Susan began to teach art to young children through the organization, Studio in A School. She has been teaching both elementary and high school students at Brooklyn Friends School and found teaching keeps her excitement and wonder of art fresh. She also finds her young students' enthusiasm is contagious and inspires her work. When she is not teaching, Susan dedicates her to time painting with watercolors and drawing mostly on site around New York City. She is intrigued by the textures and patterns found in community gardens as well as in the local architecture. The Highline, in Manhattan, has become a favorite site. She finds that it provides the perfect balance between architecture and plant life and how they weave themselves together. In the summer, Susan spends time in New Hampshire studying and painting a very different type of landscape and light. Susan lives with her husband Phil who is also a painter, their daughter, Gina and their cat Kalo.
or
Not Currently Available for Direct Purchase