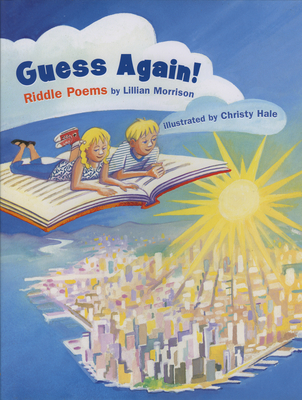 Guess Again!: Riddle Poems (Hardcover)
Riddle Poems
August House Publishers, 9780874837308, 136pp.
Publication Date: February 20, 2006
* Individual store prices may vary.
or
Not Currently Available for Direct Purchase
Description
This lyrical picture book of 20 clever riddles challenges young readers to use their imagination to solve the word and picture puzzles. "Easy to open, no need to unlock it. Sometimes it's small enough to carry in your pocket. But when it is open it can carry you through fascinating spaces like a far-flying rocket." Who doesn't love riddles? Lillian Morrison and Christy Hale. the collaborators behind the highly acclaimed It Rained All Day That Night, reteam in a clever fusion of poetry and art to pose nearly two dozen original brainteasers. These riddles range from the simple to the silly, and address topics ranging from natural science to language play. This fun collection will have youngsters posing these riddles to others as well as inventing new ones of their own.
About the Author
Lillian Morrison Bio: As the coordinator of young adult services at the New York Public Library, Lillian Morrison collected rhymes and chants from her young patrons that she later compiled into anthologies. Morrison also edited a collection of folk sayings, I Scream, You Scream: A Feast of Food Rhymes. A School Library Journal reviewer wrote that the book,"has the tone of something that really is for kids, who all know the magic of a good, loud chant. Put a copy on your shelf, then put your ear to the window at recess, and see if you don't hear some of these short verses rising up from the chaos of the schoolyard." "Lillian Morrison's contributions to the world of children's literature and librarianship were many," said Ellen Ruffin, curator of the de Grummond Collection at University of Southern Mississippi, where Morrison's papers are housed. "She spent more than forty years as a librarian and wrote children's poetry books, an unusual combination of both a writer and a practitioner - proof positive of her commitment to children and books." Her dedication to library services for children led to her receiving the ALA Grolier Award for her contributions in stimulating the interest of young readers.Christy Hale Bio: Christy Hale was born in Massachusetts, but moved to California when she was ten. She considers herself bi-coastal because she has lived for extensive periods in Oregon, New York, and now again in California. She decided to become an author and illustrator when she was ten. Books have always been important to her - not just the stories, but creating the physical books. She learned calligraphy, bookbinding, letterpress printing, and began editing artist books and chapbooks in collaboration with poets. In her early career, she taught art in secondary schools, and then attended Pratt Institute to study illustration and graphic design. She worked for many years at various publishers in New York and became an art director before her first illustrated book was published. She has illustrated more than twenty books and now also wears the author hat. She continues to work as an art director, book designer, and art educator.
Advertisement