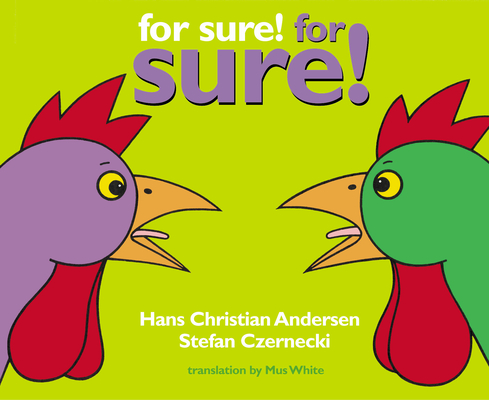 For Sure! for Sure! (Hardcover)
August House LittleFolk, 9780874837421, 32pp.
Publication Date: December 13, 2005
* Individual store prices may vary.
or
Not Currently Available for Direct Purchase
Description
Winner of NAPPA Children's Resources Gold Award Hans Christian Andersen was born in Odense, Denmark and grew up to be the world's greatest storyteller. He is best known for hist stories The Little Mermaid, The Princess and the Pea, The Ugly Duckling, The Nightingale, and The Emperor's New Clothes. His stories are loved by children everywhere. In Mus White's skillful adaptation of Hans Christian Andersen's classic folk story, "There Is No Doubt About It," the news that a hen has lost a feather grows into a humorous tale of five chickens engaged in battle as the story spreads from coop to coop and from hen to hen. This new translation is faithful to the original and yet remains as fresh and appealing today as the day it was written. Stefan Czernecki's bright primary illustrations and panel design reflect the comic boldness as each chicken passes along the story, until it is no longer recognizable to the original hen who started it in the first place. For Sure For Sure is a powerful story with a strong message that both children and adults will enjoy. This retelling of an old fairytale teaches readers the importance of citizenship and trustworthiness.
About the Author
Stefan Czernecki Bio Stefan Czernecki was born in a refugee camp in Germany and now lives in a small glass apartment one hundred and fifty feet above the ground. For inspiration, he travels to faraway places like Tokyo, Mexico City, New York and Marrakesh. Sometimes he just takes a walk around the block. A number of his books are inspired by folk art from other countries. His creative work has been awarded the prestigious Aesop Accolade given by the American Folklore Society.
Advertisement