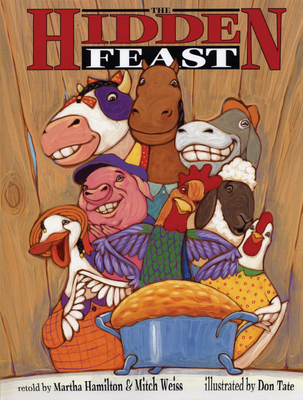 The Hidden Feast: A Folktale from the American South (Hardcover)
A Folktale from the American South
August House Publishers, 9780874837582, 32pp.
Publication Date: January 27, 2006
Description
Barnyard animals learn a lesson about manners and passing judgments in this moral tale drawn from Joel Chandler Harris' Uncle Remus stories. -Booklist Review When the barnyard animals are invited to a party by their neighbors, they dress in their Sunday best and set off for a day of merriment. But when dinnertime arrives, the famished animals are perplexed to find a simple meal of cornbread. Most of them are polite but Rooster turns his beak up in disgust and rudely leaves the party, missing the treasures hidden for the guests. The surprising twist at the end of the story explains why, ever since, Rooster scratches in the dirt. Martha Hamilton and Mitch Weiss capture the rhythms and idioms of this rural Southern tale, and Don Tate's whimsical acrylics serve up a regular hoedown of fun. This barnyard story teaches readers about sharing, caring and fairness.
About the Author
Martha Hamilton & Mitch Weiss Bio: Martha Hamilton and Mitch Weiss are a husband-and-wife writing and storytelling team known as "Beauty and the Beast Storytellers." They have traveled the world sharing their passion for the oral tradition and the art of telling great stories. They have co-authored thirteen books and two audio recordings with August House. A number of their books have won numerous awards including Irma Simonton Black and James H. Black Award for Excellence in Children's Literature (awarded by Bank Street College of Education), Parents' Choice, National Parenting Publications Awards, and Storytelling World. Mitch and Martha's story collections include world tales that they tell in a conversational manner so that children can easily comprehend and then share the stories by telling them to other students. Parents and teachers can find a wealth of information on how to get children excited about reading, telling world tales, and making up their own stories at Mitch and Martha's website.
Advertisement