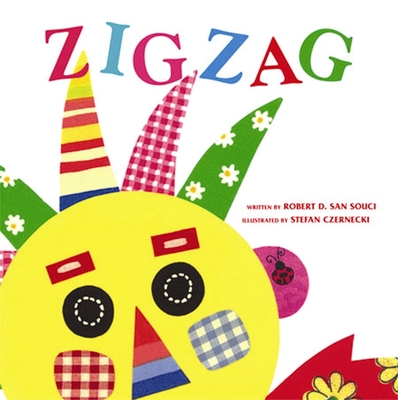 Zigzag (Hardcover)
August House Publishers, 9780874837643, 32pp.
Publication Date: December 13, 2005
* Individual store prices may vary.
Description
"Nicely composed, and the happy ending should please young readers." -School Library Journal When the doll maker creates Zigzag from clothing scraps, she promises that "some child will love you." Her promise gives the strange-looking doll hope. But the other dolls and stuffed animals in the shop don't want such an ugly toy hanging around, so they force Zigzag to leave. Clinging to the promise that a child will someday love him, little Zigzag sets out on a journey in search of happiness and a new home. Young readers will be intrigued by this heart-warming story of perseverance and compassion. Children love to explore the simple bold illustrations that make the story look like it was quilted from scrapes. This colorful story about an orphan doll looking for love will teach readers the importance of caring, courage and respect. August House Publishers offer free lesson plans for Zigzag.
About the Author
Robert San Souci Bio: Robert San Souci, who was born in San Francisco, raised in Berkeley and attended college at St. Mary's College in Moraga, knew at an early age he wanted to be a writer. His award-winning books were often spirited retellings of folk tales, fairy tales, myths and legends from around the world. In an interview, he confessed to his fascination of great stories, "I think I never outgrew my love of fairy tales when I was growing up. I'd save my allowance money and buy used editions of books like The Wizard of Oz and the Rainbow Colored Fairy books. I love science fiction and ghost stories." Among the many celebrated titles, twelve books written by San Souci and illustrated by his younger brother, Daniel San Souci, stood out as his favorites. San Souci was an American Library Association notable author whose work has also been recognized by American Bookseller and the International Reading Association. He collaborated with Daniel on two award winning LittleFolk picture books: As Luck Would Have It and Sister Tricksters. His third award winning book with August House, Zigzag was illustrated by Stefan Czernecki and named to Scholastic Parent & Child magazine's "Best New Books." "When we were young, my parents always said Bob would be the writer and I'd be the artist," Daniel San Souci said in an interview. "When we graduated from college, we decided kid's books would be the perfect medium. Our first book won awards and opened the door for us. Anytime we worked together it was special." Stefan Czernecki Bio: Stefan Czernecki was born in a refugee camp in Germany and now lives in a small glass apartment one hundred and fifty feet above the ground. For inspiration, he travels to faraway places like Tokyo, Mexico City, New York and Marrakesh. Sometimes he just takes a walk around the block. A number of his books are inspired by folk art from other countries. His creative work has been awarded the prestigious Aesop Accolade given by the American Folklore Society.
or
Not Currently Available for Direct Purchase