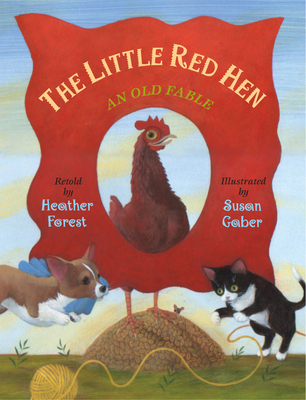 The Little Red Hen: An Old Fable (Hardcover)
An Old Fable
August House Publishers, 9780874837957, 32pp.
Publication Date: June 8, 2006
* Individual store prices may vary.
or
Not Currently Available for Direct Purchase
Description
Working together makes working fun. A little Red Hen lived in a house, with a frisky dog, a cat, and a mouse. So begins this fresh look at a beloved old fable. The little Red Hen's frisky housemates--Dog, Cat, and Mouse--would rather play than settle down to daily chores such as planting, cutting, and grinding wheat. But when the wheat is used to make a delicious cake, the little creatures are more than happy to help eat it The Little Red Hen tells them that they can only eat the cake if they promise to help her work. Heather Forest's rhythmic retelling captures the chaos of daily living and celebrates the spirit of teamwork inherent in the tale. Susan Gaber's whimsical illustrations transport the reader to a cozy cottage where the little Red Hen helps others learn how to help her even if it is more effort than doing the work herself. This animal story about teamwork will teach readers the importance of fairness, sharing and helping each other. August House Publishers offer free lesson plans for The Little Red Hen.
About the Author
Heather Forest Bio: Heather Forest's unique minstrel style of telling stories blends her original music, folk guitar, poetry, and prose along with song and the spoken word to give her stories an uncommon warmth and charm. She has toured widely performing her repertoire of world folktales for the past thirty years to theatres, major storytelling festivals, schools and conferences throughout the world. Heather's books have received many prestigious awards including the Children's Choice Award, Parent's Choice Award, CCBC Choices, ABC Best Books for Children, Best Children's Books of the Year, Book Sense Winter Children's Picks, and the National Parenting Publication Awards (NAPPA) among others. Heather is currently working on her tenth book with August House, a collection of ancient and epic tales. Ms. Forest holds a Master's Degree in Storytelling and she is a recipient of the Circle of Excellence Award presented by the National Storytelling Network. Her many performance credits include The Smithsonian Institute, Washington, D.C., The National Storytelling Festival, The Edinburgh Festival in Scotland, Tales of Graz Festival in Austria, the Sidmouth International Festival in England and the Glistening Waters Storytelling Festival in New Zealand. Susan Gaber Bio: Susan began her career working at Newsday as a free-lance illustrator for ten years. Her illustration work has appeared in numerous magazines and she has won many awards for her illustrations. She has illustrated over twenty children's picture books. Whether working in muted impressionistic tones, in more vibrant colors, or in a folksy, homespun medium, Susan Gaber has built an impressive list of illustration credits, and has garnered much critical acclaim for her work. Working in watercolors, acrylics, or colored pencils, Gaber's illustrations "captivate the eye," as Barbara Elleman noted in School Library Journal. At times her artistic contributions imbue stories with a folksy feel, while others impart a lushness and vividness of tone, sometimes gaining the feel of elegant fine-art reproductions. Several years ago Susan's original paintings used to illustrate The Little Red Hen were displayed in the main branch of the New York Public Library at Fifth Avenue and 42nd Street to celebrate Children's Book Week. Her versatility is particularly well suited to mythic stories and folk tales such as The Baker's Dozen or Stone Soup, both written by Heather Forest. Susan currently lives with her family in Huntington, New York.
Advertisement