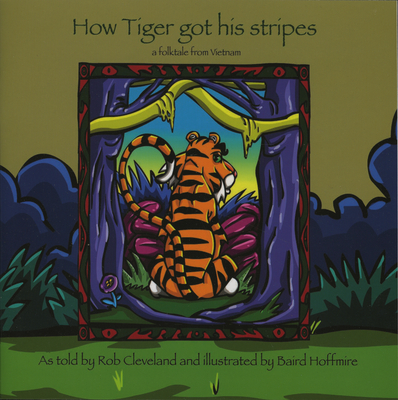 How Tiger Got His Stripes
A Folktale from Vietnam (Welcome to Story Cove)
Paperback

* Individual store prices may vary.
Description
This humorous folktale from Vietnam, retold by Rob Cleveland, tells the story of Tiger, who was once the proudest animal of the jungle. He was even prouder than the peacock. Of course what Tiger was most proud of was his beautiful golden coat. But unfortunately for Tiger, he did not have wisdom and was jealous that only Man seemed to possess it. So Tiger approached Man and demanded that he give Tiger his wisdom. Man then uses his wisdom to outsmart Tiger when he finds himself tied to a tree with a rope. While trying to escape, Tiger burns his coat on the rope, leaving permanent stripes on his beautiful golden coat. This wisdom story will teach readers the importance of courage, caring and resourcefulness.
August House Publishers, 9780874837995, 34pp.
Publication Date: January 30, 2006
About the Author
Rob Cleveland Bio: Rob Cleveland is an award winning author, professional storyteller, workshop leader, accomplished film and stage actor, as well as a popular comedian. Rob has authored seven Story Cove picture books. He is also a popular keynote speaker for state and regional reading conferences where he shares his perspective on the unique role that folktales play in our lives and the critical contribution that the oral tradition can make in helping young children develop their core reading skills. In addition, Rob is storyteller-in-residence at the Fernbank Museum of Natural History in Atlanta. His talent for crafting memorable stories landed him at Emory University Law School where he leads workshops for law students about how to tell an engaging story. Recently, he adapted, directed and appeared in a series of slave stories from The Adventures of High John the Conqueror for the National Black Arts Festival. Although Rob travels across the country, he lives with his family in Atlanta, Georgia. Baird Hoffmire: Baird Hoffmire is an animator, illustrator, graphic designer and exhibiting artist. He resides in Charleston, South Carolina with his beautiful wife, Jane and his equally lovely daughters, Sadie and Harper. With a BFA in Illustration from Western Carolina University and a BFA in Media Arts and Animation from the Art Institute of Atlanta, Baird has been working as a professional artist for over ten years. His illustrations in Story Cove picture books and animated stories have been enjoyed by tens of thousands of children around the world. Besides painting, illustrating books and spending time with his family, Baird loves to play basketball.