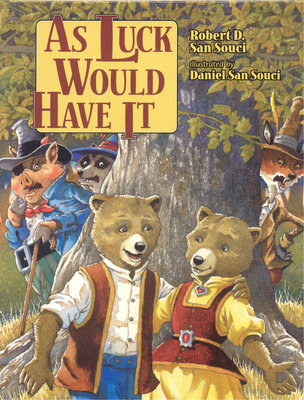 As Luck Would Have It: From the Brothers Grimm (Hardcover)
From the Brothers Grimm
August House Publishers, 9780874838336, 1pp.
Publication Date: June 6, 2008
Description
A whimsical retelling of a Grimm classic When Mama and Papa Bear go to look after Grandmother, they leave Jonas and Juniper in charge of the household. The bear twins take their instructions a little too literally, leading to a cascade of domestic mishaps, including the theft of their family fortune. Determined to recover it before their parents return home, the endearing siblings unleash pandemonium when the stumble on the robbers' hideout. In this tribute to the Brothers Grimm, Robert D. San Souci recasts the characters from their story "Clever Elsie" but retains the original's celebrations of the absurd and endearing folly. Daniel San Souci's watercolor-and-pencil illustrations capture Jonas and Juniper's good intentions and flawed logic with humor and appreciation. This family-centered story teaches readers about sharing and responsibility.
About the Author
Robert San Souci Bio: Robert San Souci, who was born in San Francisco, raised in Berkeley and attended college at St. Mary's College in Moraga, knew at an early age he wanted to be a writer. His award-winning books were often spirited retellings of folk tales, fairy tales, myths and legends from around the world. In an interview, he confessed to his fascination of great stories, "I think I never outgrew my love of fairy tales when I was growing up. I'd save my allowance money and buy used editions of books like The Wizard of Oz and the Rainbow Colored Fairy books. I love science fiction and ghost stories." Among the many celebrated titles, twelve books written by San Souci and illustrated by his younger brother, Daniel San Souci, stood out as his favorites. San Souci was an American Library Association notable author whose work has also been recognized by American Bookseller and the International Reading Association. He collaborated with Daniel on two award winning LittleFolk picture books: As Luck Would Have It and Sister Tricksters. His third award winning book with August House, Zigzag was illustrated by Stefan Czernecki and named to Scholastic Parent & Child magazine's "Best New Books." "When we were young, my parents always said Bob would be the writer and I'd be the artist," Daniel San Souci said in an interview. "When we graduated from college, we decided kid's books would be the perfect medium. Our first book won awards and opened the door for us. Anytime we worked together it was special." Daniel San Souci Bio: Daniel San Souci was born in San Francisco. The family moved across the Bay to Berkeley, where his father was working for the University of California. In the tree-lined Thousand Oaks district, Daniel spent all his waking hours running around the neighborhood with his two brothers and many friends. It was at this time that Daniel discovered the magic of books. "There was real excitement about literature in my family," says Daniel. "When I wasn't outside playing, I could be found on the rug in my room, surrounded by my books." When Daniel started reading on his own, he went right for the "Scribner's Adventure Classics." His favorite books were Last of the Mohicans, Treasure Island, Kidnapped, and The Boy King Arthur. It was at this time that he discovered the great illustrators, Howard Pyle and N. C. Wyeth. Daniel started drawing and painting constantly and was soon dreaming of becoming a children's book illustrator. In high school, Daniel signed up for every available art class. He was also attending the Berkeley Adult School in the evenings. "All the other art students were much older than me," he says. "But they were serious students, very talented and very helpful." Upon graduation from high school, he enrolled at the California College of the Arts in Oakland, California. There he had the opportunity to study with many outstanding teachers. Daniel thinks that one of the most interesting facts about his career is that he has done many books with his brother Robert. "What makes this so unique is not only the fact that brothers are creating books together, but we were both born on October 10th. I arrived on Robert's second birthday."
Advertisement