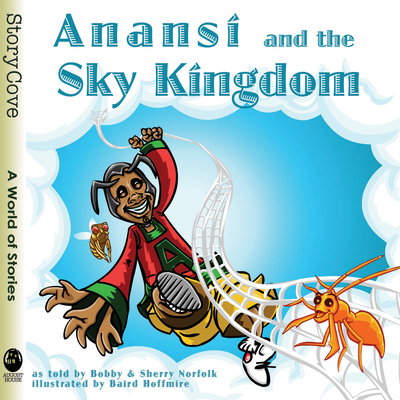 Anansi and the Sky Kingdom (StoryCove (Paperback)
A World of Stories)
August House Publishers, 9780874838817, 32pp.
Publication Date: December 16, 2008
* Individual store prices may vary.
Description
Anansi and the Sky Kingdom is another folktale from West Africa about the trickster spider Anansi. This timeless story is written by the award-winning creative team of Bobby and Sherry Norfolk. In this folktale, the world is dark and King Lion asks for someone to go to the King of the Sky to ask for light. Many animals try but all of them fail to bring light to the world. Finally, Anansi offers to take on the task after all of the other animals have failed. He uses his courageous wit and trickster skills to successfully bring light to the world and all of the animals rejoice. These trickster legends from Africa teach readers the importance of citizenship, courage and resourcefulness.
About the Author
Bobby Norfolk Bio: From Kindergarten to the Tenth Grade, Bobby Norfolk stuttered. He was so self-conscious about his impediment that he retreated into books. Luckily, he had some master teachers in the St. Louis Public Schools who saw a potential in him that he had yet to see in himself. They put him in drama class, glee club - even a talent show judged by country music legend, Mel Tillis. Fortunately, when Bobby performed, he discovered that he didn't stutter! In books, young Norfolk found his troubles fused with those of heroes whose epic struggles captured his imagination. Eventually, the stutter disappeared. As a young adult, Bobby Norfolk became an actor and stand-up comedian. He became an opening act for the likes of B.B. King and Lou Rawls. Norfolk's day job as a National Park Service ranger at the Gateway Arch in St. Louis, Missouri also gave him experience relating to a variety of audiences. Bobby Norfolk is one of the most sought-after African-American storytellers in the country. He and his wife, Sherry, have authored five classic Anansi tales that are included in the Story Cove picture book series. When they aren't traveling or performing at schools and festivals, they live in St. Louis, Missouri. Sherry Norfolk Bio: Sherry Norfolk embodies the term "teaching artist" - that is, an artist who not only talks the talk, she also walks the walk. She invites readers of all ages to peer through the kaleidoscope of story into the world of the imagination. Her library background led her to writing and performing stories as an effective means of motivating children to read, and her elementary education background influenced her style - full of rhythm and motion, and multiple voices. As a teacher, she leads residencies and workshops internationally, introducing children and adults to story making and storytelling. She serves on the roster of seven state arts councils, a testimony to her value as a teaching artist. Her dedication to and deep interest in children and literacy have been recognized with national awards from the American Library Association, the Association for Library Association for Children, the National Association of Counties, and the Florida Library Association. Sherry has a B.S. in Elementary Education and a Masters in Library Science. She retells folktales from around the world, using these stories to teach universal values, elevate understanding, appreciate other cultures, and promote environmental awareness. Baird Hoffmire Bio: Baird Hoffmire is an animator, illustrator, graphic designer and exhibiting artist. He resides in Charleston, South Carolina with his beautiful wife, Jane and his equally lovely daughters, Sadie and Harper. With a BFA in Illustration from Western Carolina University and a BFA in Media Arts and Animation from the Art Institute of Atlanta, Baird has been working as a professional artist for over ten years. His illustrations in Story Cove picture books and animated stories have been enjoyed by tens of thousands of children around the world. Besides painting, illustrating books and spending time with his family, Baird loves to play basketball.