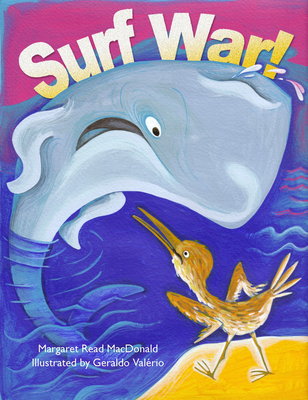 Surf War!: A Folktale from the Marshall Islands (Hardcover)
A Folktale from the Marshall Islands
August House Publishers, 9780874838893, 32pp.
Publication Date: July 16, 2009
* Individual store prices may vary.
or
Not Currently Available for Direct Purchase
Description
A Folktale from the Marshall Islands. Surfs up Sandpiper finds her daily stroll on the beach interrupted by Whale, who boasts that he is ruler of the sea. Sandpiper responds with equal bravado, asserting her rights to the sand and seawater. Soon the rivals are calling in their cousins, and the beach and sea are filled with shorebirds and sea mammals of every stripe. The standoff grows ominous as Whale leads his cousins in an assault on the beach, eating the sand from under the birds. Sandpiper retaliates by ordering her cousins to drink up the ocean. Soon the landscape is filled with fish, crabs, and sea creatures gasping for survival. How will this end? The outcome of this timely yet timeless nature tale suggests that we are all connected in the ecological chain.These Pacific folktales will teach readers the importance of citizenship, respect and sharing. Award-winning author, Margaret Read MacDonald's trademark playful prose captures the misguided rivalry of the characters while Valerio's frame expands to portray the conflict on the rapidly eroding beach.
About the Author
Margaret Read MacDonald Bio: Margaret Read MacDonald is a professional storyteller, award winning author and highly respected consultant who travels the world telling stories and conducting workshops for educators. Her most popular workshop "Playing with Stories" has been offered in over 70 countries. She has been invited to storytelling and literary festivals in Australia, Canada, China, Colombia, Cuba, Hong Kong, India, Indonesia, Jamaica, Japan, Malaysia, New Zealand, Thailand and Singapore. In addition, Dr. MacDonald teaches storytelling to classroom teachers for the Lesley University Creative Education through the Arts program. For years, she also taught storytelling as an Adjunct Professor with the University of Washington Information School. Dr. MacDonald is the author of over 60 books on folklore and storytelling topics, including many award winning folktale picture books. She has been telling stories since 1964 in her work as a children's librarian, and she holds a Ph.D. in Folklore from Indiana University along with an M.Ed.EC. (Educational Communications Masters) from the University of Hawaii and a Master's of Library Science (MLS) from the University of Washington. She is well known for her ability to create texts that delight the ear and are easy for teachers to share. Teaching with Story contains 20 of these useful stories that can be used by teachers with their students.
Advertisement